Charles Curtis House Museum
Introduction
Charles Curtis was an influential member of Congress and Vice President under Herbert Hoover. He was the first Native American to hold the office, and also the last Vice President to remain unmarried for the entire duration of his service in the office. His home in Topeka is now a public museum that offers artifacts and displays related to his life and era.
Images
The outside of the beautiful Charles Curtis House.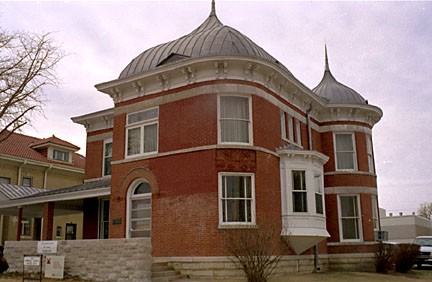 Backstory and Context
Curtis' mother was an unusual combination of many different Native American heritages: her mother was 1/2 Kansa, 1/2 Osage, and her father was 1/2 Potawatomie, 1/2 French.1 Curtis' father, meanwhile, was of English, Scot, and Welsh descent. In Curtis' earliest years, he lived with his mother on "Half Breed Reservation No. 4" (full-blooded Indians and Indians of mixed heritage were awarded separate land), and his first languages were Kaw and French, rather than English. However, those years ended quickly, as his mother died when he was 3 years old, and his father left for the civil war.

For the next two years, Curtis lived with his paternal grandparents in Topeka, even after his father returned from the war with a dishonorable discharge. As his father was considered unstable, Curtis remained under his grandparents' care. When Curtis was five, his maternal grandparents returned to the Kaw reservation at Council Grove, and Curtis went with them. Thus most of Curtis' early childhood memories were developed among the Kaw on the reservation. His identity was fully that of a Native American, and when he later began to race horses, he was known to others as "the Indian Boy."2

When Curtis was 13, his maternal grandparents traveled again with the Kaw Tribe to the Indian Territory of Oklahoma. Curtis traveled from Topeka, where he had been racing horses, to join his grandparents' wagon and return to life on the new reservation. However, his grandmother dissuaded him, convincing him that a good education was necessary to a good life, and he could never find that on the reservation. He took her advice and went to live with his paternal grandmother (his grandfather had passed away) in Topeka. He attended high school and then later studied law.

In 1884, then a practicing lawyer, Charles Curtis married Anna Baird, and they had three children. Soon Curtis was running for public office, and it was only a few years later, in 1889 that he first attempted to win a seat in the U.S. House of Representatives, though he lost. However, he won the seat in 1892. As a successful representative, he then later won a seat in the United States Senate in 1907.

Ironically, Hoover and Curtis were more political enemies than allies, as both had wished for the Republican presidential nomination. Instead, the party handed Curtis the vice presidential nomination. The Great Depression, however, brought down the stock markets, Hoover, and Curtis all together, making Curtis the last for possibly as many things as he was the first.

Sources
1. "Genealogy of Vice President Charles Curtis." vpcharlescurtis.net. Accessed May 26, 2015. http://www.vpcharlescurtis.net/ksstudies/ccfamily.html.

2. "Charles Curtis, 31st Vice President (1929-1933)." United States Senate. Accessed May 26, 2015. http://www.senate.gov/artandhistory/history/common/generic/VP_Charles_Curtis.htm.
Additional Information