Liberty Bell Slot Machine Historic Marker
Introduction
This historic marker was placed by the state of California in 1984 and honors the work of Charles August Fey, the inventor of the original three-reel slot machine.
Images
First Slot Machine-The Liberty Bell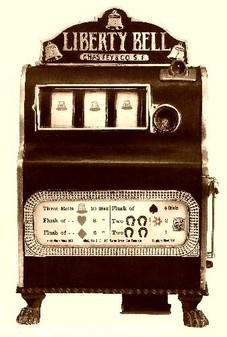 The marker is located on a small brick wall in the triangle formed by Market, Bush, and Battery Streets.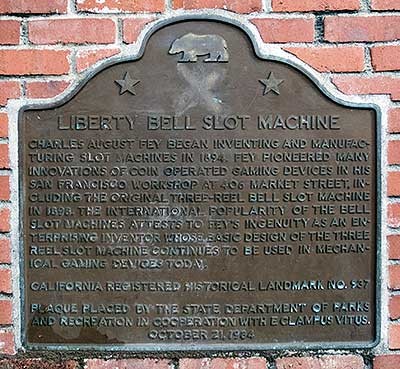 Charles Fey, inventor of the first slot machine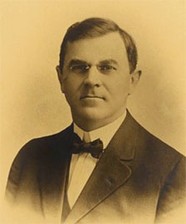 Backstory and Context
Charles Fey was born in Vohringen, Bavaria, but had saved enough money by the time he was 23 to move with his uncle to the United States. He traveled all over the nation before settling in San Francisco where he became a car mechanic. He was employed at Electric Works Company until he opened his own business with Theodore Holtz. After inventing the first slot machine known as the Liberty Bell in 1895, he opened the Slot Machine Factory in 1896.
Fey's slot machine was called the Liberty Bell because it had three spinning reels, each having painted on images of spades, diamonds, hearts, and one cracked Liberty Bell. According to Mary Bells' 'The History of Slot Machines - Liberty Bell', "A spin resulting in three Liberty Bells in a row gave the biggest payoff, a grand total of fifty cents or ten nickels." Today, Fey's Liberty Bell slot machine can be viewed at the Liberty Belle Saloon & Restaurant in Reno, Nevada. Fey went on to also invent the draw poker machine.
The plaque reads: "Charles August Fey began inventing and manufacturing slot machines in 1894. Fey pioneered many innovations of coin operated gaming devices in his San Francisco workshop at 406 Market Street, including the original three-reel bell slot machine in 1898. The international popularity of the bell slot machines attests to Fey's ingenuity as an enterprising inventor whose basic design of the three reel slot machine continues to be used in mechanical gaming devices today."

Sources
California Historical Landmarks in San Francisco. Accessed March 19, 2017. http://noehill.com/sf/landmarks/cal0937.asp.

Bellis, Mary. The History of Slot Machines - Liberty Bell. thoughtco. Accessed March 19, 2017. https://www.thoughtco.com/history-of-slot-machines-liberty-bell-1992409.


Additional Information