Statue of Robert E. Lee in Charlottesville
Introduction
This bronze statue of Confederate General Robert E. Lee astride his horse Traveller was dedicated in 1924 as part of a reunion of Confederate soldiers. Artist Henry Shrady began the statue, but he passed away prior to its completion. The statue was completed by Leo Lentelli and donated to the city of Charlottesville by Paul McIntire. The dedication ceremony included tributes to veterans as well as a defense of the "Lost Cause" ideology - racially charged set of ideas that in the 1920s - included the defense and maintenance of segregation. Modern supporters of this and other Confederate monuments emphasize the region's efforts to pay tribute to veterans and military leaders. Others point to the troubling racial legacy of the Confederacy and the connection between the erection of pro-Confederate monuments and the defenders of the Lost Cause. Defenders of the statue argue that removal is tantamount to destroying history, although both sides do agree that Lee himself has no direct historical ties to the city of Charlottesville. University of Virginia historian John Mason spoke in favor of removing the statue in 2016, citing the racial climate at the time of its creation as well as the Confederacy's efforts to defend and preserve chattel slavery. "If we want a city that does not celebrate racism, does not celebrate the cause of the Confederacy," Mason explained, "then we're going to have to remove [the statue]."
Images
Robert E. Lee on his horse in the center of Emancipation Park, formerly Lee Park.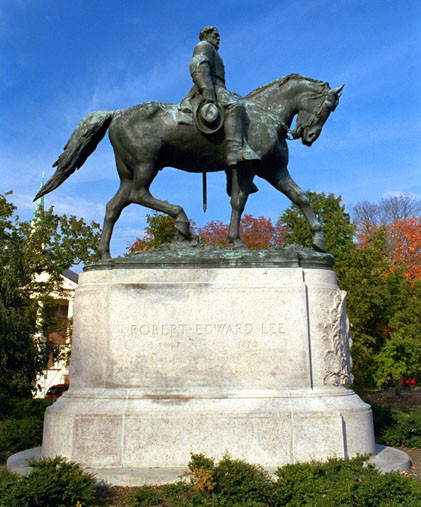 The land which would become Lee Park in 1924, just prior to the statue's installation. Courtesy of the Holsinger Studio Collection (#9862), Special Collections Department, University of Virginia Library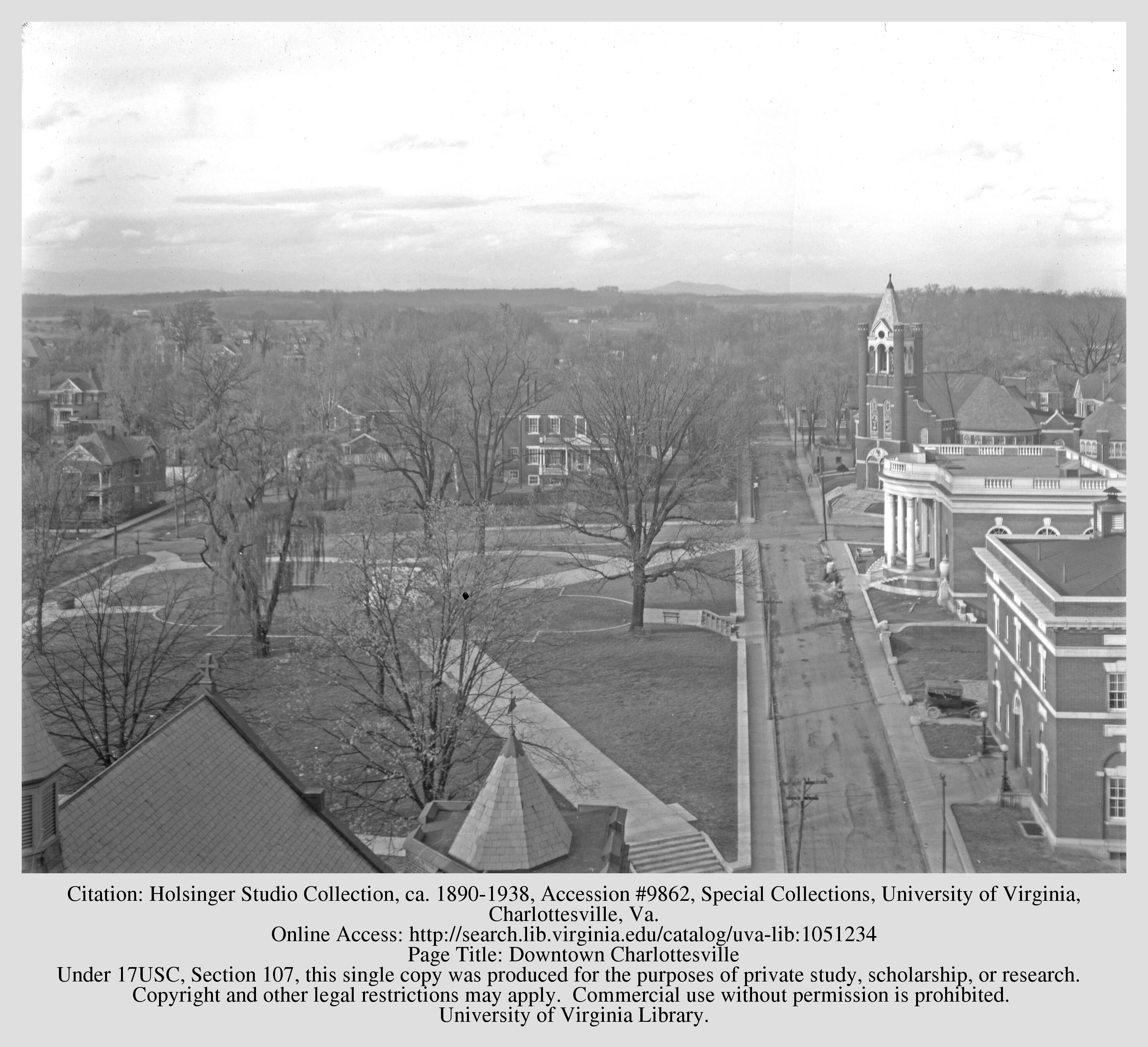 A replica of Henry Shrady's miniature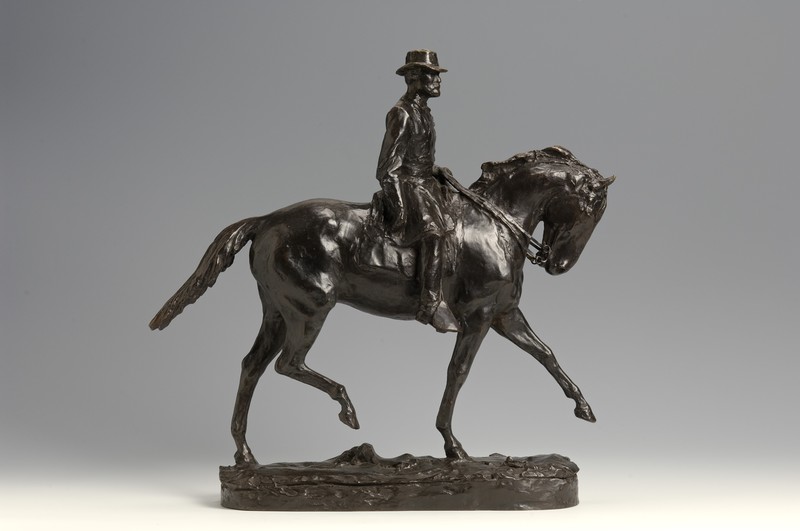 Henry Shrady proposed and created a prototype of a sculpture depicting Lee as an ordinary man.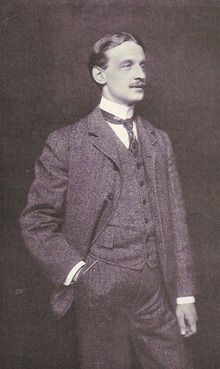 After Shrady died, Leo Lentelli carried on his vision for the Lee statue.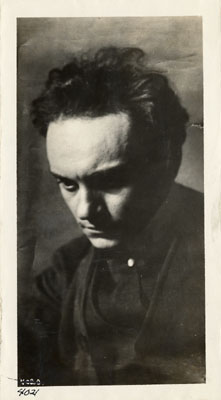 A counter-protester marches in defense of Confederate symbols during a March 2016 press conference discussing the fate of the Lee statue in Charlottesville.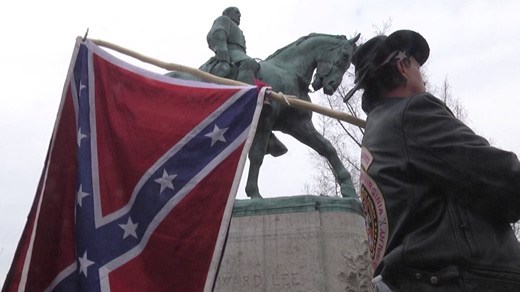 For a historians view of the meaning of Confederate statues constructed in this era, consider this book from Oxford University Press.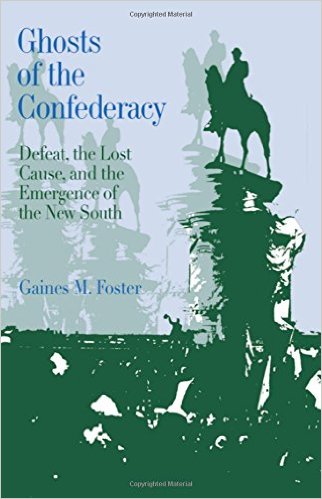 A video of UVA professor Gary W. Gallagher speaking about the history of the statue is provided below. To read his work on the subject of Civil War memory, consider this book from IU Press.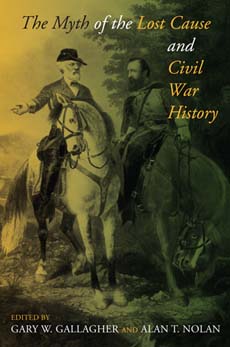 Backstory and Context
Robert E. Lee was born in 1807 to an elite Virginia family. Lee's father served as a general in the American Revolution, just one of many influential members of an extended family that included a President and Supreme Court Chief Justice. Robert Lee attended West Point Military Academy and graduated with the highest marks in his class in the subjects of artillery, infantry and cavalry.
Lee distinguished himself early in his military career, earning praise from General Winfield Scott during the Mexican-American War. Scott remarked that should the federal government ever go to war again, Lee would be so valuable as a military leader that the government should purchase a life insurance policy on the commander so that the government would at least be compensated should they lose one of their ablest commanders. Like many other military leaders, Lee spent a number of years away from the service, operating his father-in-laws plantation before returning to military service in the late 1850s.
In 1859, Lee led troops in Virginia that thwarted the attempted slave uprising led by John Brown at Harper's Ferry. As the Presidential election of 1860 demonstrated the divisions between the North and South over the extension of slavery into the West, Lee initially opposed those who advocated secession. Demonstrating the way that many Americans identified themselves as citizens of their state more than as citizens of the United States, when Lee was forced to choose between following Virginia or remaining in the Union, Lee chose the former. He turned down the offer to command the Union army and became the commander of the Confederacy's largest army.
In the early 1900s, local business leader Paul McIntire dedicated funds to create Confederate statues and parks throughout Charlottesville. It is important to note that these statues honoring the defenders of the "Old South" were erected in the racially-charged atmosphere of the 1920s. Newspaper clippings of the statue's dedication indicate speeches that both honored Confederate veterans and defended the system of slavery.
McIntire commissioned sculptor Henry Shrady to create a prototype of this statue showcasing both Lee and his horse, Traveller. However, Shrady was working on the Grant Memorial, a massive undertaking to create a statue in honor of a Union military leader and future President. Shrady was suffering at the time from an undisclosed illness and in 1922, he died while working on the prototype. This "miniature" statue was nearly lost until artist Leo Lentelli, who was commissioned as Shrady's replacement the same year, was able to preserve the prototype and base his work on Shrady's vision for the statue.
While both Shrady and Lentelli sought to be as accurate as possible with the faces of Lee and Traveller, both sculptures bear differences. Shrady's prototype depicts the Confederate leader more as an ordinary man. Visitors can view an image of that statue on this entry, or they can visit the Jefferson-Madison Regional Library where it is on display. Lentelli sought to give both Lee and Traveller a more classic 19th-century military look-somewhat less triumphant than those of other generals but still reflecting dignity and power. After seven years, the full scale Lentelli sculpture was cast in Boston in 1924 and unveiled that year in Charlottesville in the newly constructed Lee Park, built from land that had been donated from the Charles Venable family.
In recent years, the statue has become a focal point between defenders of Confederate heritage and residents who believe that statues honoring men who led the Confederacy perpetuates the racial ideologies that were prevalent among whites during the war and the period when these monuments were created. While Robert E. Lee is often revered for his skillful military leadership and became well-known for advocating sectional reconciliation after the war, he shared the racial worldview of other Confederate leaders. Although he was more open to the possibility of Black military service towards the end of the war than his contemporaries, Lee shared their view that racial equality was dangerous and unnatural.
In 2017, the Lee statue was the epicenter of local and national news coverage about Confederate memory and race in the United States. The Charlottesville City Council initially voted to keep the statue in place in January, and then voted for its removal in both February and April. In June, Lee Park was renamed Emancipation Park. Groups in opposition to these decisions, fueled by underlying racist and white supremacist beliefs, led violent rallies in Charlottesville throughout the summer, which were met with a strong counterprotester response. Thousands attended a vigil on UVA's campus calling for peace, unity, and equality. The events ignited a heated national conversation about the place of Confederate monuments in modern America. The statue of Lee, as well as a statue of Stonewall Jackson, were covered in late August. Its future remains heavily debated.
In response to the events in Charlottesville, historical institutions across the United States released statements condemning the violence and offering historical context. "To remove such monuments is neither to 'change' history nor 'erase' it," stated the American Historical Association. "What changes with such removals is what American communities decide is worthy of civic honor." The Smithsonian's National Museum of African American History and Culture ended its statement by saying, "Only when we illuminate the dark corners and tell the unvarnished truth can we learn history's lessons and bridge the gaps that divide us."
Sources
"AHA Statement on Confederate Monuments (August 2017)." American Historical Association. August 2017. Accessed October 2017. https://www.historians.org/news-and-advocacy/statements-and-resolutions-of-support-and-protest/aha-s...
Bunch, Lonnie. "Statement on The Tragedy in Charlottesville, VA." National Museum of African American History and Culture, Smithsonian Institution. August 18, 2017. Accessed October 2017. https://nmaahc.si.edu/about/news/statement-tragedy-charlottesville-va
Calwell, Jasmin. "Charlottesville student petitions to have Robert E. Lee statue removed." Newsplex.com http://www.newsplex.com/home/headlines/Charlottesville-student-petitions-to-have-Robert-E-Lee-Statue...
"Charlottesville Shrouds Its Robert E. Lee And Stonewall Jackson Statues." National Public Radio. August 23, 2017. Accessed October 2017. http://www.npr.org/sections/thetwo-way/2017/08/23/545605237/charlottesville-shrouds-its-robert-e-lee...
Ellis, Ralph. "The KKK rally in Charlottesville was outnumbered by counter protesters." CNN. July 10, 2017. Accessed October 2017. http://www.cnn.com/2017/07/08/us/kkk-rally-charlottesville-statues/index.html
Janney, Caroline E. "The Lost Cause." Encyclopedia Virginia. Virginia Foundation for the Humanities, 27 Jul. 2016. Web. 9 Sept. 2016.
Spencer, Hawes and Sheryl Gay Stolberg. "White Nationalists March on University of Virginia." The New York Times. August 10, 2017. Accessed October 2017. https://www.nytimes.com/2017/08/11/us/white-nationalists-rally-charlottesville-Virginia.html
Suarez, Chris. "Charlottesville City Council selects new names for Lee and Jackson parks: Emancipation and Justice." Richmond Times-Dispatch. June 6, 2017. Accessed October 2017. http://www.richmond.com/news/Virginia/charlottesville-city-council-selects-new-names-for-lee-and-jac...
Additional Information