Canty House
Introduction
The Canty House was named after James Canty, early teacher and acting principal of the West Virginia Colored Institute. The house, also known as The Magnolia, was constructed ca. 1900 and renovated in 1923.
Images
Canty House at West Virginia State University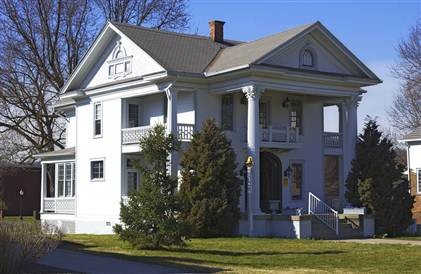 Backstory and Context
The Canty House, named in honor of "Colonel" James Monroe Canty, was built in 1900. Canty was born a slave in Georgia in 1863 and educated at Tuskegee Institute. At Booker T. Washington's recommendation, Canty became "Superintendent of Mechanics" at the WV Colored Institute (now WV State University) in 1893. He was named acting principal in 1898. Canty House, also known as The Magnolia, has been moved twice on the campus of WV State. The original setting for the Canty House is where Wallace Hall stands today. It was moved ca. 1970 to the northeast corner of campus near Rt. 25 near Hamblin Hall. Finally, in 1988, the Canty House was moved its present location. It is currently used as WVSU Athletic Hall of Fame.
After the renovations in 1923, the original farm house style was changed to reflect the Neo-classical Revival structure we see today. The house was listed on the National Register of Historic Places in .

Sources
"Illustrated Story of Beautiful Kanawha Valley" 1923 and Charleston Daily Mail Feb. 17, 1964 African-American Heritage Trail of WV. West Virginia Division of Tourism. www.callwva.com
Additional Information