Moland House
Introduction
Located in Hartsville, Pennsylvania, The Moland house was built by John Moland in 1750. This farmhouse achieved notoriety during the American Revolutionary War when General George Washington made it his headquarters from August 10-23, 1777. Just a few weeks before, Washington had become frustrated because he could not locate where the British were. He had heard that they were in the New York harbor, but didn't know exactly where they were headed, north or south. Washington had a hunch they were headed toward Philadelphia so he and the army proceeded toward the Delaware River to await any news on their whereabouts. A courier showed up on July 30th and said that the British had been spotted off the Delaware. So Washington proceeded toward the city. They marched through the Crocked Billet (now modern day Hartboro), to the area above the Falls of the Schuykill near Germantown, and decided to camp there while Washington examined the fortifications in Philidelphia. He also spoke with Congress about what to do and they awaited instruction. Washington was ordered to retrace his previous journey. On August 10th, Washington and his troop made it to Hartsville, PA. On some pieces of correspondences that pay evidence to this, it appears that his officers included: Alexander Hamilton, Richard Kidder Meade, Robert Hanson Harrison, and some other notable men. George Washington chose the Moland House as headquarters because it was a lot more sophisticated than other houses at the time. Often a house during that time period consisted of a wooden structure of a one room with a loft divided it into two parts. This was made of stone and a lot more complex in terms of space. Washington made this place his headquarters, while troops were in tents all along the countryside. He also chose Hartsville because he was in a position where he could keep an eye on Philadelphia if the British decided to attack and it allowed for him to keep his men in check and out of trouble, because they were away from unwholesome activities of the day that were unbecoming of a soldier at the time. Important strategic meetings were held in the house's "War Room." When they finally located the British in Chesapeake, Washington paid Moland's wife for cleaning and the use of her furniture. Moland House is now an exhibit and park, where people can go to visit. The rooms of the home are preserved as they were when President Washington visited.
Images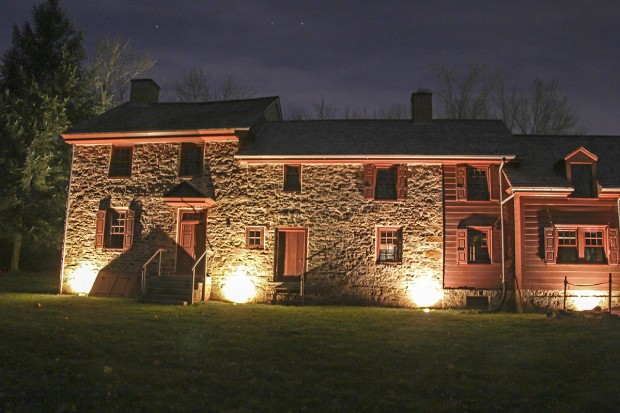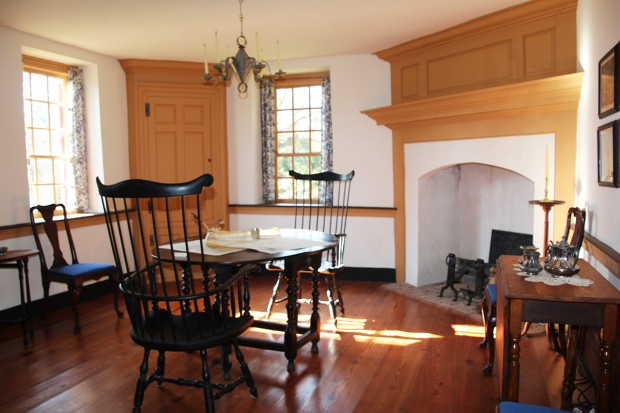 Backstory and Context
More in depth information about the thirteen days spent at the Moland House is available on the website listed below, in which I had taken all of this information from.
Directly from the website: Moland House is open for visits on the 2nd Sunday of the month from 1pm until 4pm. Moland House is also open on the 4th Sunday of the month from 1pm until 4pm during April through October.
Sources
http://moland.org/moland-house/ http://moland.org/encampment-at-moland-house-in-1777/