Battle of Prairie Grove
Introduction
The Battle of Prairie Grove was a Civil War battle fought for control over northwest Arkansas. Taking place in Washington County, Arkansas, it was fought on December 7, 1862. The commanders of the Union Army of the Frontier during battle were Brigadier General Francis J. Herron and Brigadier General James G. Blunt, while on the Confederate side Major General Thomas C. Hindman was in control. While the battle technically ended in a stalemate, for the Union army it was a strategic victory, as they kept control of the battlefield and ultimately, of northwest Arkansas.
Images
Prairie Grove Battlefield State Park walking trail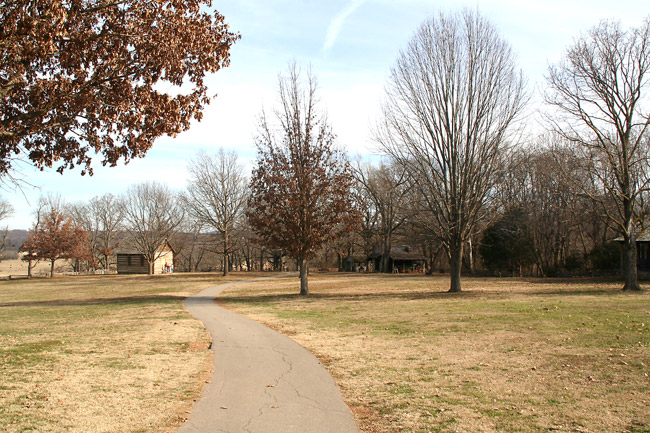 Backstory and Context
In late 1862, Major General Samuel Curtis, a Union army leader known for his victory at the Battle of Pea Ridge, was looking toward a move into northwest Arkansas, as a way to get to Little Rock to occupy the city. At this time, Confederate forces were wintering in northwest Arkansas, due to its pleasant climate and supply of wheat. After his initial attempt was repulsed by Confederate forces at the Battle of Whitney's Lane, General Curtis reestablished his supply lines and gave orders to Major General John M. Schofield to lead the Union Army of the Frontier into northwest Arkansas.
Schofield makes the decision to divide the army, putting Brigadier General Francis J. Herron in command of the group that was to remain near Springfield, Missouri, and directing Brigadier General James G. Blunt to take his force into northwestern Arkansas. Hearing of this division of troops, Major General Thomas C. Hindman, field commander of the Confederate force in Arkansas, thought to take advantage and use this opportunity to defeat the Union army and clear a path for an invasion of Missouri. Hindman sends 2,000 cavalry, under command of Brigadier General John S. Marmaduke, towards Blunt's forces, who surprise the Confederates by meeting them with 5,000 men and thirty pieces of artillery, resulting in the Battle of Cane Hill where the Confederate army was pushed back.
After being repulsed at the Battle of Cain Hill, Hindman decided to send his 11,000 men, who were unfortunately poorly equipped, and his 22 canons back towards Blunt and his men. Blunt sends word to Brigadier General Herron in Springfield to march his men to Arkansas as reinforcements. Initially, Hindman wants Marmaduke's men to create a diversion by striking at Blunt from the south, while he attacks from the east, however he changes his mind- a decision that works in his favor. He decided instead to move north and attack Blunt's forces with Marmaduke's men in the front, striking early blows to both the 7th Missouri and the 1st Arkansas divisions.
Herron's forces arrive at this time to rescue Blunt, putting his men in position to attack Hindman from the north, while Blunt would be able to attack from the rear. Hindman makes the decision to set up his defensive position near Prairie Grove, Arkansas. On the morning of December 7, Herron sets out to destroy enemy cannons, taking out most by noon that day. This gave Herron enough encouragement to order two regiments of men to advance on Confederate cavalry near the Borden House, where half of his men were either killed or wounded almost immediately, while the remaining men retreated to the Union lines. The Confederate cavalry followed, however were repulsed when Herron used his artillery against them. Fearing a second Confederate attack, Herron ordered another charge forward, where hand to hand fighting ensued. Blunt, at this time could hear the battle going on and realized that Hindman's forces had gotten past him; he directs his men to go to Herron's rescue quickly.
The two forces together are able to drive the Confederates back to the hill, and it is during this period of fighting that the heaviest casualties mount up. By this time, darkness is approaching, and after more sporadic fighting, night puts an end to the battle. While Blunt has reinforcements to call upon, Hindman does not, and is also low on food and ammo. He has no other choice than to take his remaining troops and leave. Although the casualties were relatively even- the Union army losing 1,251 and the Confederates losing 1,317, the Confederate troops were demoralized. Union troops kept command of the battlefield, as well as northwestern Arkansas, making this a strategic victory for them.
Prairie Grove Battlefield State Park, made up of around 840 acres, is one of the most in-tact Civil War battlefields today. There are several important structures that have been discovered and made part of the park, including the Borden house, as well as others. The park offers guided tours of the battlefield, as well as walking trails, picnic areas, a playground, and Hindman Hall, where one can experience interpretive exhibits.
Sources
1. "Battle of Prairie Grove," last modified May 10, 2015, http://en.wikipedia.org/wiki/Battle_of_Prairie_Grove. 2. "Battle of Prairie Grove," last updated March 31, 2015, http://encyclopediaofarkansas.net/encycclopedia/entry-detail.aspx?search=1&entryID=513. 3. "Prairie Grove Battlefield State Park," last updated June 23, 2014, http://encyclopediaofarkansas.net/encyclopedia/entry-detail.aspx?search=1&entryID=1253.
Additional Information