Beach Chalet
Introduction
Styled in the Spanish colonial mode, the Beach Chalet was the last design by well-known San Francisco architect William Polk. Originally a changing house for beach-goers, today, the Beach Chalet is a brewery and restaurant located in Golden Gate Park. Gar and Lara Truppelli and Timon Mallory turned the historic building, which stood unoccupied for 17 years into the brewpub in 1997. The building features historic painted murals by artist Lucien Labaudt and sea-inspired wood carvings by Michael Von Meyer. The artwork was commissioned by the Works Progress Administration during the 1930s.
Images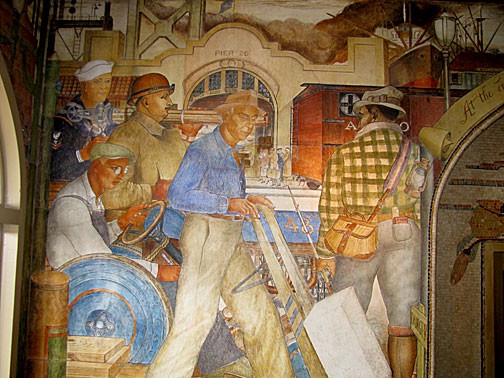 Labaudt painted himself into one of the murals (he is the man reading the paper)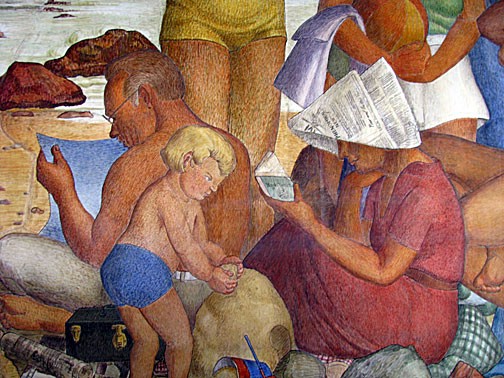 Beach scene with an unfinished Golden Gate Bridge in the background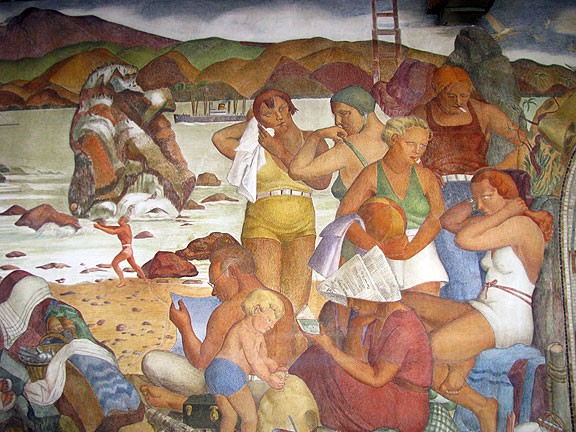 Labaudt painted fellow muralist Swiss-Italian Gottardo Piazzoni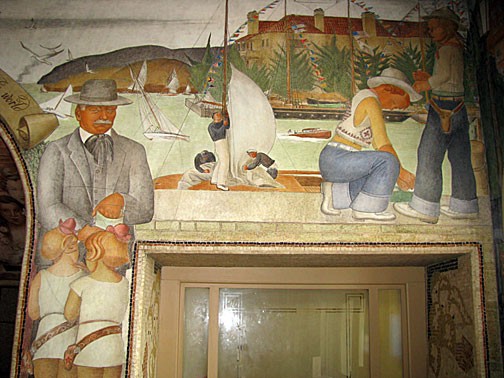 "Sea Creatures" in the staircase by Michael Von Meyer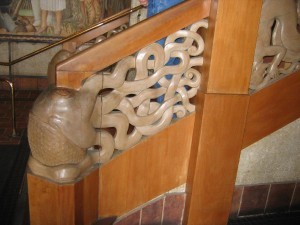 Backstory and Context
The original two-story building was designed by William Polk and completed in 1925. Initially used as a changing room for those wishing to venture into the ocean, the building eventually fell into disrepair before being purchased in 1997 and transformed into the pub and restaurant that stands today.
The frescoes, mosaics, and carvings on the ground floor were added in 1936 by the Works Progress Administration. The beautiful murals were painted by French painter and designer Lucien Labaudt and depicted San Franciscan life during the Great Depression. Labaudt also designed and directed the tile work, created by Primo Caredio, and magnolia wood carvings done by sculptor Michael von Meyer, including the intricate balustrade along the stairs leading to the second floor, with octopus newel posts, mermaids, deep-sea divers, old ships, and a sea monster.
The building was commandeered by the Army during the Second World War and used as a barracks for defending the coast and operating the signal station. After the war, the building was leased by the Veterans of Foreign Wars for use as a social hall. As the years went on it developed a rather bad reputation until the VFW eventually moved out in 1979. The building stood empty for two years when an extensive restoration began.
It reopened in 1996, and today the ground floor houses the Golden Gate Park visitor center and the Park Chalet restaurant; upstairs is the Beach Chalet restaurant, with sweeping views of the Pacific.
Sources
Beach and Park Chalet. Golden Gate Park. Accessed April 16, 2017. https://goldengatepark.com/beach-and-park-chalet.html.

Beach Chalet. SF Rec Park. Accessed April 16, 2017. http://sfrecpark.org/destination/golden-gate-park/beach-chalet/.

Architecture Spotlight: The Beach Chalet. Untapped Cities. Accessed April 16, 2017. http://untappedcities.com/2012/04/20/architecture-spotlight-the-beach-chalet/.
Image Credit [http://livingnewdeal.org/projects/beach-chalet-staircase-detail-san-francisco-ca/]
Additional Information