Friends Hospital
Introduction
Friends Hospital, founded as the Friends Asylum for the Relief of Persons Deprived of the Use of Their Reason, was the first private mental hospital in the United States that focused on humane mental health treatment.
Images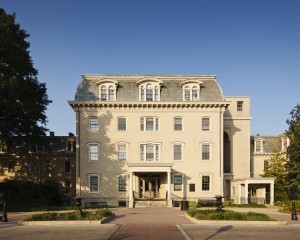 Friends Hospital- Original Building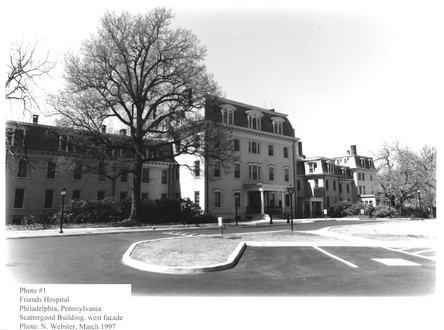 Backstory and Context
Friends Hospital, also known as the Friends Asylum for the Relief of Persons Deprived of the Use of Their Reason or Friends Asylum for the Insane, was established in 1813. The purpose of the hospital was to provide quality and professional health care to mentally ill patients. At this time, most mentally ill patients were treated in municipal almshouses, private hospitals, or family homes. Although almshouses treated large volumes of patients, these patients received inadequate treatment in unsanitary, poorly equipped, and under staffed facilities. Private hospitals, with typically 30 to 40 beds, treated small numbers of patients, but were too expensive for the poor. To offset these deficiencies in health care, many religious groups founded hospitals. Many of these private sectarian hospitals treated only those deemed as "hard-working and worthy poor" and refused treatment for paupers who were better suited for the almshouses.
The Society of Friends of Philadelphia, Pennsylvania, were the first religious organization in the United States to establish an institution specifically for the treatment of mentally ill patients. The Pennsylvania Hospital opened in 1752, but utilized the common practices of shackling, separation, and deprivation for patients. In May 1817 the Quakers founded Friends Hospital as a mental treatment facility that focused on humane and quality treatment of the mentally ill. Friends Hospital became the model for nineteenth and early twentieth century facilities. It was also one of the first hospitals in the United States to employ both male and female medical professionals.
Friends Hospital focused on mental health rather than mental treatment. Through utilizing the Quaker principle of moral treatment, Friends practitioners aimed to treat all patients with respect, equality, and love to promote total health. Patients were treated through interactive groups, with twelve to twenty patients in each group. These groups completed chores and attended lectures and tea parties together to enhance socialization. Patients were able to intermingle and only those who were a threat to themselves or others were restrained.
The hospital was a self-sustaining campus with a church, a women's school, a men's school, art studios, gardens, gymnasium, and libraries. Friends Hospital was instrumental in changes in mental health treatment and institutions. With its promotion of acceptance of psychiatric illnesses, Friends Hospital continues today as an influential institution for mental health and treatment.
Sources
Benjamin, Philip S. The Philadelphia Quakers in the Industrial Age: 1865-1920. Philadelphia: Temple University Press, 1976. In this book, Philip Benjamin discusses the social and cultural changes in the United States pre- and post-Civil War through a focus on the influence of religion and religious groups. Benjamin specifically focuses on the response by the Philadelphia Quakers (the Religious Society of Friends) concerning the secularization of American culture and society during the late 19th and early 20th centuries. He argues that the Society of Friends used politics, social reform, and charity to gain knowledge of and interact with secular, industrial cities. "Diseases of the Mind: Highlights of American Psychiatry through 1900, Early Psychiatric Hospitals & Asylums." U.S. National Library of Medicine. Accessed November 5, 2014. http://www.nlm.nih.gov/hmd/diseases/early.html. This article discusses the evolution of mental health treatment in the United States from the mid-18th century to 1900. It focuses on mental health facilities, physicians, and various medical procedures and treatment. National Record of Historic Places Program. "Friends Hospital." Accessed November 5, 2014. http://www.nps.gov/nhl/find/statelists/pa/FriendsHospital.pdf. This is the National Historic Landmark nomination form for Friends Hospital. This document focuses on the history of the hospital, the construction and architecture of the facility, and the current state of the facility. Pennsylvania Historical & Museum Commission. "Hospitals." Accessed November 5, 2014. https://www.portal.state.pa.us/portal/server.pt/community/hospitals/20250. This article focuses on hospitals founded by religious organizations in Pennsylvania. It provides information concerning Friends Hospital, Andrew Kaul Memorial Hospital, Saint Francis Hospital, and Methodist Hospital.
Additional Information