Mary Baker Eddy Library
Introduction
The Mary Baker Eddy Library gives visitors the opportunity to "explore the life, ideas, and achievements of Mary Baker Eddy (1821-1910), a remarkable nineteenth-century New England woman who overcame adversity to write a groundbreaking book on religion, health, and spirituality: Science and Health with Key to the Scriptures" ("About"). Eddy was a pioneer in several different fields, including "business, education, publishing, and founded The First Church of Christ, Scientist, in Boston, Massachusetts" ("About"); she was an author, teacher, and religious leader. The library offers several educational programs and exhibits; current feature exhibitions include Mapparium, Hall of Ideas, Quest Gallery, and Portraits of Global Caring. The library's Research and Reference Services is one of the largest collections that is both by and about an American woman.
Images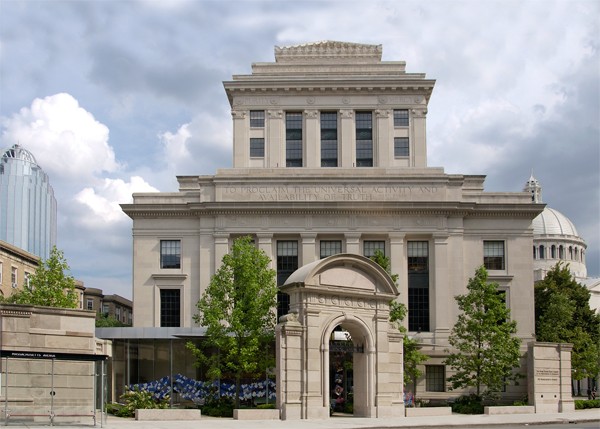 Backstory and Context
Mary Baker was born in 1821 in Bow, New Hampshire to Mark and Abigail Baker. She was sick a lot of her childhood and rebelled the Calvinist doctrine she grew up on in favor of simple prayer and scripture from the Bible.
Eventually, she married George Washington Glover in 1843; however, he died shortly after while she was pregnant with their son. Alone and unable to support her son alone, Mary moved back home until her mother passed away in 1849. Mary grew ill again and sent her son to her late husband's family, unable to provide the best care herself. In 1853, she married Daniel Patterson who left her in 1866 after years of infidelity; she was granted a divorce in 1873 on grounds of desertion.
Illness continued to haunt her throughout her life; she avoided 19th century medicine in favor of homeopathy and spiritual healing. In 1862, Mary met famous physician Phineas Quimby and found his mental/therapeutic treatments helpful. However, in 1866, Mary Baker found the most successful treatment to be from her reading of the Bible and spiritual healing and she began her development of Christian Science. She researched, traveled, and taught her Christian Science principles around the United States, where she met her third husband, Asa Gilbert Eddy who was extremely supportive of her beliefs and education of others. She started her own church by establishing a charter in 1879 and published several books and articles, including Science and Health with a Key to the Scriptures and Church of Christ, Scientists, and founded the newspaper Christian Science Monitor. Mary Baker Eddy died in 1910, but her church continued to grow.

Sources
http://www.marybakereddylibrary.org/about/ http://www.marybakereddylibrary.org/mary-baker-eddy/life/
Additional Information