Bates County Historical Museum
Introduction
Established in 1961, this local history museum is housed in a building that was part of the county's former poor farm which was built in 1915 and includes thirty-four acres of land. In addition to museum exhibits, the complex includes archives and a research room. The main exhibit hall takes a chronological approach with exhibits on the Osage Indians followed by early Western pioneers and the Civil War, followed by life throughout the county in the late nineteenth and early 20th century to the mid 20th century and beyond. The east wing of the museum includes a recreation of a country store along with exhibits related to music and the arts. T
Images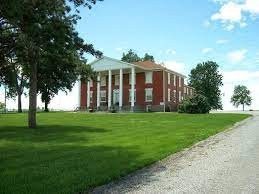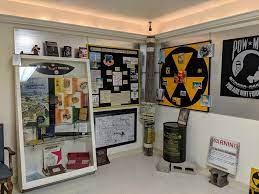 Larger view of Bates Property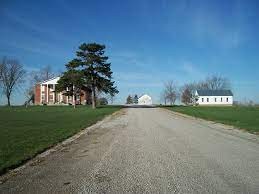 Backstory and Context
The earliest organization formed to preserve Bates County's history was the Old Settler's Society which first held meetings in 1897 and continues to meet annually. The organization purchased this land and property in 2000 and spent six years renovating the area. In 2006, two old school buildings were moved to the museum grounds. The Nyhart School and the Wilcox School.
Bates County is home to an important first in Civil War history as men of the 1st Kansas Colored Volunteer Infantry became the first African American regiment to see action on October 29th, 1862. The Black troops turned back proslavery bushwhackers in the Battle of Island Mound, a battle that predated the federal government's acceptance of Black troops and also predated the Emancipation Proclamation. The battle began with around 240 men of the 1st Kansas Colored marching into Bates County to challenge a guerrilla stronghold. Intense fighting began and when the battle was over 8 men of the KCVI were dead and it's unknown how many Guerrillas were killed. In 2008 a statue of a Black soldier was dedicated on the Bates County Courthouse Square in recognition of this historic first. The battleground is now a park and there have been recent historical markers commemorating Bleeding Kansas and the Civil War in the area.
Most white citizens of the area either tried to avoid the conflict, while some actively supported attacks on Free State citizens. In the summer of 1862, a contingent of Bates County men fought for the South in the Battle of Lone Jack in neighboring Jackson County. Local tensions were inflamed in 1863 when a makeshift jail collapsed, killing several pro-Southern women. In August of 1863, pro-Southern raiders staged a brutal attack on civilians in Lawrence, Kansas. In response, federal troops began arresting family members of suspected guerrillas and Union General Thomas Ewing ordered an evacuation of everyone in Bates County, and many homes and businesses, and farms were burned. These histories are included in museum exhibits along with the perspectives and experiences of Bates County residents following the Civil War and throughout the 20th century.
Sources
Bates County Museum, butler, mo: Historical society and museum. Bates County Museum Butler MO. (n.d.). Retrieved May 2, 2023, from https://batescountymuseum.org/ 
Bates County History . Bates County Missouri. (n.d.). Retrieved May 2, 2023, from https://batescounty.net/ 
Additional Information