USS LST Ship Memorial (LST-325)
Introduction
The USS LST-325 is one of the few still operational LSTs left in America (and one of only two WWII LSTs). An LST is a "Landing Ship, Tank," and the LST-325 was built specifically for and during World War II, though its long history saw many other conflicts and was even used by the Greek military for a time. Today the historic ship is registered with the National Register of Historic Places and docks in Evansville, IN, as a tribute to the town that built so many LSTs during WWII. However, the ship frequently travels to other cities and towns as well, bringing history to America. Visitors can tour the ship and learn the history of the LST-325.
Images
The LST-325 on the Ohio River in Wheeling, WV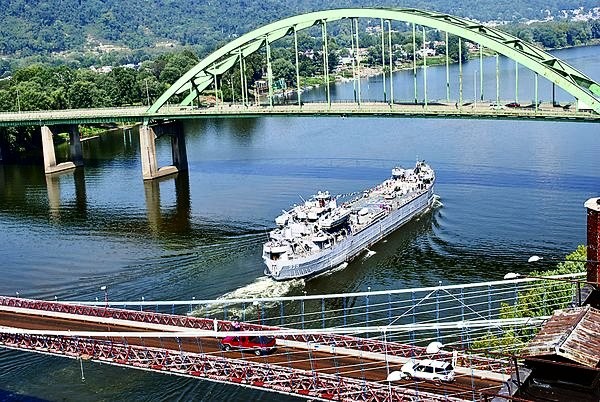 Historic photo of the LST-325 loaded up for the invasion of Sicily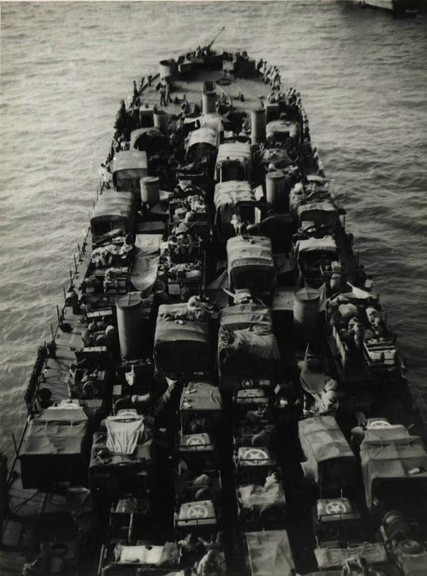 Backstory and Context
The LST-325 first launched on October 27, 1942--first to Virginia, then to New York, and on March 19 for Oran, Algeria. There American and British armies practiced loading and beach operations. Then in the summer of 1943, the ship began invasions into Italy. It was the start of the 325's active involvement in military combat, and the ship would remain a crucial part of war operations throughout the duration of World War II, sometimes operating in Algeria or Tunisia, other times in England or Ireland. The LST-325 most famously participated in the D-Day invasion of Normandy.

In a critical moment in the ship's history, on May 11, 1945, the LST-325 sailed with a convoy from Belfast in a return to the United States. The weather, however, turned dark, and the convoy found itself confronting a terrible storm. When the LST-325 plunged bow first into a massive wave, the main deck cracked. Ship fitters saved the ship by welding steel plates across the hull, keeping the ship in one piece. The damaged (but saved) ship arrived in Norfolk, Virginia on May 31, 1945.

Amazingly, the ship remained active until July 2, 1946. However, after only five years of inactivity, the ship was reactivated in 1951 for Military Sea Transport Service. It continued in this role for 10 years, when it was again taken out of service and placed in the National Defense Reserve Fleet. Then in May, 1964, the LST-325 was transferred to the Greek military. As part of the Greek military, the ship remained active until 1999. U.S. Ship Memorial, Inc. acquired the LST-325 in 2000 and sailed her back across to the Atlantic. The ship arrived in Mobile, Alabama on January 10, 2001 and then continued until its current docking station: Evansville, IN. The ship continues to be operational and makes visits to other ports in America.

Sources
http://www.lstmemorial.org/pages/history.html
Additional Information