Garden of the Gods Wilderness
Introduction
Once covered by one enormous inland sea, stretching across Illinois, Indiana, and Kentucky, rivers poured sediment and sand into the place that is now called Garden of the Gods. The weight of water and new layers of sediment and sand turned the lower layers into rock. When later a significant uplift brought the area above sea level about 320 million years ago, the rock became exposed to the elements for the first time. Rain, wind, and snow have been forming and changing the "garden" ever since.
Images
The stunning rock bluffs at sunset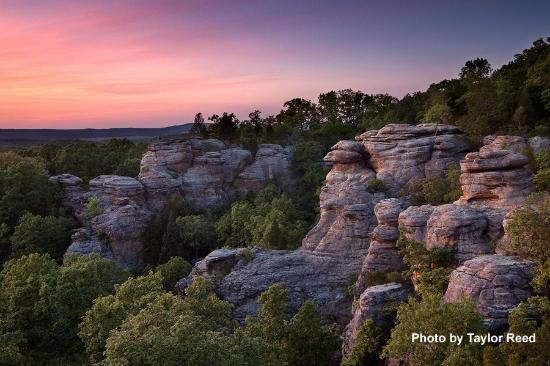 Backstory and Context
There are 5.5 miles of trails in the Garden of the Gods Wildnerness, all part of the greater Shawnee National Forest. The paths allow visitors to hike through and climb the natural sandstone "sculptures." Overall, it includes 3,300 acres, which can be accessed by foot, vehicle, or horse.

The most popular trail is the Observation Trail, which includes signs marking the geological history of sites along the way. Visitors will have the opportunity of exploring rock bluffs with 100-feet drops. However, visitors are warned to be cautious during rain. The smooth rock surfaces may not be safe for climbing when wet.
Sources
http://www.shawneeforest.com/GardenoftheGods http://www.theshawneenationalforest.com/home/shawnee-national-forest-trails/garden-of-the-gods
Additional Information