Pocono Indian Museum
Introduction
The Pocono Indian Museum illustrates the history and culture of the Delaware based tribe of Native Americans. The museum displays historical artifacts, including authentic tools and weapons. Through it's exhibits and information, the museum demonstrates the story of the Delaware Native Americans and provides replica items for purchase.
Images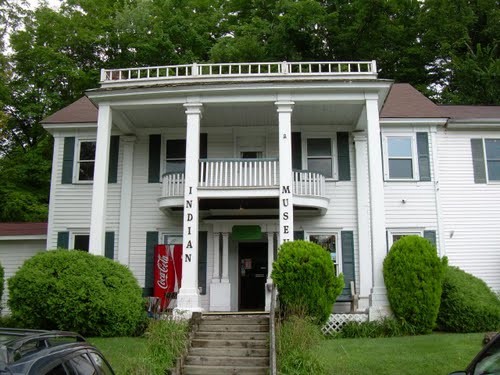 Backstory and Context
The building that houses the Pocono Indian Museum is a significant piece of local history. Built in 1840, it was initially one of the largest homes in the area. During the Civil War, the home served as a stop on the Underground Railroad, facilitating safe passage for Slaves escaping the south. During prohibition, the home was used as a speakeasy, and was a known hang-out for big city mobsters who were passing between larger cities. Prior to becoming the museum, the home took a drastic turn, and hosted children attending Baptist summer camp before it eventually came to house the museum.

The Pocono Indian Museum prides itself on being the only Northern Pennsylvania establishment to showcase the Delaware Tribe's history. Along with significant local artifacts, such as weapons, tools, and pottery, the museum illustrates the Tribe's progression, beginning in 10,500 B.C.E. The museum demonstrates the Tribe's interaction with other Native American Tribes, Europeans, and white settlers. It also portrays the what the Tribe experienced during the American Revolution, and how the white settler impacted the Tribe's population and wellbeing.





Sources
http://www.poconoindianmuseumonline.com/shop/ http://www.visitpa.com/pa-museums/pocono-indian-museum
Additional Information