Felix Vallé State Historic Site
Introduction
The Felix Vallé State Historic Site in St. Genevieve is comprised of several historic late 18th and early 19th-century buildings. Many of these structures were designed in the French colonial style, in which walls were constructed with vertical logs. One of the largest concentrations of this type of constructions is located here in St. Genevieve. Perhaps the most notable structure of the site is the Felix Vallé House, which was built by by Jewish merchant Jacob Phillipson around 1818 and designed in the Federal style, which reflects the evolving tastes of the young country as it moved past the colonial era. Other historic buildings include the Dr. Benjamin Shaw House (c.1819) and the Guibourd-Valle House (1806). The site is listed on the National Register of Historic Places, is a a National Historic Landmark District, and was designated as the Sainte Genevieve National Historical Park in 2018. As of summer 2019, the transition to the National Park Service is getting underway and the site will continue to be operated by Missouri State Parks for the foreseeable future.
Images
The Felix Vallé House (foreground) is one of several historic structures of the site.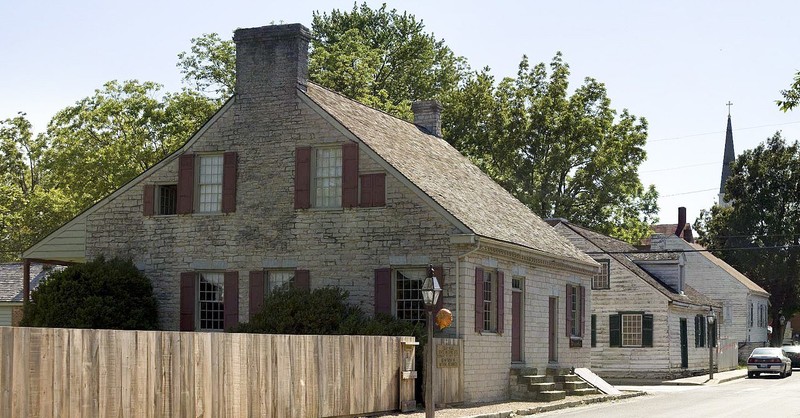 Backstory and Context
As stated above, the Felix Vallé House exemplifies the changing tastes of residents of the early 1800s. While maintaining French traditions, Felix Vallé and his wife, who bought the house in 1824, adopted the American lifestyle as evident in the items they purchased for the house including cloth, glass, and housewares. Felix operated a trading firm from the house called
Menard & Vallé.
Original mantels and interior trim with early Empire furnishings complete the family living quarters. An outdoor staircase leads to the second-floor bedrooms. There is also a garden area that features original brick and frame outbuildings.
Sources
"Missouri's French Colonial Past." Missouri State Parks. Accessed June 25, 2019. https://mostateparks.com/page/54960/general-information.

Thorsen, Leah. "Ste. Genevieve gets national park designation, but much remains to do before it will open." May 8, 2018. https://www.stltoday.com/news/local/metro/ste-genevieve-gets-national-park-designation-but-much-remains-to/article_fae83008-2083-5926-945d-e5a9207dba9b.html.

Trap, Patricia. "National Park Service Moves Forward, With 'Due Diligence'." St. Genevieve Herald. March 26, 2019. http://www.stegenherald.com/news/national-park-service-moves-forward-with-due-diligence/article_b7b5cf4e-4fe9-11e9-975e-f3e7db5ed442.html.

Photo: Wikimedia Commons
https://en.wikipedia.org/wiki/Ste._Genevieve_Historic_District#/media/File:Photograph_of_the_Location_of_the_Felix_Vallee_House_in_Ste_Genevieve_MO.jpg

Additional Information