Charnley-Persky House (Now known as Charnley-Persky House Museum)
Introduction
The Charnley-Persky House (1891) was designed by two famous architects, Louis Sullivan and Frank Lloyd Wright. Sullivan had hired Wright as a draftsman in 1887, but allowed him to help with the design of the Charnley House, an abnormal role for a draftsman at the time. Sullivan's rejection of Beaux-Arts style, as well as their mutual rejection of Victorian-era designs are noted, as well as features that came to be synonymous with the Prairie School. The building was constructed during the height of Chicago's meteoric population and construction boom, and for James Charnley, a lumber magnate in Chicago at a time when Chicago existed as the world's largest lumber market.
Images
James Charnley House, 1891.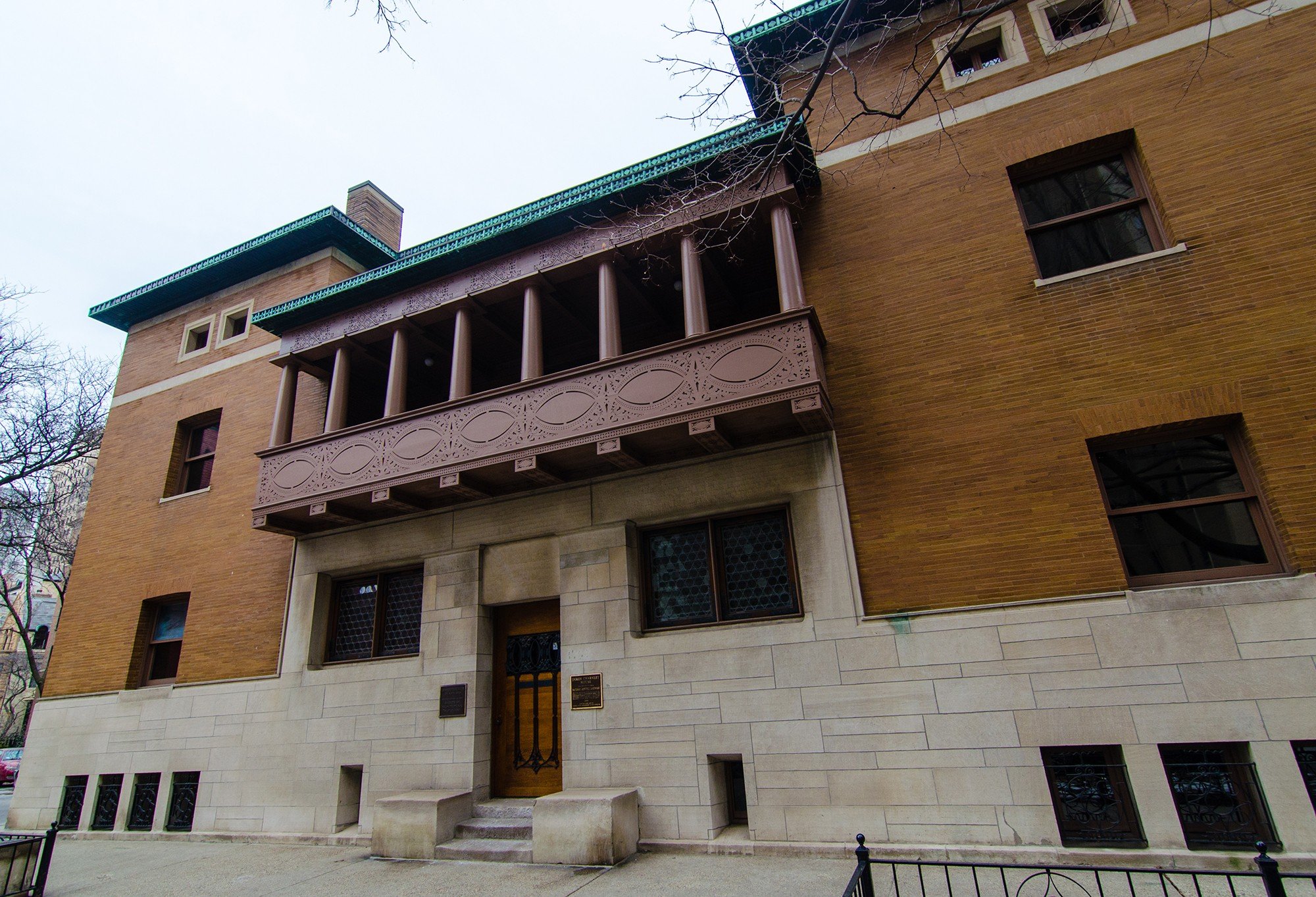 Louis Sullivan in 1890, the year before he designed the Charnley House, and Frank Lloyd Wright in 1887, shortly after he arrived in Chicago.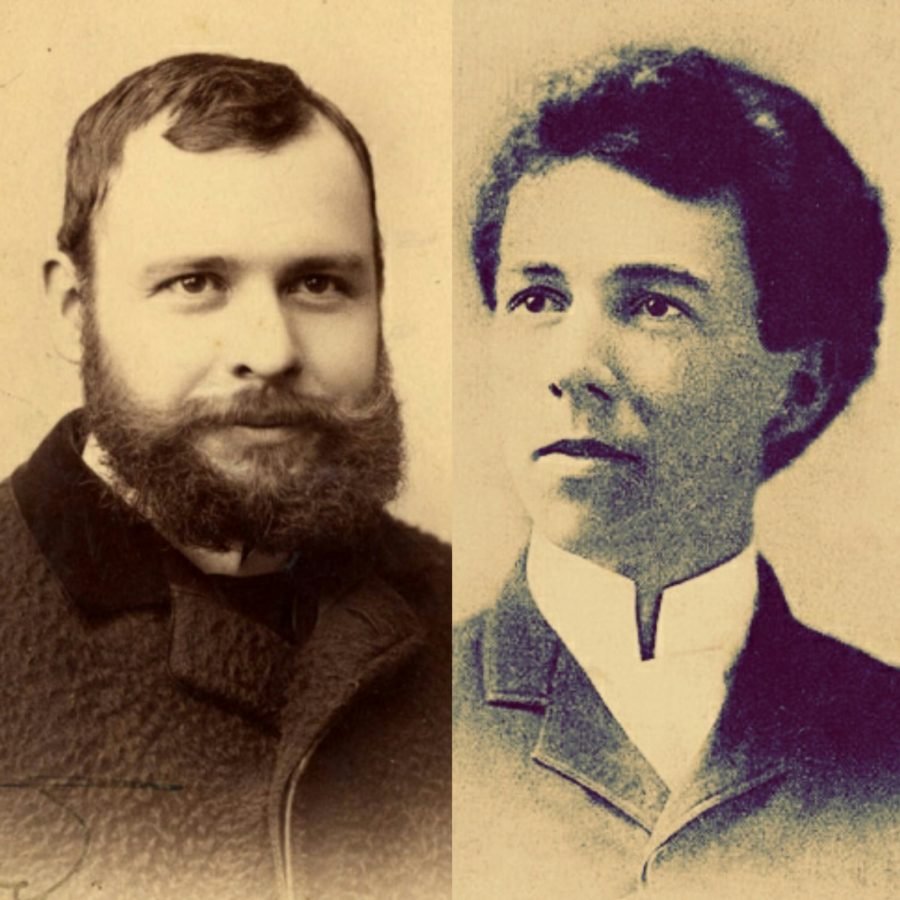 Backstory and Context
The confluence of several histories allowed for the existence of the James Charnley House; built in 1891 by two famous architects -- Frank Lloyd Wright and Louis Sullivan, for a man involved in one of Chicago's prominent nineteenth-century industries, in a neighborhood catering to Chicago's wealthy, and at a time when Chicago was in the midst of reaping the benefits of its unique geography to become the fastest growing city in the world.
Louis Sullivan and Frank Lloyd Wright are two stalwarts within the field of architecture. Sullivan, then of Sullivan & Adler, hired the much younger Wright in 1887 as a draftsman to assist in producing construction drawings for Chicago's Auditorium Building (1887–1889).
But, it was Wright's involvement in with the Charnley House (1891) that demonstrates Sullivan's respect for Wright by letting him be involved in the creative design aspects of the project. Evidence of the collaboration can be seen both in Sullivan's typical rejection of anything related to Beaux-Arts and their mutual avoidance of anything related to historical, Victorian architecture. Early signs of the Prairie School are noted, especially with the interplay between a structure's geometric form and the natural-looking landscaping.
James Charnley, a wildly successful lumber magnate, hired Adler & Sullivan to build his house in what is now the Gold Coast neighborhood, noted for its wealthy residents. Though the Michigan Ave Bridge, which helped open the city's north side, was still nearly thirty years away at the time of the house's design, numerous wealthy Chicagoans recognized the advantage of living on Chicago's Near North Side, especially near the lake.
Lumber, in Chicago, proved to be a good industry for which to gain wealth. Along with grain and meatpacking, lumber served as one of the city's "big three" commodities during the nineteenth-century. Chicago's favorable geography (as it was perceived by investors) included a maritime connection to both New York and New Orleans (among other places) as well as the dense forests located in the Upper Great Lakes. Chicago also grew to become one of the nation's most important railway hubs. Those variables, along with the lumber used in the city itself as it rapidly grew, allowed Chicago to mature as an indispensable hub for advancing and processing forest products. In fact, Chicago was the world's largest lumber market in the last half of the nineteenth century.
Lumber provided Charnley with wealth, and Chicago's growing Near North Side offered a chance for him to hire one of the most prestigious architectural firms in the city -- Adler & Sullivan, with Sullivan's fame already secured. That, in turn, allowed Sullivan's new draftsman, with whom Sullivan admired, a chance to exercise his home-design prowess -- and the Prairie School was not far behind. Thus, the house stands as a monument to several aspects of both Chicago's history and architectural history.
Sources
Charnley-Persky House Museum: History. Society of Architectural Historians. . Accessed June 26, 2018. http://www.charnleyhouse.org/.

Chicago Architecture Foundation. "Charnley-Persky House" architecture.org. Accessed June 26, 2018. http://www.architecture.org/architecture-chicago/buildings-of-chicago/building/charnley-persky-house...

Harrington, Elaine, Richard Longstreth, Pauline Saliga, Elizabeth Sippel, and Paul Sprague. "Charnley, James, House: National Historic Landmark Nomination Form." National Park Service. Sept 10, 1997. https://npgallery.nps.gov/NRHP/GetAsset/NHLS/70000232_text

Karamanski, Theodore J. "Lumber." Newberry Library Enyclopedia of Chicago. Accessed June 26, 2018. http://www.encyclopedia.chicagohistory.org/pages/767.html.

Lowe, David Garrad. "Louis Henri Sullivan and the Chicago School. "Newberry Library Enyclopedia of Chicago. Accessed June 26, 2018. http://www.encyclopedia.chicagohistory.org/pages/2414.html

Seligman, Amanda. "Near North Side." Newberry Library Encyclopedia of Chicago. Accessed June 26, 2018. http://www.encyclopedia.chicagohistory.org/pages/876.html

Photo Sources
James Charnley House, 1891: Eric Allix Rogers via architecture.org - http://www.architecture.org/architecture-chicago/buildings-of-chicago/building/charnley-persky-house...

Sullivan and Wright: Ryerson and Burnham Libraries/Frank Lloyd Wright: A Biography, also found at http://chicagopatterns.com/louis-sullivan-frank-lloyd-wright-charnley-house/

Additional Information