Grace Cathedral
Introduction
Grace Cathedral is famous around the world for its mosaics, architecture, stained glass windows, labyrinths, and replica of Ghiberti's Gates of Paradise. An Episcopal church, Grace Cathedral has a welcoming and diverse congregation offering daily tours, arts programs, and talks, throughout the year.
Images
Exterior of Grace Cathedral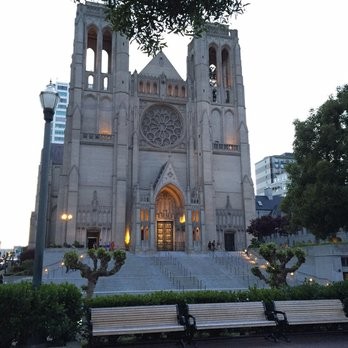 One of the labyrinths at Grace Cathedral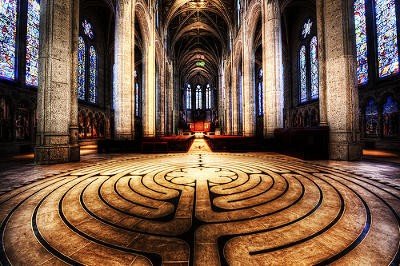 Backstory and Context
The original Grace Church parish was founded by Rev. John Ver Mehr in 1849 during the California Gold Rush. Though he was the first minister appointed to the city, Trinity Church had already been built just across the street. Ver Mehr decided to name his Church 'Grace'. A third brick Gothic church opened up the street, at California and Stockton Streets, in 1862. In 1906 the church burned down in the widespread fires following the earthquake of 1906.
Following the great fires, William Crocker, a banker and railroad businessman, donated the site of his former mansion, which had been destroyed during the fire, to the church. He gave the land to the church, and a temporary cathedral was built in 1907, designed by English architect George Bodley and, after his death, partner Cecil Hare. The plans were later redesigned by Hare's San Franciscan agent, Lewis Hobart, who was made the official architect of the new Cathedral.
Work began on Hobart's new Cathedral in 1928, emulating the French Gothic style, and was finished in 1964, becoming the third largest Episcopal cathedral in the United States. Construction was slowed due in part to the great depression. The majority of the cathedral had been built by 1943, but work halted until 1960. The Cathedral was finally consecrated on 1964, and saw famous visitors such as Dr. Martin Luther King and Duke Ellington.
To enter the Cathedral one must pass through the Ghiberti doors, replicas of the doors designed for the Baptistery in Florence, by artist Lorenzo Ghiberti - known also as the "gates of paradise". The original doors were removed during the Nazi occupation of Northern Italy to protect them from bombing, and hidden in an abandoned railway tunnel until the end of the war. Casts were made after their rediscovery and replicas of the doors were made to be used as part of a war memorial. The funding for this project fell through and the replicas were purchased by Charles Field, the San Franciscan philanthropist, who had them shipped to California and installed at the church for its opening in 1964. Poor conditions and weathering led to the slow destruction in the doors, and more modern replicas have been in place since 1991.
Sources
Lampen, Michael. Accessed March 19, 2017. https://www.gracecathedral.org/history/.


Additional Information