Grand Army of the Republic Hall
Introduction
The Grand Army of the Republic Hall began as a one-room schoolhouse in the center of Peninsula, Ohio, and was then converted to a gathering place for veterans of the Civil War. The members of GAR Post #272 veterans names the hall in George L. Waterman, a native of Peninsula who was in Dayton while attempting to quell pro-slavery riot.
Images
Contemporary photograph of the GAR hall in Peninsula, Ohio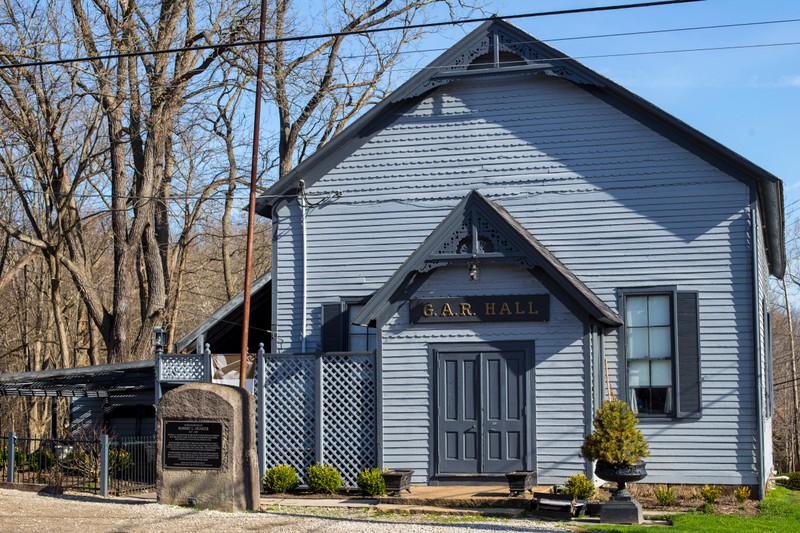 Backstory and Context
The following information comes directly from the Peninsula Foundation:
"The last members of the G.A.R. returned the property to the village in 1914. Veterans returning from World War I formed the Fauble Post of the American Legion and purchased the G.A.R. Hall from the village in 1931. The Fauble Post ceased to meet by 1959 and the property reverted to the State of Ohio's American Legion. The structure fell into critical disrepair by 1962 and was sold for back taxes by the Legion to Robert L. Hunker, a local preservationist who restored the building's grandeur.
In the 1880s, the G.A.R. Hall was a meeting place for the veterans of the Grand Army of the Republic and the social center for the village where weddings, funerals, plays, and parties were held as well as meetings of the G.A.R. The hall also served as a basketball court for the school after it was moved across the street. It was also the location for one of the first showings of a motion picture in Summit County. From 1943 until 1949, the G.A.R. Hall was the home of the Peninsula Players.
World War II brought an end to the building's usefulness for the American Legion and Peninsula Players and the building fell into disrepair. By the early 1960s, the west wing was gone and the building was in such poor condition that it was slated for destruction as a fire drill by the local fire department. Robert L. Hunker stepped in and purchased the land and house at the rear to provide for a sewage treatment plant. He restored the main floor and stage to its original condition. The insignias of the G.A.R. painted by Charles Currier remain. Flanking the stage are oil chandeliers and sidelights which are identical to the original fixtures of the hall.
Today, the G.A.R. Hall is operated as a Civil War museum and special events facility which works in conjunction with the Peninsula Foundation, a 501 (c)(3) not for profit operating foundation."
Sources
Peninsula Foundation: http://www.peninsulahistory.org/gar/history/
Additional Information