City Lights Book Sellers & Publishers
Introduction
The world-renowned bookstore was founded in 1953 by Beats poet Lawrence Ferlinghetti and Peter D. Martin. In 1955, City Lights was expanded to include a book press, too. The site was the country's first all-paperbound book store and was well known for stocking anti-authoritarian titles. Since the press was established, City Lights has published over two hundred titles and continues to print several new titles annually. Additionally, the shop offers three stories of book shelves stocked with everything from unique and rare to new and popular titles.
Images
Bob Donlin, Neal Cassady, Allen Ginsberg, Robert Lavigne, and Lawrence Ferlinghetti outside of City Lights in 1955.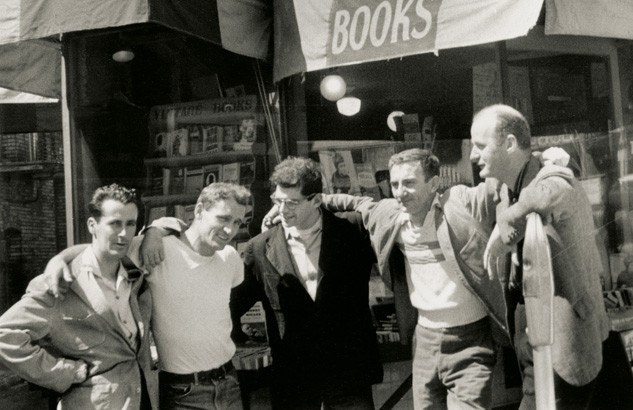 Exterior of City Lights during the 1950s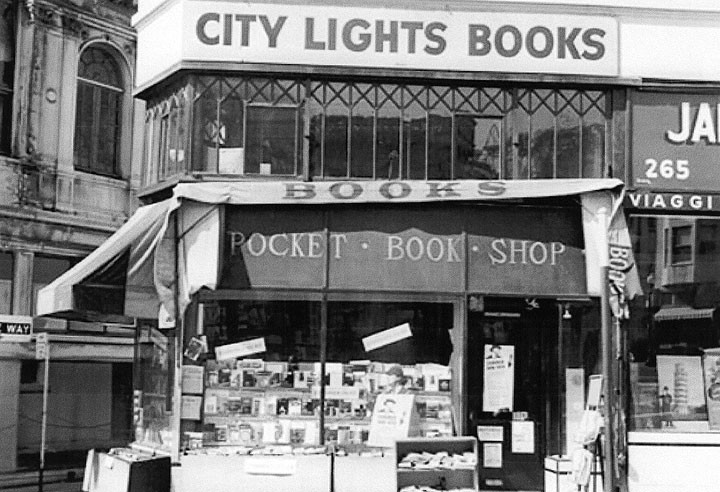 Exterior of City Lights present day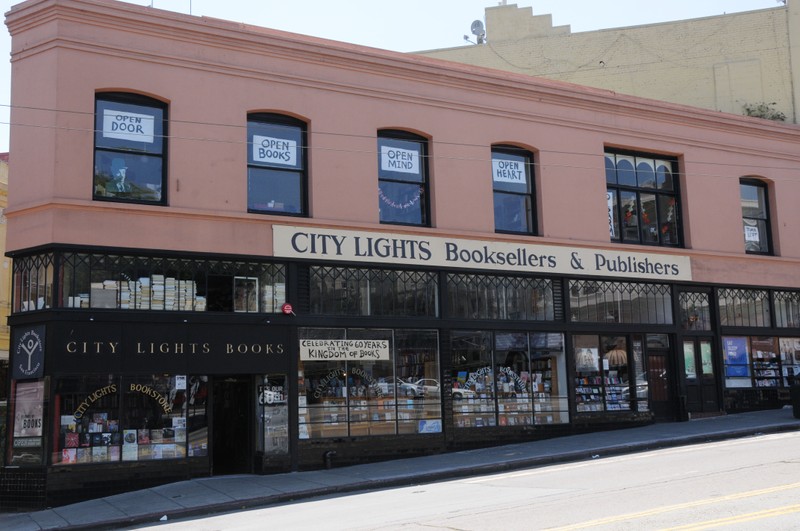 Inside the Poetry Room of City Lights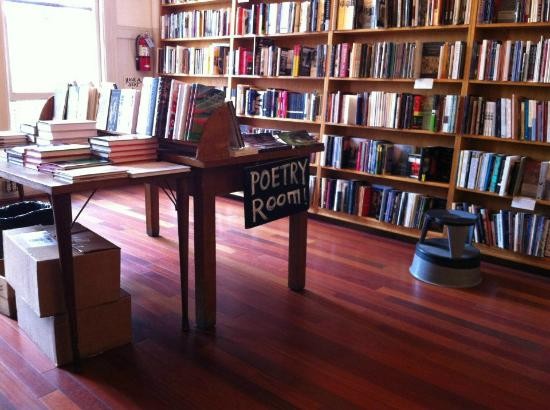 Backstory and Context
City Lights founder Lawrence Ferlinghetti was born in Yonkers, but eventually left to go to college at the University of North Carolina at Chapel Hill. He served in the U.S. Navy in World War II as a ship's commander, and then he did his graduate studies at Columbia University. In 1950, Ferlinghetti received his PhD from l'Université de Paris. In 1951, Ferlinghetti moved to San Francisco where, according to a brief biography1, "he taught French in an adult education program, painted, and wrote art criticism" before opening City Lights with Peter D. Martin in 1953 and eventually establishing the publishing company in 1955.
The bookstore is historically known for attracting many well known writers and artists, and Ferlinghetti was notorious for publishing anti-authoritarian and cultural-critiquing works through his Pocket Poets Series. According to a brief biography, "his publication of Allen Ginsberg's Howl & Other Poems in 1956 led to his arrest on obscenity charges, and the trial that followed drew national attention to the San Francisco Renaissance and Beat movement writers. (He was overwhelmingly supported by prestigious literary and academic figures, and was acquitted.) This landmark First Amendment case established a legal precedent for the publication of controversial work with redeeming social importance."
Ferlinghetti has received many honor over the years, including the Los Angeles Times' Robert Kirsch Award, the BABRA Award for Lifetime Achievement, the National Book Critics Circle Ivan Sandrof Award for Contribution to American Arts and Letters, the American Civil Liberties Union's Earl Warren Civil Liberties Award. Ferlinghetti was named San Francisco's Poet Laureate in August 1998, and in 2003, he received the Robert Frost Memorial Medal, the Author's Guild Lifetime Achievement Award. Additionally,he was elected to the American Academy of Arts and Letters. In 2005, the National Book Foundation awarded him the inaugural Literarian Award. In 2007, he was named Commandeur, French Order of Arts and Letters, and in 2012, he was awarded the Douglas MacAgy Distinguished Achievement Award from the San Francisco Art Institute.
Sources
A Brief Biography of Lawrence Ferlinghetti. City Lights. Accessed April 01, 2017. http://www.citylights.com/ferlinghetti/.

Karp, Evan. San Francisco's City Lights: the bookshop that brought us the Beats. The Guardian. May 25, 2013. Accessed April 01, 2017. https://www.theguardian.com/travel/2013/may/25/san-francisco-city-lights-bookshop-beats.


Additional Information