W. K. Kellogg Manor House
Introduction
The cereal giant, W.K. Kellogg, built a summer estate for his family in Hickory Corners, MI between 1925 and 1926. He chose a location with a beautiful view from the highest point over looking Gull Lake. Today the 32-acre space is part of the Kellogg Biological Station (through Michigan State University), though it is a couple miles removed from the remainder of the station. Visitors can explore the grounds and take tours of the restored mansion, remembering the man that made boxed cereals commonplace and who dedicated himself to environmental conservation.
Images
The beautiful tudor-style Kellogg Manor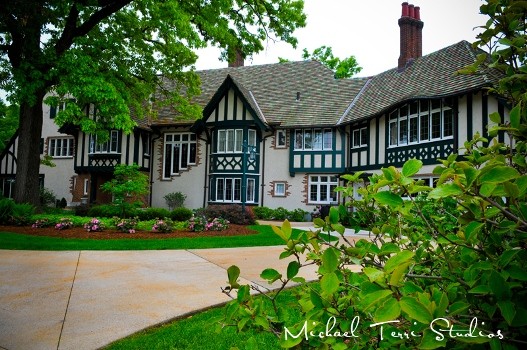 The manor's gardens, overlooking Gull Lake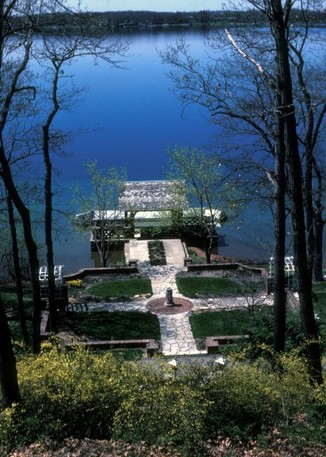 Backstory and Context
As a devout Seventh Day Adventist, Will Keith Kellog (more commonly known as W.K. Kellogg) valued healthy living as a moral imperative taught by the church. He discovered the art of making cereal flakes while working at a 7th Day Adventist sanitarium, and he and his brother later turned it into the industry it has now become by marketing their product--eventually leading to the creation of the Kellogg Company.

As a wealthy man, Kellogg built a summer home for his wife and children in Hickory Corners, MI--not far from Kalamazoo--between 1925 and 1926. He was inspired by the Tudor style, which can been not only in the exterior architecture but in the interior woodwork and details as well. Ornate carvings and beautifully detailed woodwork set the mansion apart.

The Kellogg family used the house until in 1942, when the Kelloggs allowed Coast Guard use of the estate for training and induction. Then as WWII came to a close, Percy Jones Hospital used the estate as a rehabilitation center for returning servicemen.

At the age of 91, Will Keith Kellogg passed away on October 6, 1951. According to his will, the estate was then given to Michigan State University, becoming an official part of the Kellogg Biological Station. Today visitors can tour the house and grounds.

Sources
http://www.kbs.msu.edu/visit/manor-house/manor-house-history
Additional Information