Green-Wood Cemetery
Introduction
Founded in 1838 and spanning over 478 acres, Green-Wood Cemetery is where all important and wealthy residents of New York would have been buried in the nineteenth century. Among those interned at this cemetery are the infamous New York political boss William Magear, more commonly known as "Boss", Tweed. Henry Chadwick is also buried here. Chadwick was an influential journalist who was instrumental in popularizing the sport of baseball.
Images
The Chapel at Green-Wood Cemetery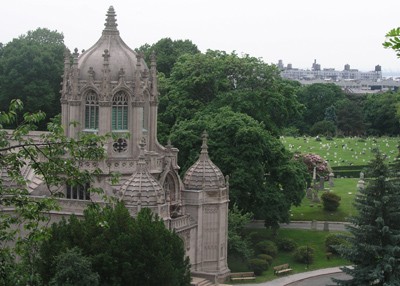 Visitors begin their journey by passing through the cemetery's Gothic main gate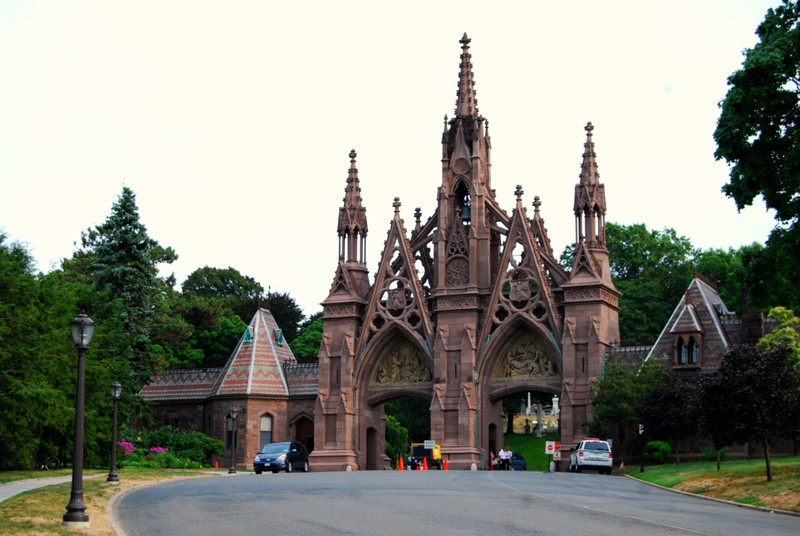 Backstory and Context
In many ways Green-Wood has served equally as a public park as it has as a cemetery. By the second half of the nineteenth century, 500,000 people per year were visiting the cemetery. Families flocked here not only for the spectacular sculpture on the graves, but also to take in the spectacular grounds, complete with picturesque ponds, hills, valleys, and walking paths. At its height, Green-Wood was second in US tourist attraction popularity only to Niagara Falls. Its success as a tourist attraction helped to bring about later important public parks, such as New York City's Central and Prospect parks
The site itself was of historical importance before the building of the cemetery. The land Green-Wood is built on was the site of a major Revolutionary War Battle, The Battle of Long Island. Also known as the Battle of Brooklyn or the Battle of Brooklyn Heights and fought in 1776, this was the war's largest battle in terms of number of troops. It was also the first battle of import fought after the US declared independence on July 4, 1776. It was a defeat for the US Army under George Washington and allowed the British to gain control of New York City. It is also part of the Civil War Discovery Trail and is home to important historical Civil War Graves.
The grounds are also a hub for birdwatchers and part of the Audubon Cooperative Sanctuary System.
Sources
http://www.green-wood.com/ http://en.wikipedia.org/wiki/Battle_of_Long_Island www.centralparksunsettours.com
Additional Information