John Wornall House Museum
Introduction
Built in 1858, the John Wornall House is one of the few antebellum homes remaining in Kansas City and the oldest house museum in the city. It was built by its namesake, John Wornall, who had it designed in the Greek Revival style. The two-story brick structure was built with thick walls and is today furnished with period furniture to represent what a prosperous, pre-Civil War household looked like. Wornall made his living as a farmer. The house stood on a 500-acre property and slaves tended to the crops and household tasks. The house is also significant for its association with the Battle of Westport, which took place in October 23, 1864 and resulted in a Union victory. The house was used by both Union and Confederate troops as a field hospital. Given its age and significance, the house was added to the National Register of Historic Places in 1969. Today it is open to the public as a museum under the care of Wornall Majors House Museums.
Images
John Wornall House Museum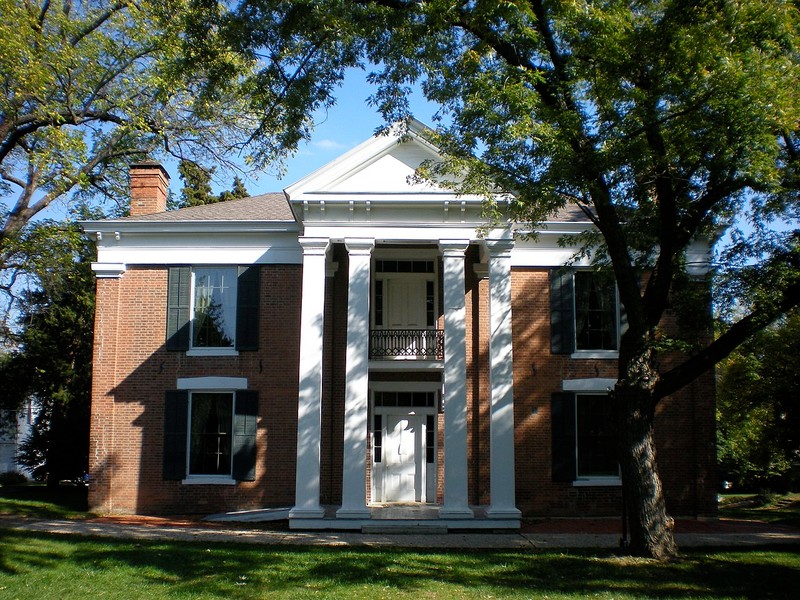 Backstory and Context
John Bristow Wornall was born in Kentucky in 1822 to Richard and Judith Wornall. Richard owned a mule and horse-trading business but it ran into financial problems, forcing him to sell his assets. The family made their way to Jackson County, Missouri in 1843, where Richard and Judith purchased 500 acres from John C. McCoy, the founder of Westport. They paid five dollars per acre for the land which included a small, wooden, four-square log cabin built in 1837. The original property stretched from present-day 59th to 67th streets, Main Street to State Line. 
The Wornalls were farmers who grew corn, hay, oats, and wheat and sold horses and mules to those moving west. Records show the Wornalls made enough money in their first year to pay off the farm entirely. The Wornalls were also slave owners; four are listed in the 1860 census: two women, one man, and a child. It is possible that their names were George, Jim, Allen, and Nancy. While slavery in western Missouri was very profitable this was a working farm, not on a plantation scale, and the owners would have worked alongside the slaves.
In 1845 Richard and Judith sold the farm to John and his brother George. In 1849 George caught "gold rush fever" and set out for California; he died along the way of cholera. Judith also passed away that same year and Richard returned to Kentucky. The Wornall farm thus became John's sole property.
John married three times. The first marriage was in 1850 to Matilda Polk from Kentucky. Matilda died childless in 1851 after one year of marriage. In 1854, John married Eliza Shalcross Johnson, daughter of Rev. Thomas Johnson, founder of the Shawnee Indian Mission in what is now Kansas City. John and Eliza had seven children of which only two, Frank and Thomas, survived. They had five daughters who all passed away before the age of three. Eliza died in July 1865 due to medical complications three weeks after giving birth to Thomas. John married for the third time in 1866 to Roma Johnson, Eliza's cousin. John and Roma had three sons, of which two – John Jr and Charles Hardin – survived to adulthood.
In 1858, John constructed the Wornall House on his farm. The Greek Revival style, two-story brick structure was built almost entirely with local materials. Limestone and mortar came from nearby sources, while the bricks were produced on site only fifty feet away. It is possible John used enslaved bricklayers to build the house.
John tried to stay neutral before and during the Civil War, but the region was at the forefront in the struggle over slavery. Missouri was officially part of the Union, but some of the population, especially those near the border with Kansas, supported the Confederate cause. Guerilla fighters, called bushwhackers, often partook in raids on pro-Union towns. The Wornall House was ransacked on a number of occasions. It was also used as a field hospital for both Union and Confederate soldiers during the Battle of Westport on October 23, 1864. In January 1865, after receiving threats of violence, the Wornalls abandoned their house and took refuge in downtown Kansas City. They did not return to the family home until 1874.
Besides farming, John Wornall became involved in real estate, banking, religion, and politics. He assisted in founding Kansas City National Bank and Westport Baptist Church, and was a trustee for William Jewel College, a Baptist-affiliated college in Liberty, Missouri. He also served one term as a Missouri state senator in 1871. John Wornall died in 1892; his last wife Roma lived until 1933.
John and Roma's son, John Wornall, Jr., lived in the house until his death in 1962. Two years later, the Jackson County Historical Society acquired ownership of the Wornall House. The organization restored the home to its antebellum appearance, and placed it on the National Register of Historic Places in 1969. In 1972, it opened to the public as the first house museum in Kansas City. In 2011, the house came under the management of a new entity called Wornall Majors House Museums, which also operates the Alexander Majors House.
Sources
"Building the Wornall House." Wornall Majors House Museums. Accessed August 3, 2021. https://www.wornallmajors.org/explore/wornall-house/.
"John Wornall & His Family." Wornall Majors House Museums. Accessed August 3, 2021.https://www.wornallmajors.org/explore/john-wornall-his-family/.
"Organizational History & Mission." Wornall Majors House Museums. Accessed August 3, 2021. https://www.wornallmajors.org/welcome/organizational-history/.
"Slavery at the Wornall House." Wornall Majors House Museums. Accessed August 3, 2021. https://www.wornallmajors.org/explore/slavery-at-the-wornall-house/.
White, Lena. The John Wornall House Handbook, Wormall Majors House Museums. Accessed July 29th 2021. http://www.wornallmajors.org/wp-content/uploads/2015/01/Wornall-Manual-20191.pdf.
"The Wornalls and the Civil War." Wornall Majors House Museums. Accessed August 3, 2021. https://www.wornallmajors.org/explore/wornallcivilwar/.
Image Sources
https://en.wikipedia.org/wiki/John_Wornall_House_Museum#/media/File:JohnWornallHouse.JPG

Additional Information