Cheyenne Depot Museum (Union Pacific Railroad Depot)
Introduction
The Cheyenne Depot Museum, formerly the Union Pacific Railroad Depot, is dedicated towards preserving the city's railroad history and the history Transcontinental Railroad. The building, designed by Henry Van Brunt in the Romanesque style, was constructed between 1886 and 1887 by the Union Pacific Railroad Company. It is the last of the grand 19th century depots built along the Transcontinental Railroad still standing (the others have been destroyed by fire or demolished). The building was placed on the National Register of Historic Places in 1973 and designated a National Historic Landmark in 2006.
Images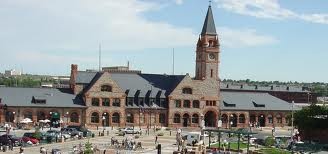 Backstory and Context
The United States Congress chartered the construction of the depot and from the outset it was an important landmark. The building has undergone several renovations during its lifetime, the last of which took place from 2001 to 2006; a plaza was added in front of the building during these renovations. Together, the museum and plaza have become the hub of the city's cultural and entertainment life. It is not clear when the museum opened.
Sources
http://www.cheyennedepotmuseum.org/about-us http://www.cheyennedepotmuseum.org/construction Fraser, Clayton. "Union Pacific Railroad Depot," http://pdfhost.focus.nps.gov/docs/nrhp/text/73001934.PDF. 2-15-06.
Additional Information