Po Monkey's Lounge
Introduction
One of the last authentic juke joints in existence, Po Monkey's Lounge is located outside city limits in a former sharecropper's shack on unincorporated farmland. A farmer by trade, Mr. Willie "Po Monkey" Seaberry opened the night club in 1963 as a place where other cotton farmers could relax, unwind with a few drinks, and listen to the blues. Since it's "discovery" by music and travel writers in the 1990s, Po Monkey's became a must-stop on the Blues Trail for dozens of tourists. The success of the joint can be credited largely to Mr. Seaberry, who personally greeted all guests to his establishment until his unfortunate passing in 2016. The fate of the club has been uncertain following Mr. Seaberry's death, but there are efforts in place to keep the iconic juke joint in operation with a possible re-opening in 2018.
Images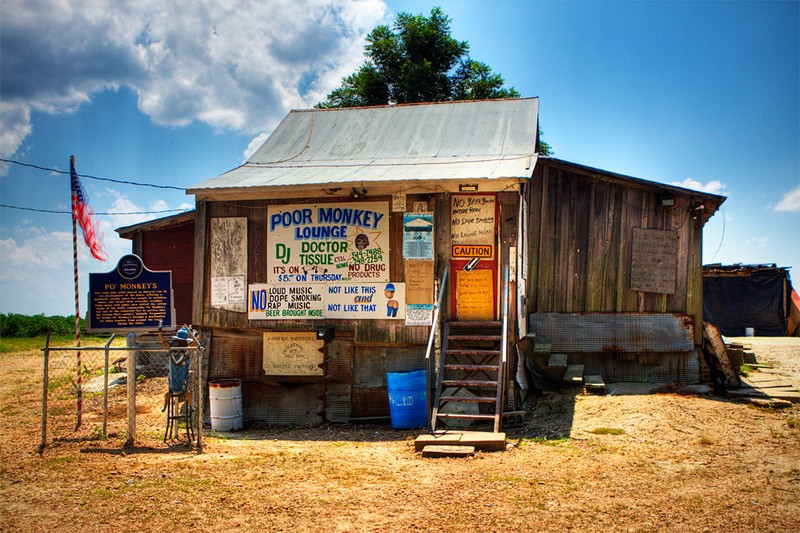 Signs on the exterior of Po Monkey's Lounge.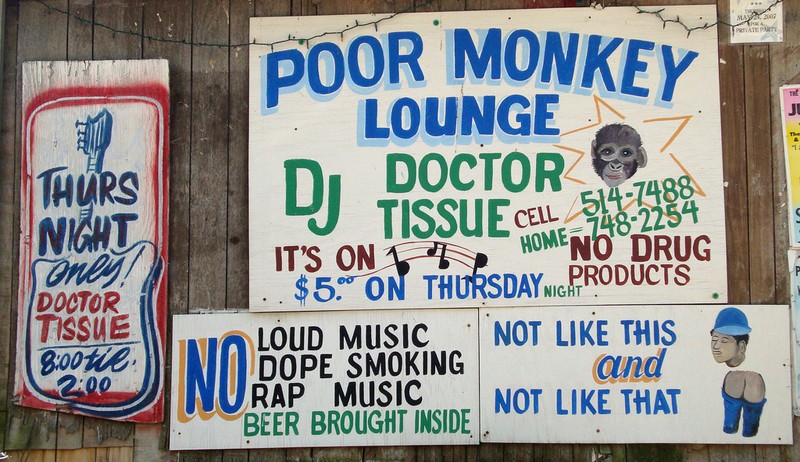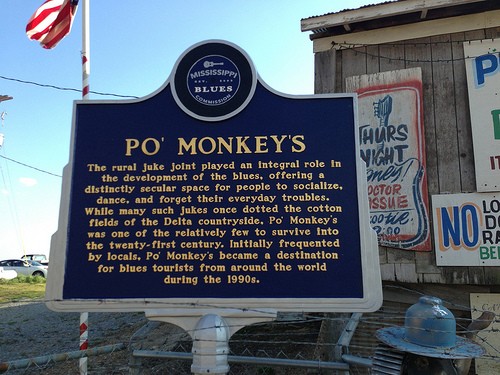 Mr. Willie "Po Monkey" Seaberry inside his iconic juke joint.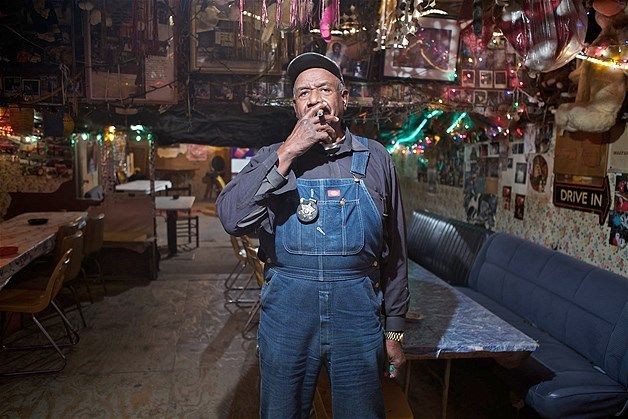 Backstory and Context
Mr. Willie "Po Monkey" Seaberry opened Po Monkey's Lounge out of his home in 1963 as a place where fellow farmers could relax and blow off steam after working all day. The club was open to the public one night a week - Thursday nights from 8:30 until sometime around 2:00 AM. From 1963 until his passing in 2016, Mr. Seaberry personally hosted each of his guests, welcoming them to his establishment and making them feel welcome, while simultaneously providing an authentic and funky juke experience. The actual building structure is an amalgam of tin and wood with music and beer posters tacked all over the walls, and a ceiling chock full of stuffed toy monkeys on display.

When the Blues appreciation boom surfaced in the 1990s, people from all around the world made pilgrimages to the rural bar. In 2009, the Mississippi Blues Commission officially designated Po Monkey's Lounge as a site on the Mississippi Blues Trail, which in turn attracted many visitors from afar, in addition to the locals and Delta State University students. Even with its closing, many blues fans travel to this former sharecropper shack as part of their search for authentic experiences.

Juke joints have historically been operated out of private houses and have been the starting sites of many great blues musicians. It has been speculated that the word "juke" means "to dance" as a verb and "a place of shelter" as a noun in Gullah. Fittingly, the idea of a jukebox has been derived from the history of juke joints. One of the last standing and operating juke joints, Po Monkey's has been featured in publications, films, and on television, and remains a cultural site of history that the citizens of the Mississippi Delta hope to preserve.
Sources
Palmer, Robert. Deep Blues: A Musical and Cultural History of the Mississippi Delta. New York: Penguin Books, 1982.

Mississippi Blues Trail Brochure, Missisispi Blues Commission.

Wilson, Christine. Mississippi Blues, Mississippi HistoryNow from the Mississippi Historical Society, August 2003.
Additional Information