Galena Mining & Historical Museum
Introduction
Established in 1962 and located in Galena's historic Missouri-Kansas-Texas train depot, this museum includes displays that reflect Galena's connection to mining and other topics related to economic development and the lives of early residents, including the town's connection to the famed Route 66. The museum contains mining equipment and a wealth of items that reflect the business history of the area and the lives of miners and their families. The museum also has artwork related to the region's mining history and static displays of military equipment including a helicopter and a naval gun.
Images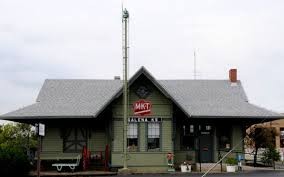 Backstory and Context
Galena was established in 1876, making this the oldest mining town in Kansas. The town's name is a reference to the natural mineral form of lead ore, which was discovered in the rocky hills near the city. By the early 20th century, the town had a population of nearly 30,000 residents, making it one of the larger communities in southeast Kansas. This museum was established over a century later to share the story of Galena, which was still flourishing partly as a result of its location near the famous Route 66. The museum is located in the old Missouri-Kansas-Texas train depot.
Galen's mining history offers a view into the rise and decline of a major industry, as well as labor history as the Galena mines were the site of major strikes led by the Union Mine Workers. The conflict turned violent owing to the actions of company leaders and the men they hired to "put down" the strikes, leading to the National Guard occupying the city and martial law being declared. In addition to sharing this piece of labor history, the museum contains many artifacts from the early mining days and also offers a general history of Galena.
This museum also works to preserve the story of local residents who are working to restore prosperity and growth in Galena. For example, area residents led efforts to clean over 1,200 acres that had mining waste in the early 2000s. The town's efforts to attract visitors following the decline of Route 66 tourism was part of the inspiration for the town of Radiator Springs in the Pixar movie Cars released in 2006.
Sources
Strokes, Keith. "Galena Mining and Historical Museum", Kansas Travel. Published 2007. Accessed May 12th 2021. http://www.kansastravel.org/galenaminingmuseum.htm.
"Galena Mining and Historical Museum", City of Galena. Accessed May 12th 2021. https://galenaks.gov/directory/galena-mining-historical-museum/.
Abell, Bailee. "You can visit this small Kansas town that inspired Disney Pixar's "Cars"", Inside The Magic . May 20th 2019. Accessed May 12th 2021. https://insidethemagic.net/2019/05/small-town-inspired-disney-pixar-cars-ba1/.
Additional Information