The John C. Blanchard House and Museum
Introduction
This historic brick house veneered with variegated sandstone was completed in 1881 and served as the Blanchard family home for fifty years. It was eventually purchased by the Ionia Historical Society in 1974 after it had fallen into disrepair. It now serves as the society's headquarters and also houses a museum in its basement level and in the home's carriage house. The home is on both the National Register of Historic Places and the Michigan State Register of Historic Sites.
Images
Blanchard Home's exterior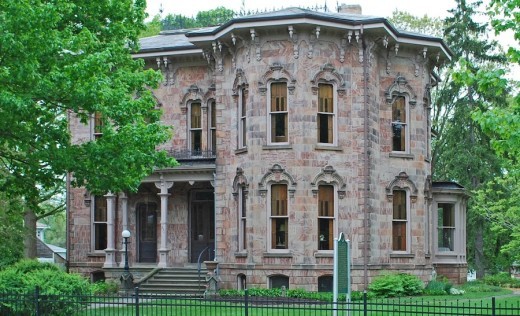 Blanchard House with historical marker.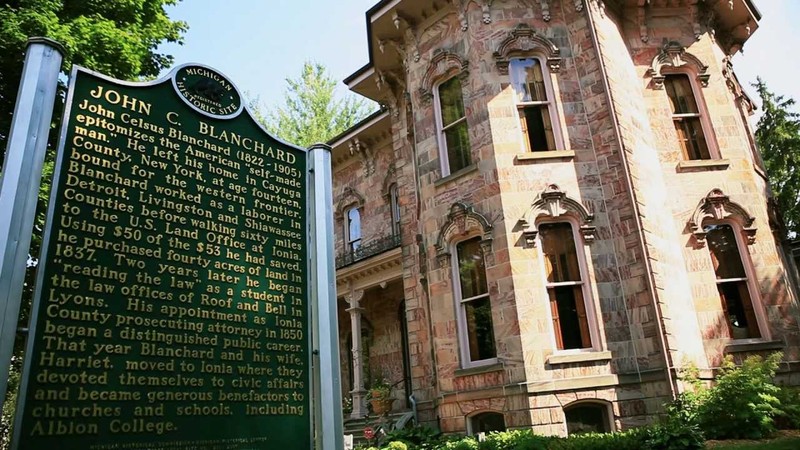 Backstory and Context
John C. Blanchard was a prominent lawyer and politician in post-Civil War Ionia. Much of the home he built remains largely intact, to include the brass chandeliers, the faux marble fireplaces, pine kitchen cabinets, and walnut shutters. However, the original furnishings have been replaced, but still accurately convey the Victorian era in which the home was built.
The main floor of this Italianate mansion is dominated by a curving, 3 story staircase. It, and the 2nd floor, serve as an example of a restored Victorian mansion and are open for tours during regular hours or by appointment for group tours. The home and grounds are also available for rent for special occasions.
The museum conveys the local history of Ionia, as its many artifacts document the town's early years, settlement and growth. Started in 1994, the museum is quickly outgrowing the small confines of the home's basement and carriage house and a search for alternate housing is underway.
Additional Information