Ford Field
Introduction
Opening in 2002 after three years of construction, Ford Field was constructed as the home of the Detroit Lions. The downtown stadium was completed two years after the new Tiger Stadium and financed by taxpayers and the team. The new stadium allowed the team to move back to Detroit after playing games at the Pontiac Silverdome since 1975. Ford Field features a domed roof supported by steel beams and a concrete fixed roof supported by two 18ft-wide concrete columnns, a feature inspired by the damage to the Silverdome's roof following severe winter storms.
Images
Ford Field became the home of the Lions following two-and-a-half decades at the Pontiac Silverdome.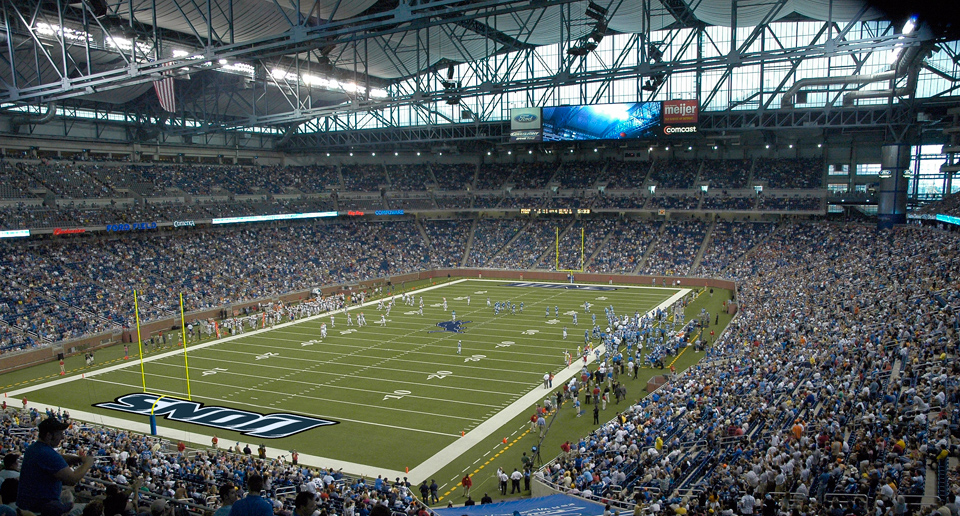 The Ford Motor Company paid $20 million for the naming rights to the stadium.
Aerial view of Ford Field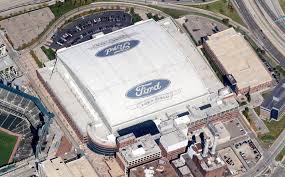 Backstory and Context
From the time of its completion in 1975, the Lions played their home games at the Pontiac Silverdome. The Silverdome was heralded as a modern marvel and was also the largest stadium in the NFL at the time of its construction. As attendance declined as a result of a local recession in the late 1980s and early 1990s, management began searching for an alternative. On August 20,1996, The Detroit Lions announced plans to build a new stadium next to the city's proposed ballpark. The voters of Wayne County approved a plan to finance 51% of the costs of the new football stadium by a large margin. Agreeing to cover the costs of 49% of the stadium's costs, the Lions announced their plan to leave the Pontiac Silverdome and hosted the groundbreaking ceremony called "From the Ground Up."
Overall the stadium cost $430 million to build. The field's design incorporated a former Hudson's warehouse built in the 1920s. The warehouse stood at six stories tall and allowed for a seating arrangement that was unique for the time. A similar design was implemented at Soldier Field after its renovations. Also unique to Ford Field is the use of natural sunlight. Most indoor stadiums only use the indoor lighting as the NFL regulates how much natural sun can light the field. There cannot be enough sunlight that it distracts the players on the field. Builders had to wait for the windows to be approved in Ford Field before continuing with the rest of the stadium.
Thirty-two months later, the construction was completed at a huge cost to area taxpayers at a time when the city was heading towards financial insolvency. From the perspective of fans and team owners, the new stadium has been a success as game attendance increased substantially following the move back to Detroit despite the team's dismal on-field performance. The stadium remains popular with fans and is frequently studied by teams considering a new home field. 
Sources
Ford Field, Michigan History. Accessed November 30th 2019. http://michiganhistory.leadr.msu.edu/ford-field/.
Additional Information