The Walters Art Museum
Introduction
The Walters Art Museum is the successful product of merging two art enthusiasts' life long collections. Over the years, the museum's current collections have grown immensely, and the institution is distinguished for its diverse pieces from all over the world and, most notably, from across an extraordinary timespan, ranging from roughly 3000 B.C. to works as recent as the early 20th century. The museum's themed galleries and exhibits showcase a variety of cultural artifacts, and allows the visitor to connect with their historical and cultural significance.
Images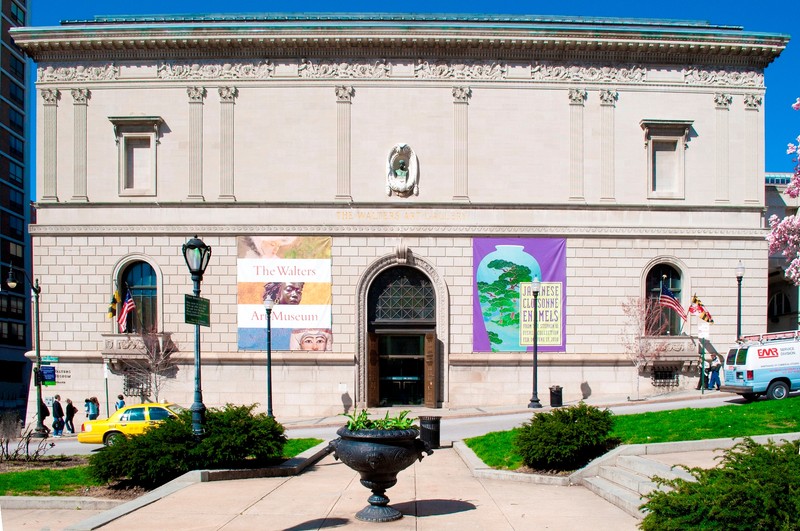 Sculpture Court, The Walters Art Museum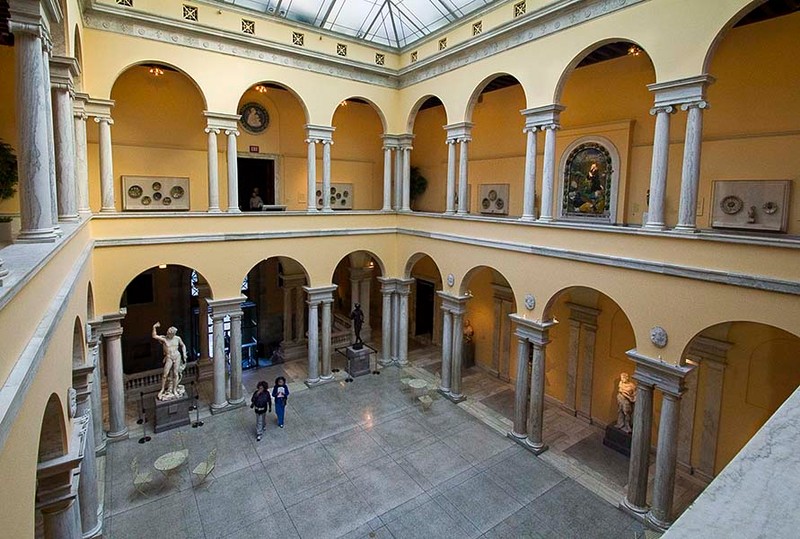 The Chamber of Wonders Gallery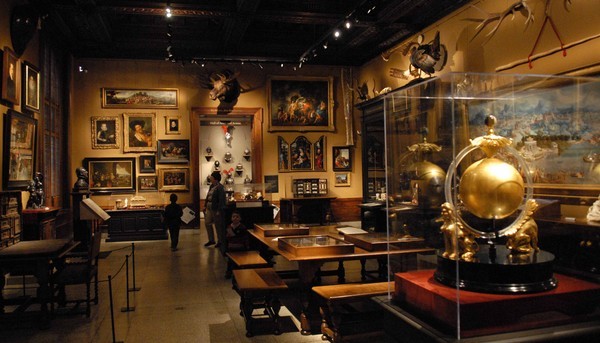 Backstory and Context
The Walters Art Museum was founded because of William Thompson Walters' and his son, Henry's love of art. William was born and raised in Pennsylvania with his seven siblings. When he reached the age of 21, Walters decided to move to Baltimore in search of success, and he became something of a jack of all trades. His business ventures included, grain merchant, successful investor, banker, and wholesale liquor distributor. His prosperity allowed him to pursue his love of art, and some of his first purchases were nineteenth century American regional artists' works. During this time, he married Ellen Harper, and they had three children together. His second, born in 1848, was named Henry.
At the start of the second half of the seventeenth century, William and his family moved away from downtown Baltimore and into 65 Mount Vernon Place. However, at the start of the Civil War, William decided it was best for his family to move to Europe--most likely because of his divided loyalties. It was at this time that William began collecting his first pieces of European art. The Walters collected works from all over Europe by way of dealers, artists, and exhibitions. Tragically, however, Ellen became ill while traveling to London and died in 1862. Still, William continued to obtain pieces for his collection the entirety of his stay. His original taste for American art had shifted while in England. He became fond of French pieces that were more exotic and devastating than American art at the time. It was said that he had "acquired the finest things by the best French artists,'' and that his acquisitions were envied by major museums worldwide.1
Following the end of the Civil War, in 1865, William and his family returned to Baltimore. During the late nineteenth century, William built a bridge connecting his home and a converted stable where he created a gallery to showcase his vast collection. William and Henry held openings every Wednesday in April and May, and the people of Baltimore were huge fans of Walters' galleries.
William died in 1894, leaving his grand collection to his son, Henry, and an admirable legacy behind. Henry, comparable to his father, was a prosperous business man and had a passion for art. However, Henry's vision for the collection far surpassed Williams' in scale and objective. He began purchasing pieces that had at one time passed through royal collections. In 1900, Henry purchased a number of houses next to the Mount Vernon property that he had inherited from his father with plans to convert it into a gallery one day. Then, in 1902, Henry paid $1,000,000 for the contents (over 1,700 pieces) of the Palazzo Accoramboni in Rome-one of the most significant purchases in American collecting history. The following year, he served on the executive committee of the Metropolitan Museum of Art, becoming the vice present a decade later. Henry continued to procure art during this time, but by this point the majority of Walters' contributions to the collection had been made. In 1909, Henry converted the houses he had purchased in Mount Vernon to one "palazzo-like building" that opened as a gallery that same year. After his death in 1931 the building and collections were left to the Baltimore's mayor and city council to continue its operation; therefore, it opened as a public institution in 1934.
That same year, the first of the building's renovations began with upgrading its interior. By the second half of the twentieth century, the collections had grown so large that expansion was necessary. Additions in 1974, and again ten years later had only sufficed until the early 1990s. Subsequently, in 1998, the most recent reconstruction began and required the Gallery to close for 3 years as 39 new gallery rooms, a new entryway, and public areas were added. When the institution opened back up in 2001, the name was changed to the Walters Art Museum.
Today, the Museum has completely transformed from the original that opened in 1909. William and Henry's wildly impressive founding collection numbered some 22,000 pieces. Today, the collections have expanded further, now reaching over 35,000 works. The wide variety of pieces range from Far Eastern ceramics to art deco. Walters Art Museum showcases their works as they would have been when they were created. This allows visitors to connect with the history and culture of each piece, further elevating their experience. The Museum's mission reflects the idea that served as the foundation of the founding collection: a love of art in all forms and it's ability to connect all people.
The Museum's mission statement reads:
"The Walters Art Museum brings art and people together for enjoyment, discovery, and learning. We strive to create a place where people of every background can be touched by art. We are committed to exhibitions and programs that will strengthen and sustain our community."2
Sources
1"The Walters Museum," The Walters Art Museum, https://thewalters.org/about/
"From Art Gallery to Museum," The Walters Art Museum, https://thewalters.org/about/history/gallery.aspx
"Henry Walters," The Walters Art Museum, https://thewalters.org/about/history/henry-walters.aspx
2"Mission," The Walters Art Museum, http://thewalters.org/about/mission.aspx
"The History of the Walters Art Museum," The Walters Art Museum, http://thewalters.org/about/history/
"William Walters," The Walters Art Museum, https://thewalters.org/about/history/william-walters.aspx
Additional Information