Battle of Iuka Historical Marker
Introduction
Dedicated in the 1950s, this historical marker commemorates the Battle of Iuka which occurred east of this marker on September 19, 1862. Sterling Price's Confederate army of around 3,000 men clashed with William S. Rosecrans's army which had around 4,5000 men. The battle resulted in a Union victory which foiled Confederate plans to hold Union forces from pushing into Middle Tennessee.
Images
The Union victory near this sign prevented the Confederates from launching an anticipated offensive through central Tennessee.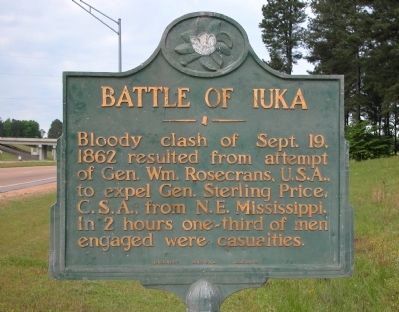 Backstory and Context
The Battle of Iuka took place southeast of the city on September 19, 1862 between the forces of Sterling Price and William S. Rosecrans. Price had arrived in Iuka on September 14, 1862. Price had received orders from General Brag to hold the city to prevent Union forces from reaching middle Tennessee and help the Confederate offensive through Kentucky.
Rosecrans arrived about four miles from Iuka on September 18th and devised a plan to attack the city. Rosecrans was afraid that Price might join forces with Braxton Bragg to the north, so Rosecrans split his army in two. Unfortunately for Rosecran, his small force arriving from the south was hindered by bad weather and delayed his plans. Price decided against delaying his attack for long however, recognizing that he had a limited opportunity to seize the advantage. The Battle of Iuka lasted for three hours and resulted in a victory for the Union. Rosecrans's army from the north however, commanded by General Ord was supposed to attack when they heard the sound of fighting and they never arrived to the city to trap the retreating Confederates. Without Union reinforcements to capitalize on the victory, Price's men were able to retreat to Ripley.
Although a victory for the Union, Confederate casualties were slightly lower. The Confederates suffered around 700 casualties while the Union attackers suffered around 780 casualties. This battle helped prevent planned Confederate offensives and allowed the Union to continue their campaign.
Sources
"Battle of Iuka." Iuka Battlefield Commission, Inc. Accessed May 7, 2015. http://www.battleofiuka.com.

"The battles of Iuka (19 Sept. 62) and Corinth II (3-4 Oct. 62)." Accessed May 7, 2015. http://www.aotc.net/Iuka.htm.

"Iuka." Civil War Trust. Accessed May 7, 2015. http://www.civilwar.org/battlefields/iuka.html.

Additional Information