Frank Woodman House
Introduction
An exemplary sample of American Queen Anne architecture, this house overlooking the Kanawha River was commissioned by powerful businessman Frank Woodman in 1891. Woodman had a hand in most of the industries of the Kanawha Valley by the 1890s, and was even a director of the Charleston Clendenin & Sutton Railroad alongside future West Virginia governor William MacCorkle.
Images
The Frank Woodman House as it appears today.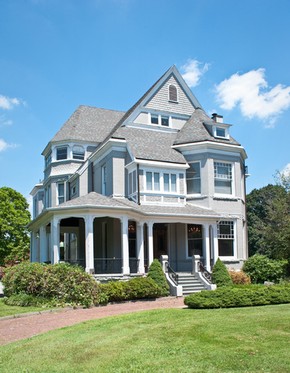 Excerpt from the incorporation of the Charleston Water Works Company in 1885, of which Frank Woodman held 24 shares.
Backstory and Context
Born in Wisconsin in 1849, Frank Woodman moved to Charleston in 1875 and within a few years was moving in prominent business circles. Eventually he was to own stakes in industries as diverse as brick-making, furniture, wool, lumber, iron, and railroads. He even owned 24 shares in the Charleston Water Works Company when it was incorporated in February 1885.

On June 26, 1891, he is noted in an issue of Railroad Gazette for being elected as a director on the rail line of "Charleston, Glendening (Clendenin) & Sutton,"8 which had been chartered only a month before. Its track would later be acquired in 1902 by railroad magnate and philanthropist Henry Gassaway Davis for the Coal & Coke Railway extending from Charleston to Elkins.
Ever the entrepreneur, Woodman is noted again in Railroad Gazette on Dec. 11, 1891 for having filed incorporation articles for the Cincinnati Iron Company, alongside his business partners. Small wonder the "Frank Woodman House," as it came to be known later, was built in this auspicious year.

The style in which the house is built, commonly referred to as "Queen Anne," was a Victorian offshoot immensely popular from 1880 to 1910. Despite being named after the English queen of the early 1700s, the original English "Queen Anne Revival" is actually a stylistic quotation of architecture from the Elizabethan and Jacobean eras, and has very little to do with the Baroque structures of Queen Anne's time.

In the mid-1870s, the fad was picked up by American architects, who soon bestowed upon it some of the hallmarks for which it is remembered. In fact, the asymmetrical facades typical of the American Queen Anne style are a break from the more formal exteriors of their English contemporaries.

The style often includes towers (round, square, or polygonal), differing wall textures, classical columnns and painted balustrades, among many other highlights. Though its popularity peaked after 1900, elements of American Queen Anne design have been incorporated into other forms ever since.

The house is privately owned and currently home to a law firm.

Sources
1. http://www.wvencyclopedia.org/exhibits/23?section=12

2. http://www.wvculture.org/shpo/nr/pdf/kanawha/78002800.pdf

3. http://www.wvculture.org/shpo/nr/pdf/kanawha/14001060.pdf

4. Cahal, Sherman. Coal & Coke Railway. Abandoned. Accessed September 18, 2017. http://abandonedonline.net/locations/railroads/coal-and-coke-railway/.

5. Rice, Donald L.. Coal & Coke Railway. The West Virginia Encyclopedia. Accessed September 18, 2017. https://www.wvencyclopedia.org/articles/1337.

6.Queen Anne Style (1880-1910). Wentworth Studio. Accessed September 18, 2017. https://www.wentworthstudio.com/historic-styles/queen-anne/.

7. Acts of the Legislature of West Virginia. J. Frew, Public Printer, 1885. 59. Digitized by New York Public Library, 2009

8. Railroad Gazette. Vol. 23. Railroad Gazette, 1891. 456, 884. Digitized by University of Michigan, 2015

9. History Of The Great Kanawha Valley [West Virginia] With Family History And Biographical Sketches. A Statement Of Its Natural Resources, Industrial Growth And Commercial Advantages. Vol. 2. Heritage Books, 2000. 228


Additional Information