American Visionary Art Museum
Introduction
The American Visionary Art Museum is an art museum located in Baltimore, Maryland's Federal Hill neighborhood at 800 Key Highway. The museum specializes in the preservation and display of outsider art. The museum has no staff curators, preferring to use guest curators for its shows. Rather than focusing shows on specific artists or styles, it sponsors themed exhibitions with titles such as Wind in Your Hair and High on Life.
Images
Howard Finster's "Super Powers"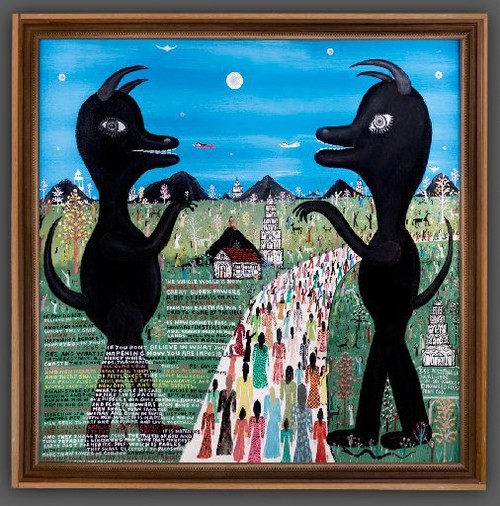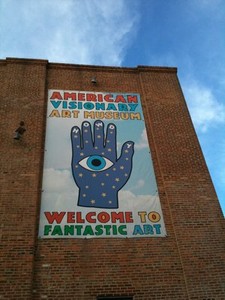 LOVE sign on the side of the AVAM.
Backstory and Context
The founder and director of the AVAM is Rebecca Alban Hoffberger, who while working in the development department of Sinai Hospital's (Baltimore) People Encouraging People (a program geared toward aiding psychiatric patients in their return to the community) began to develop the idea for a visionary museum, an idea that eventually blossomed into the American Visionary Art Museum, or AVAM. Initially, Hoffberger was simply interested in the artwork created by the patients in the People Encouraging People program, and found herself "impressed with their imagination" and looking to "their strengths, not their illnesses." Hoffberger found inspiration on a visit to the Collection de l'art brut in Lausanne, Switzerland, which was established by French artist Jean Dubuffet as a collection of "l'art brut" or "raw art because of the untamed emotions resonating in it." Hoffberger described the museum as "the best, the most imaginative, the most original museum" and soon adopted the idea of "l'art brut" for her own visionary museum.To gauge the community's interest in visionary art, Hoffberger and gallery owner George Ciscle held an exhibit in 1987 titled "American Outsider Art," at which point she formally announced her plans for the American Visionary Art Museum in Baltimore. With the support of her friends and family, Hoffberger petitioned the city of Baltimore and was eventually awarded two buildings near the city's Inner Harbor worth $1.1 million. Hoffberger has said that she "publicly bent over backwards to not go to traditional art funders." The State of Maryland also issued $1.3 million in bonds to finance the construction, which helped jump-start the building process. Hoffberger also relied heavily on contributions and donations, a tradition that continues to keep the museum running today. Hoffberger raised $7 million in six years from donors such as Anita Roddick. Designed by architects Rebecca Swanston and Alex Castro, the museum officially opened to the public on November 24, 1995. Visionary artists Gerald Hawkes and Vollis Simpson were the first people to step through the doors. In collaboration with the event's founder, Hobart Brown, AVAM brought the Kinetic Sculpture Race to the East coast in 1999. In 2004 the museum opened its third building, the Jim Rouse Visionary Center, converted from a former whiskey warehouse. The Jim Rouse Visionary Center houses such items as Kinetic Sculptures from AVAM's annual race, Baltimore painted screens, Leonard Knight's "Love Balloon," DeVon Smith's "World's First Robot Family," and an interactive display of automata from London's Cabaret Mechanical Theatre. It also features two classrooms and a 3rd floor banquet room that can accommodate up to 400 people for the museum's programs & engagements, as well as private rentals. In 2005, AVAM began its popular "Flicks from the Hill" series with generous support from the Hughes family. Each summer, the free, outdoor family film series features a selection of movies inspired by the museum's current thematic exhibition. The films are projected on a large screen mounted below artist Adam Kurtzman's "Giant Golden Hand" in "The Hughes Family Outdoor Theater," and the natural amphitheater of Federal Hill can seat more than 1000 visitors for this popular outdoor film series.The museum's many other programs include a summer arts camp and after-school program, established in 2009. AVAM is also a popular venue for weddings, hosting over 70 weddings annually. Rental/admission fees accounted for 72% of earned income in 2011, nearly three times the average for an art museum. AVAM is seeking to raise a $25 million endowment before "exploring the many offers to establish a West coast branch."
Sources
http://www.avam.org/ http://en.wikipedia.org/wiki/American_Visionary_Art_Museum
Additional Information