Windy Run Grade School
Introduction
Windy Run Grade School is a small, one-room schoolhouse in Braxton County, West Virginia. It was built in 1889 and operated until around 1963. Windy Run remains an excellent example of the typical one-room schoolhouse buildings that once proliferated around West Virginia. These small, simple structures were built in large quantities across the state in order to reach students in rural, isolated areas. Of the thousands of one-room schoolhouses that once existed in West Virginia, only a handful remain today. Windy Run is the last one in Braxton County, and today is preserved as a museum. It was added to the National Register of Historic Places in 1984.
Images
Photo Courtesy of Brian M. Powell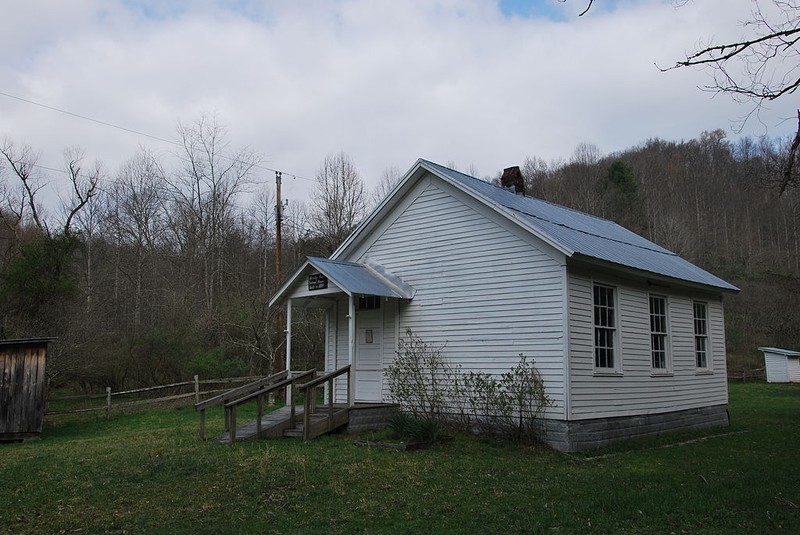 Backstory and Context
For many years one-room schoolhouses were an integral part of the West Virginia school system. The state's rugged terrain and sparse, scattered population made it necessary to erect a large number of small schools in order to make education accessible to all children. Most students had a school within walking distance, typically two or three miles away. These schools were usually simple, small, wood frame, one-room structures. They were designed to accommodate only those in the local neighborhood, and rarely had more than a few dozen students. A cast iron potbelly stove stood in the center of the room for warmth during the winters, and outhouses were located behind the building.
Teachers for one-room schools often did not have very impressive credentials. Fortunate ones were able to attend state normal schools and teaching colleges to receive teaching certificates, while in some situations teachers were hired simply by passing an exam after high school. It was common for students of all grades to attend class at the same time. Older students would be expected to help teach the younger students. Chalk slates were used in lieu of writing paper, which was expensive. Subjects taught including reading, writing, arithmetic, and geography. Classes would also memorize and recite the Lord's Prayer, the Pledge of Allegiance, and patriotic songs.
One-room schoolhouses proved an effective way of educating children in West Virginia before better modes of transportation were developed. At their peak in 1930, there were over 4,500 across the state. The number began to decline in the mid-1930s as the improvement of roads, the introduction of school buses, and the reorganization of the state school system into county boards of education allowed for the consolidation of schools into larger facilities. One-room schoolhouses still managed to linger for a number of years in the most rural areas of the state; the last known one in West Virginia did not close until 1978. Most of the buildings were eventually destroyed, but a handful survive today as small museums.
The Windy Run Grade School is believed to have been built in 1889 by a local builder named Jacob Huffman. The twenty-four feet long by twenty-eight feet wide structure is a prime example of a nineteenth century one-room schoolhouse, displaying all the common features of these structures. Windy Run was one of the latter schools to close, remaining open until 1963. It is the last surviving one-room schoolhouse in Braxton County, and today it has been preserved as a museum. Since 1948 an annual homecoming of former students has been held at the site. The school is maintained and opened for tours by the Windy Run Historical Association, which received a West Virginia Culture & History Award for their efforts in 1998.
Sources
Collins, Rodney S. "Windy Run Grade School." National Register of Historic Places Nomination Form. October 14, 1983. Accessed October 4, 2018. http://www.wvculture.org/shpo/nr/pdf/braxton/84003518.pdf
Lutz, Paul F. "The One-Room School." e-WV: The West Virginia Encyclopedia. October 22, 2010. Accessed October 4, 2018. https://www.wvencyclopedia.org/articles/1759
"Windy Run Grade School – Braxton County, WV." Waymarking.com. March 30, 2009. Accessed October 4, 2018. http://www.waymarking.com/waymarks/WM6A5V_Windy_Run_Grade_School_Braxton_County_WV
Additional Information