Cordova Theater (Pullman Foursquare Church)
Introduction
Erected in 1927 as a theater showing silent films, by August 1929 the Cordova became the first venue in Pullman to show "talkies." Common to early movie theaters whose designs attempted to catapult theatergoers into worlds of fantasy, the Spanish Eclectic exterior and the opulent interior, with its decorative ticket booth, linked Pullman to national design trends. In 1950, the current marquee was attached to the facade, obscuring the original design but in keeping with contemporary advertising styles. The marquee has been a fixture in downtown Pullman now for more than 60 years, and movies are still occasionally shown here.
Images
The Cordova Theater, now Pullman Foursquare Church.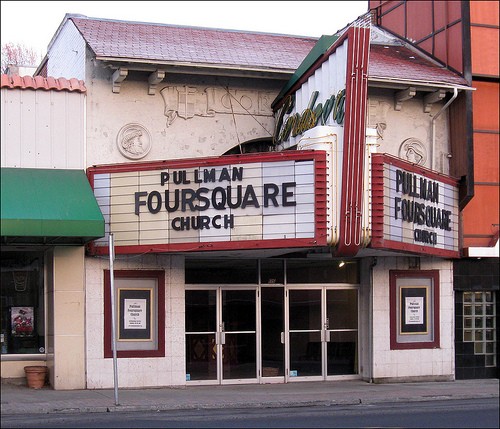 Older view of the auditorium.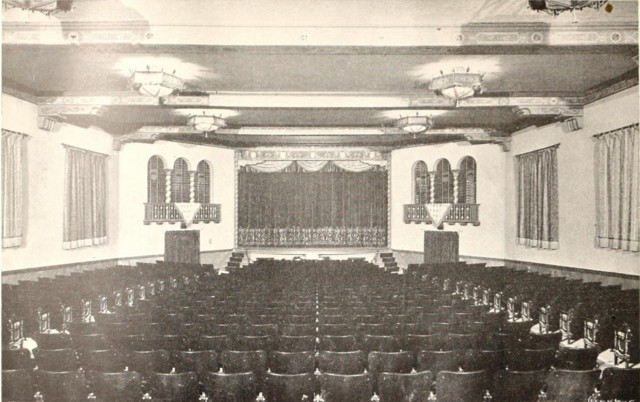 View of the Cordova Theater, taken February 2018.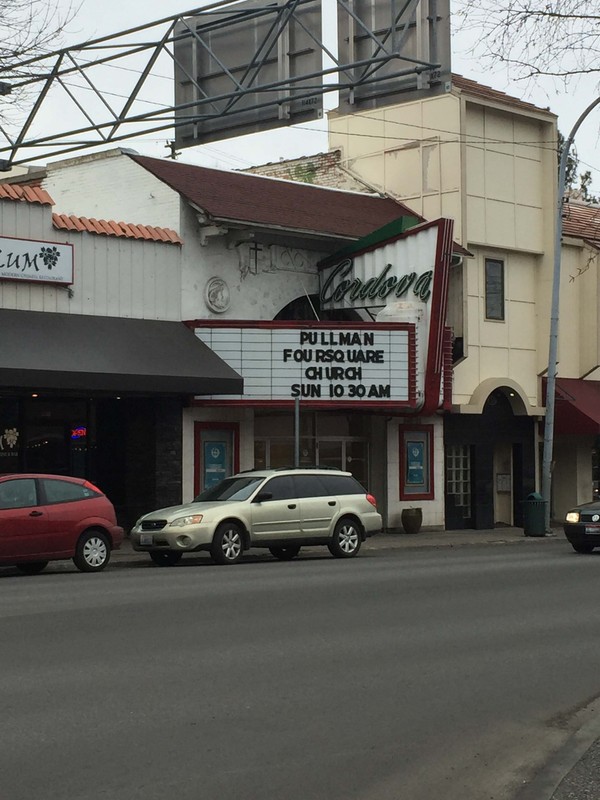 View of the 1950s marquee added to the Cordova's main elevation, taken February 2018.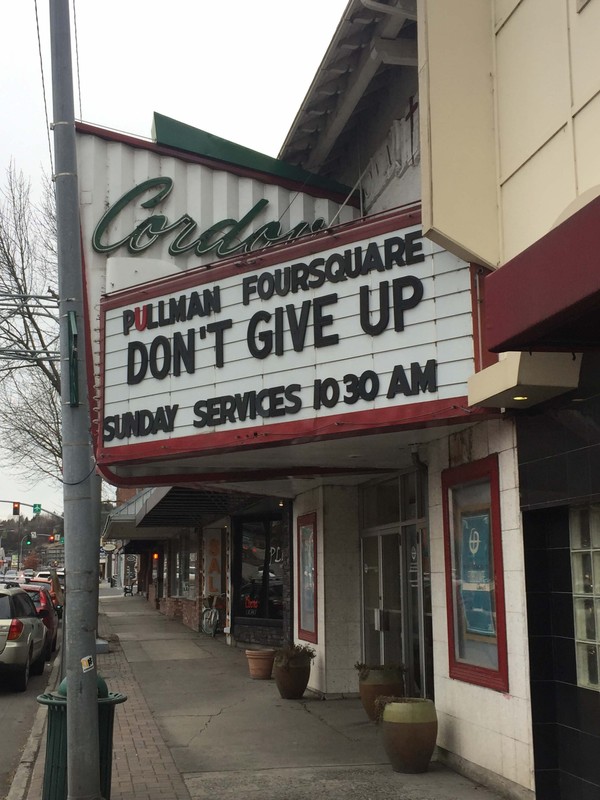 February 20, 1933, view of the Cordova taken by R.R. Hutchison. Courtesy WSU Special Collections. http://content.libraries.wsu.edu/cdm/singleitem/collection/hutchison/id/450/rec/1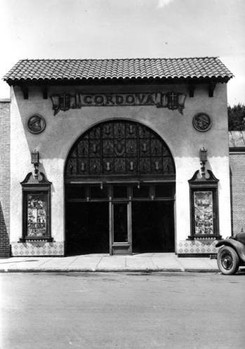 Backstory and Context
The Cordova Theater was built in 1927 by movie theater entrepreneur and real estate investor Peter William Struppler, who already owned most of the theaters in town, but wanted to add a bigger, modern one to his collection. He purchased the site in 1927 and secured a $25,000 mortgage for construction. It was the heyday of the "palace theater" era, when ornate movie houses were being built around the country, and he enlisted one of Eastern Washington's most prominent architecture firms, Whitehouse & Price, to design it. They created a Spanish Eclectic style building; Carl Berg designed the interior. In 1938 it was expanded with a second floor and in 1950 a large, Art Deco-style marquee with neon lighting was added to the theater's façade.1
The Cordova Theater was later bought by Milburn Kenworthy in 1958, and his family operated it for several decades. It has remained fairly well-preserved and has undergone renovations and additions; the most recent work took place in 2000, when Best Theatres replaced the seating and added a new sound system. The theater was placed on the National Register of Historic Places in 2004.
The theater appears to have stopped showing movies in 2011. The building is now used by the Pullman Foursquare Church; it is not clear when the church bought the property.
Sources
1. Linda Yeomans, "Cordova Theater," National Register of Historic Places nomination (2004), Section 8, Page 2, https://fortress.wa.gov/dahp/wisaardp3/api/api/resultgroup/1163/Document/186614 (accessed February 15, 2018).

Additional Information