Fort Rice
Introduction
Fort Rice was founded in 1864 and was the first of a chain of military outposts along the Missouri River established in the Dakota territory. Nothing remains of this historic military site except for depressions and foundations lines of the structures that once stood here. Its purpose was to be a base for military expeditions, led by General Alfred Sully, into the territory and to help protect the construction of railroads heading westward as well as the traffic on the Missouri River. The territory had been given legal status as Lakota (who were also known as Sioux) land in the 1851 Treaty of Laramie. However, the fort's establishment signaled the beginning of the end of the treaty. The Federal government implemented a new policy of forcing Indian tribes to give up their lands to allow American and Europeans to settle in the territory. The fort was named after Brigadier General James Rice, who was killed at the Battle of the Wilderness during the Civil War. Visitors to the site can learn about its history on a site marker.
Images
Visitors to Fort Rice State Historic Site can read about the site's history on a marker and view foundations where structures once stood.

Fort Rice as it appeared after it was rebuilt in 1868.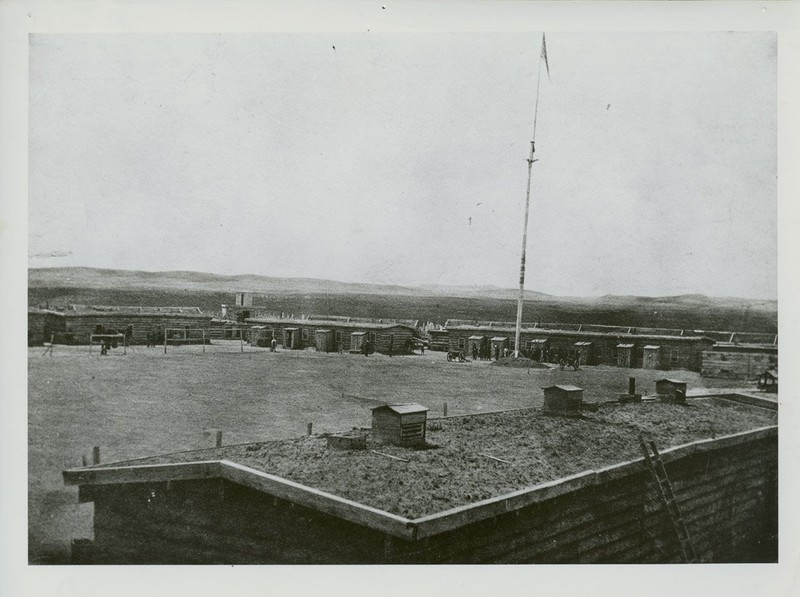 This map shows the boundaries of the Great Sioux Reservation with the Missouri River as its eastern boundary.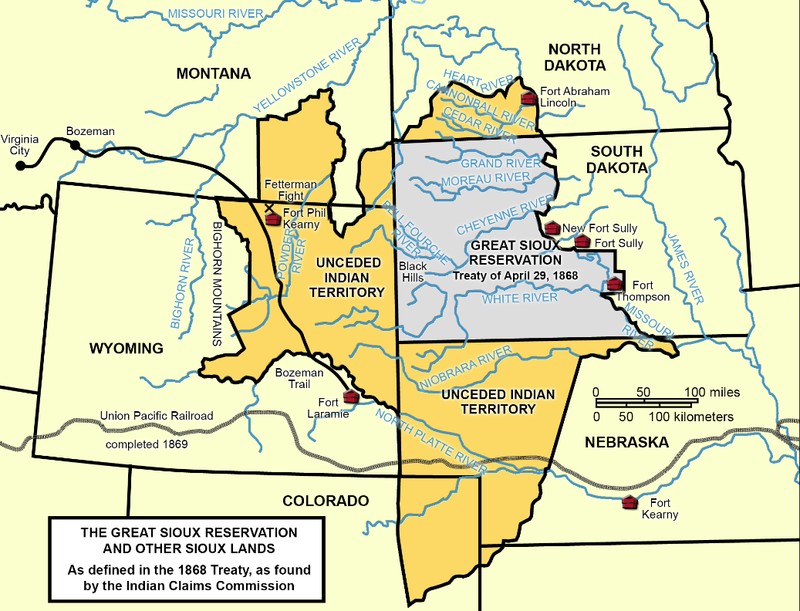 Backstory and Context
The fort was the site of Indian councils, the most important of which was the Great Council 1868, to which 50,000 Lakotas attended (Chief Sitting did not attend, however, he did send his second in command). Treaty of Laramie of 1868, ended the Red Cloud War that had been taking place in Wyoming, was brought to the council and the Lakota leaders signed it. It established the boundary of the Great Sioux Reservation, which comprised of most of the area west of the Missouri River in present-day South Dakota (see map below).

The fort was abandoned in 1878 when Fort Yates was established on the Standing Rock Agency, which is now the Standing Rock Indian Reservation. The number of soldiers stationed at the fort ranged from as low as 68 to as high as 357. Many died of disease and two companies fought and died at the Battle of Little Bighorn.
Sources
"Fort Rice State Historic Site." State Historical Society of North Dakota. Accessed February 22, 2018. http://history.nd.gov/historicsites/rice.

"Section 3: Fort Rice and the Lakota Sioux." North Dakota Studies - State Historical Society of North Dakota. Accessed February 22, 2018. https://www.ndstudies.gov/gr8/content/unit-iii-waves-development-1861-1920/lesson-4-alliances-and-co...

Photos: State Historical Society of North Dakota
Additional Information