"Parting Ways" Stone; 1767 Milestones
Introduction
The 1767 Milestones are a series of granite and sandstone milestones that span the length of the Old Post Road from Boston, Massachusetts to Springfield, Massachusetts. Their purpose was to guide early colonial postal workers in their deliveries of packages from Boston to farms, plantations, and estates along the road and back. The Milestones are cherished as a vital snapshot of the development of Early American transportation, and many of the stones have been restored or memorialized along the route.
Images
The "Parting Ways" Stone (erected 1741), part of the 1767 Milestones in Massachusetts. The stone is located in the Roxbury section of Boston. Image by User:Magicpiano. Licensed under GFDL via Wikimedia Commons.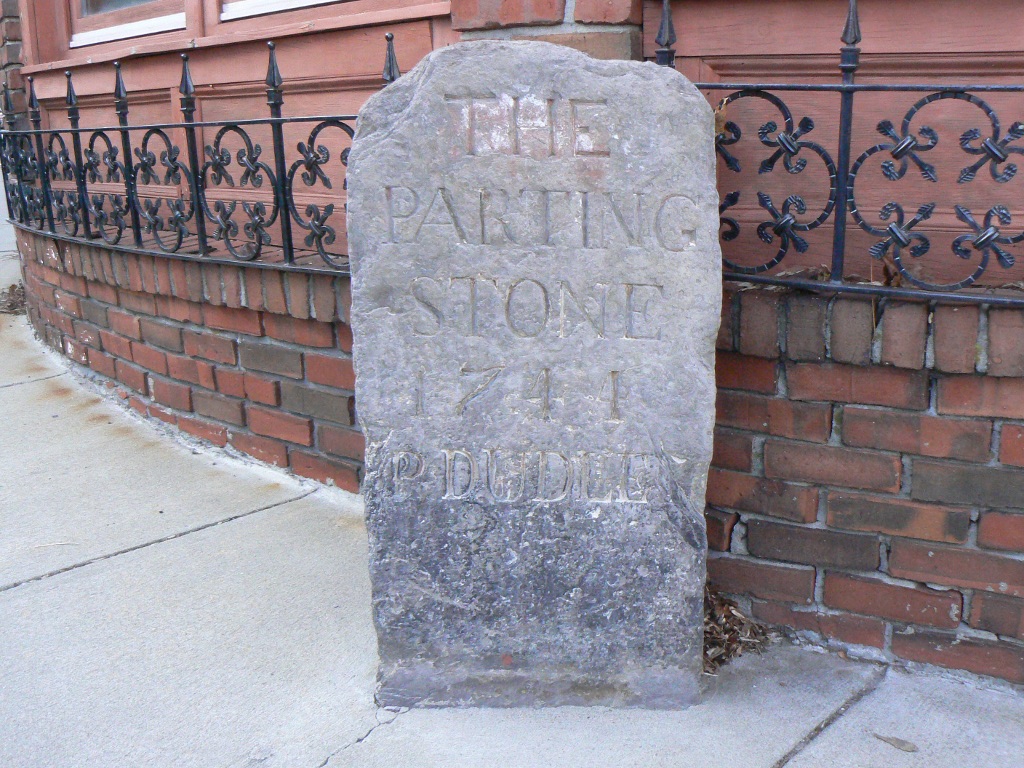 Milestone 64 Miles From Boston.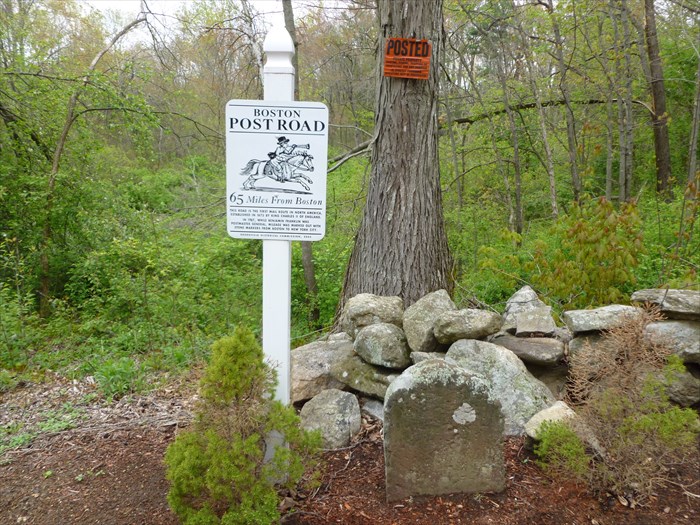 Backstory and Context
The 1767 Milestones were ordered to be placed starting in July of 1767 by the British Lords of Trade and Plantations and were placed in accordance with a survey done by a "Captain Miller" under the oversight of the British colonial government. The first of the stones had been placed previous to the official ordering of the milestones by Chief Justice Paul Dudley, the American-born son of the Colonial Governor Joseph Dudley who was also well known for his service as Attorney General of Massachusetts.

The Milestones have been documented numerous times throughout the history of the United States, being included in the 1941 report by the Works Progress Administration and the 1960 preservations efforts of the Massachusetts Legislature Public Works Act. While there were once ninety-nine stones, not all stones have been located or preserved. However, as of the creation of the National Register of Historic Places nomination in 1971, at least forty milestones had been located, photographed, and preserved (either by creating a monument on-site or by the relocation of the stone.)
One of the most iconic of the milestones is known as the Wait Guide Stone. This stone bears an engraving which reads:
"This stone is erected by John Wait, Esq. of Brookfield for the benefit of travel here."
Additionally, the stone is marked with the year 1763, making it one of the earliest stones to predate the official milestone project. The milestones themselves serve as visitor destinations in their own right, but they also add context to the historically rich region of Massachusetts within which they rest.
Sources
The 1767 Milestones. MACRIS. 1971. 08/02/2018. http://mhc-macris.net/Details.aspx?MhcId=BOS.9416. Massachusetts Official Record of NRHP Nomination Papers


Additional Information