Carry A. Nation Home and Museum
Introduction
From 1889 to 1902 Carry A. Nation and her husband, Rev. David Nation, occupied this little brick home in Kansas. It was here, in 1900, that Carry would first hear the message from God that would both inspire her to take action against the evils of alcohol and place her among the ranks of other women suffragettes as a hatchet-wielding force to be reckoned with. In 1902, she sold this house at Medicine Lodge and used the proceeds to open up a home in Kansas City to aid and support the wives of drunkards. The Carry A. Nation home was later bought by the Women's Christian Temperance Union in the 1950s. It was declared a National Historical Landmark in 1976. Admission to the home is included in the price of a ticket bought for the Medicine Lodge Stockade Museum located next door.
Images
The Carry A. Nation Home was declared a National Historical Landmark in 1976. Carrie lived in the home with her husband David Nation from 1889 to 1902.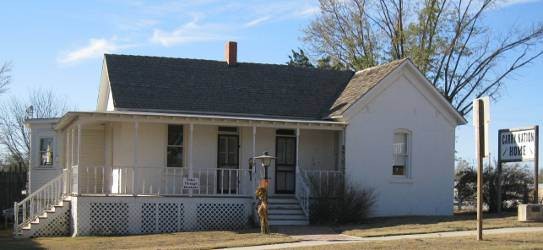 Carrie A. Nation in 1910, holding one of her hatchets in one hand and the Bible in another, a fitting depiction of her preference for virtue and the willingness to use violence if necessary to procure it.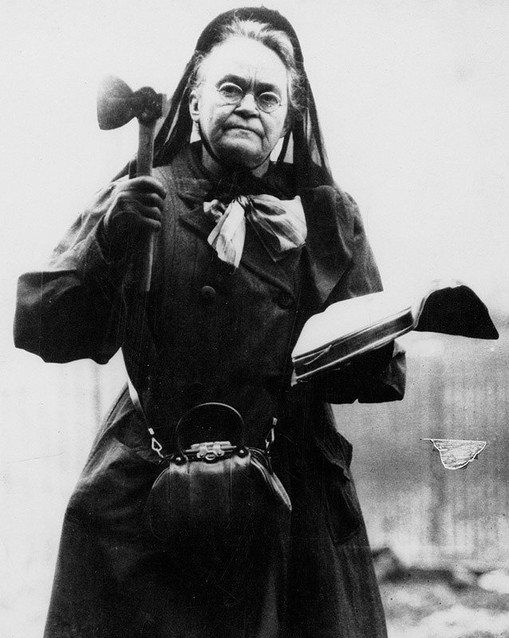 A look at the dining room of the Carry A. Nation home. Much of the furniture and many items in the exhibit were donated by locals.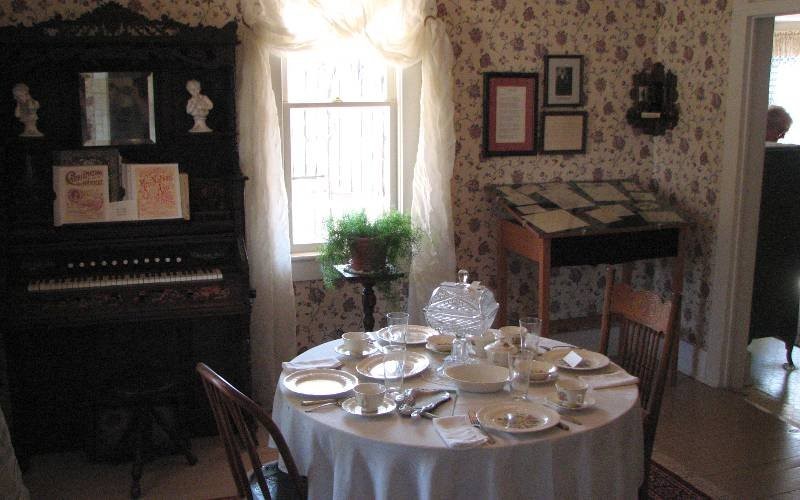 Correspondences of Carrie's. She wrote many letters to politicians, journals, and pamphlets for the sake of her cause.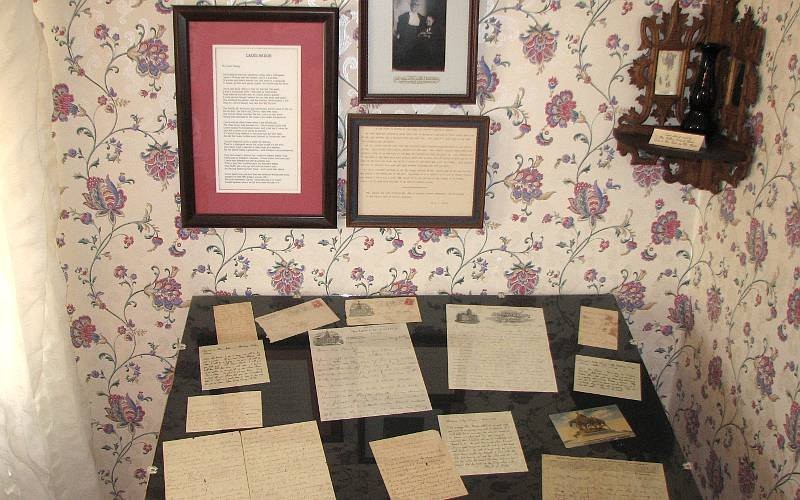 One of the hatchets given away by Carrie that was kindly donated to the home back a living relative of Charles Dilworth, of the Curtis Baptist Church, who received it in 1906. It rests in a display at the home.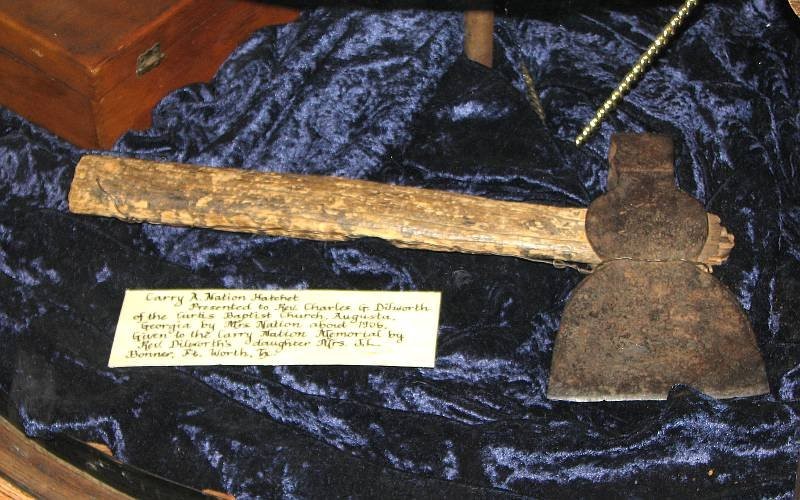 Backstory and Context
"You are a woman. But a woman must know a woman's place. They can't come in here and raise this kind of disturbance." - Gov. William E. Stanley to Carrie Nation, January 1901
Carrie Amelia Moore was born screaming into the world on November 25, 1846, in Garrard County, Kentucky to parents George and Mary. In an effort to evade the threat of the rising tensions between North and South, the patriarch of the Moore family relocated them all to Cass County, Missouri in 1854. Unable to escape the growing threat of war, they picked their lives up yet again and moved to Texas in 1862, only to return to Missouri the following year. Union commanders then ordered everyone from out of the Kansas-Missouri border areas, forcing the Moores to move to Kansas City where Carrie volunteered her time as a nurse during the Civil War.
At twenty-one, Carrie married her first husband, Charles Gloyd on November 21, 1867. A physician who had fought on the side of the Union armies during the war, Charles was also an excessive drinker who abused Carrie. When she became pregnant, realizing that she could not rely on her husband for support, Carrie left Charles and returned to her family home where she gave birth to her child, Charlien. When Charles died six months later, she gathered her resources together and relocated with her mother-in-law and daughter to Holden, Missouri. Carrie would go on to earn a teaching certificate, educating the minds of Holden for four years.
In 1874, Carrie married for the second time. David Nation was a man of many titles, among them, journalist, lawyer, and preacher. Through this marriage, Carrie legally became known as Carrie A. Nation, a name which she believed was a divine sign from God that she was meant to carry the nation away from vice and towards virtue. Together with their children, husband and wife moved to Texas where they ran two hotels in Columbia and Richmond. In 1889, Carrie and David moved to the house in Medicine Lodge, Kansas where David became a preacher. Carrie filled her time by organizing a chapter of the Women's Christian Temperance Union and aiding those prisoners in jail whom she believed to be the victims of alcohol and vice. It was in their Medicine Lodge home that Carrie first had the vision that would lead her to smash bars and make the pages of history:
On the 6th of June, before retiring, as I often did, I threw myself face downward at the foot of my bed and told the Lord to use me any way to suppress the dreadful curse of liquor; that He had ways to do it, that I had done all I knew, that the wicked had conspired to take from us the protection of homes in Kansas; to kill our children and break our hearts. I told Him I wished I had a thousand lives, that I would give Him all of them, and wanted Him to make it known to me, some way. The next morning, before I awoke, I heard these words very distinctly: "Go to Kiowa, and" (as in a vision and here my hands were lifted and cast down suddenly.) "I'll stand by you." I did not hear these words as other words; there was no voice, but they seemed to be spoken in my heart. I sprang from my bed as if electrified, and knew this was directions given me, for I understood that it was God's will for me to go to Kiowa to break, or smash the saloons. - Carrie Nation
During the June of 1900, Carrie did just that. She broke and smashed the bars of Kiowa with rocks and bricks. Once she was done, she moved on to Witchita and started again. It was in Topeka in 1901 that she would first be handed the hatchet that became her brand and her legacy. 1901 also saw the divorce of David and Carrie, many stints in jail, and a series of signs spread from east to west that read: "All Nations Welcome, but Carrie." In her journey to carry the nation towards prohibition, she was also sweeping it.
At an imposing height of six feet, Carrie not only towered over those of her time but she stood apart from them in both action and determination. She was a marketing mastermind, selling her hatchets to raise money for bail and spinning her fame (or infamy, depending on one's point of view during the time) into an international tour that allowed her to lecture and extend her message to the masses. She successfully played the role of the charming old woman, using it to kindly and temperately extend her hand to those bar owners and politicians that stood against her. Yet she saw the virtue of stern action when that kindness failed, making her message loud, clear, and highly visible through the destruction and disturbance that Gov. Stanley found so deplorable. Carrie also supported women's right to vote long before the more mild-mannered members of the WCTU realized the need for a voice in government, spearheading the way for the 18th and 19th amendments.
She stands as an icon for other women today as much as she did back then. This house in Medicine Lodge acts as a testament to her legacy, offering up a glimpse into the life of a woman who would not sit in silence.
Sources
Nation, Carry A. The Use and Need of the Life of Carry A. Nation. Topeka, Kansas. F. M. Steves and Sons, 1905.

Carry A. Nation. Kansas Historical Society. Accessed November 30, 2017. http://www.kshs.org/kansapedia/carry-a-nation/15502.

Carrie Amelia Nation. The State Historical Society of Missouri. Accessed November 30, 2017. https://shsmo.org/historicmissourians/name/n/nation/.

Stockade Museum & Carry Nation Home. Kansas Travel. Accessed November 30, 2017. http://www.kansastravel.org/carrynation.htm.



Additional Information