Rappold's Barber Shop
Introduction
The third oldest business in Hurricane, West Virginia, Rappold's Barber Shop was established in June 1906 and has thrived ever since. The business has changed locations twice during the years it has been in business and has remained under the ownership of the Rappold family for four generations.
Images
Rappold's Barber Shop as it appears today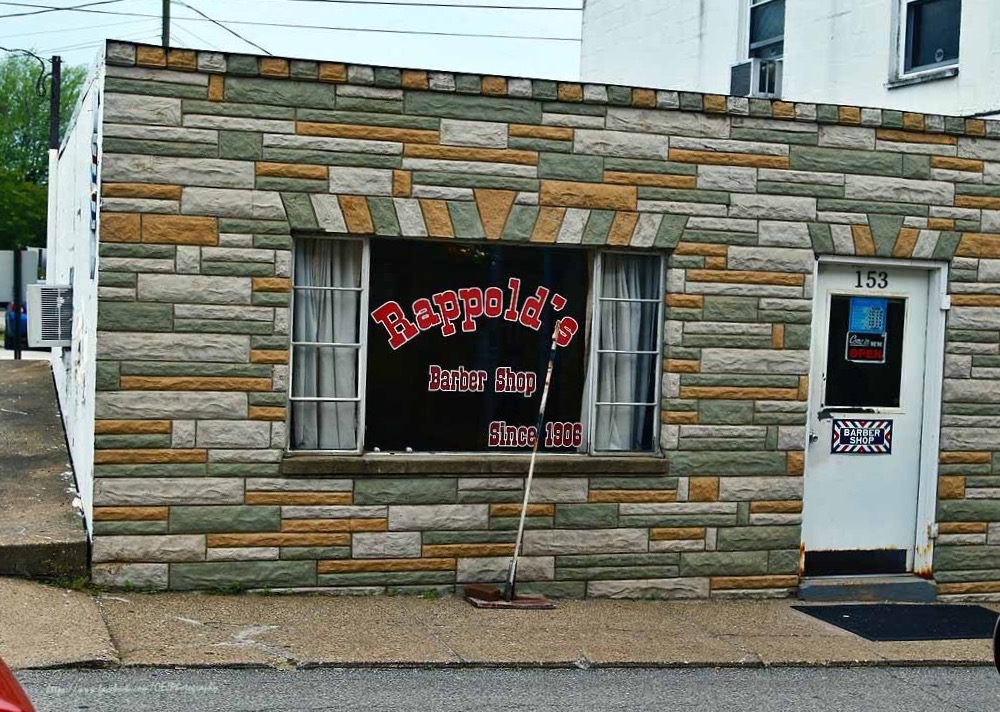 The founding Rappold, E.F. Rappold, pictured in the original shop. (right)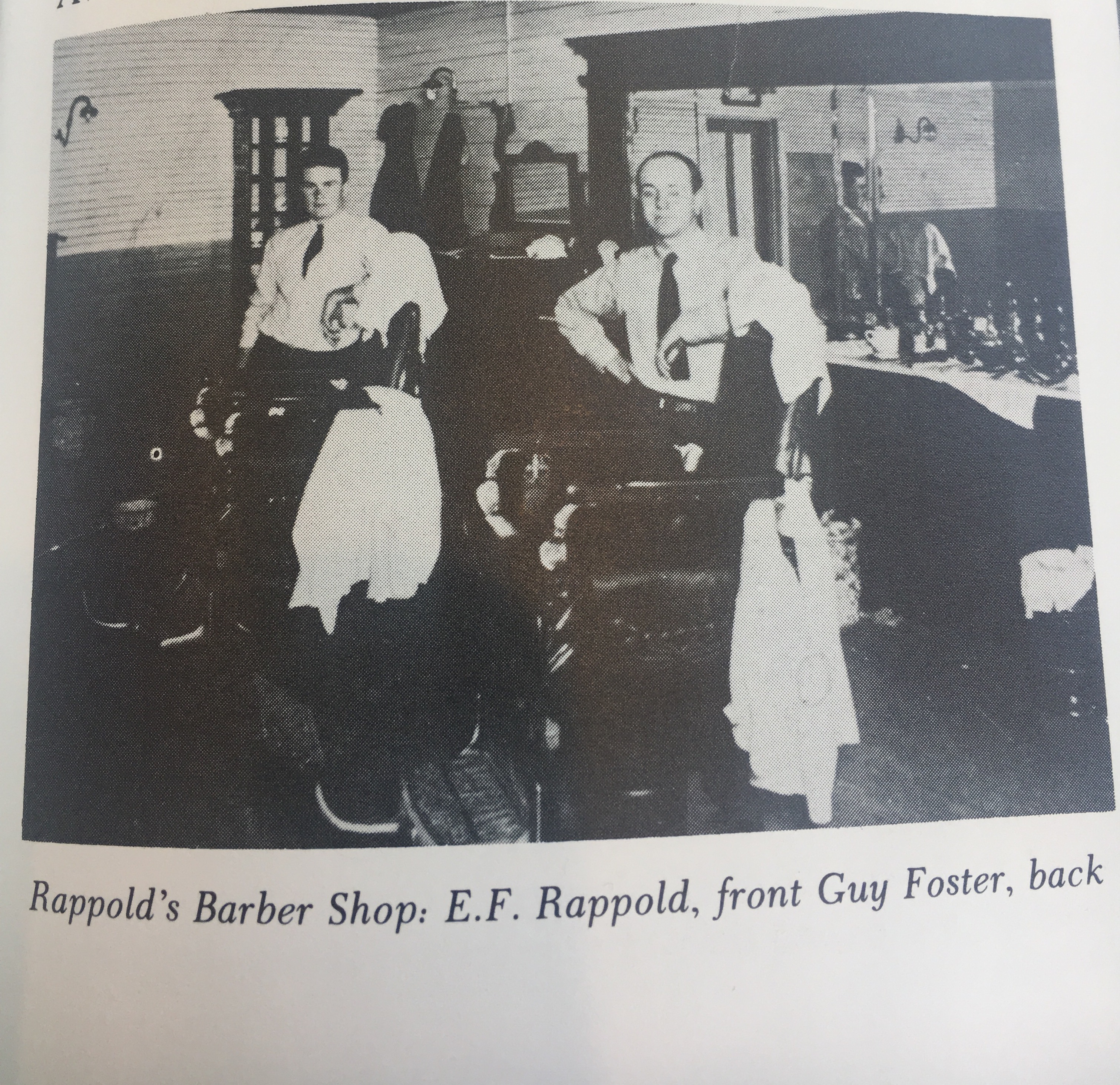 E.F. Rappold's grandson, Roderick Rappold (far left), and great-grandson, Steven Rappold (far right), accepting an award by Hurricane's mayor.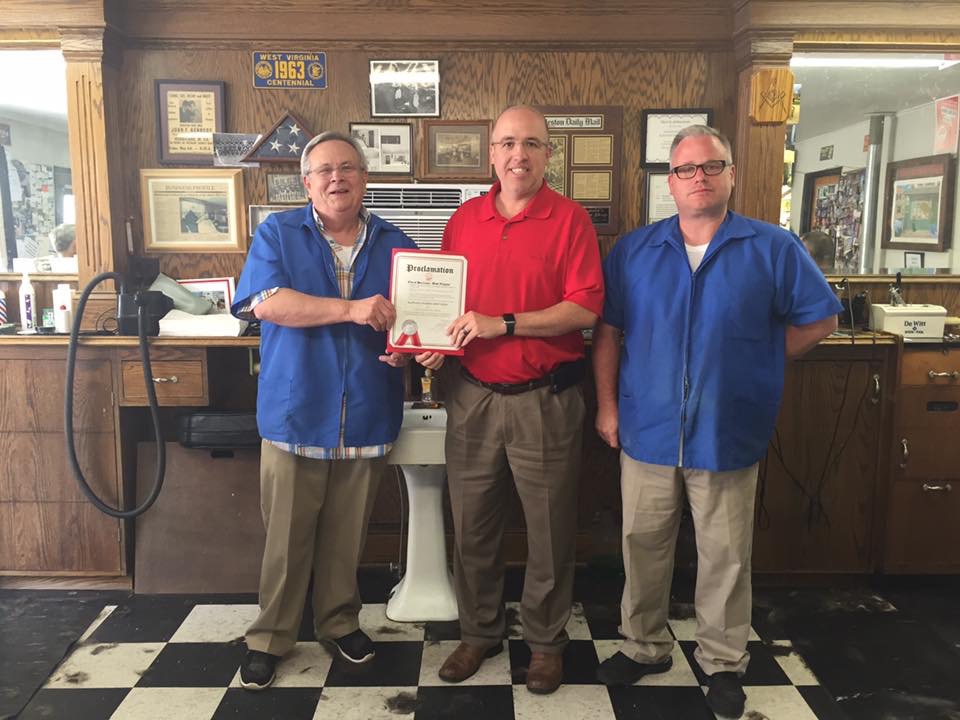 Backstory and Context
In June 1906, Edward Felix Rappold opened a barber shop on Main Street in Hurricane, West Virginia. E.F. came to Hurricane after he had worked as a barber in Huntington for two years. The store's first location was on Putnam Avenue on the second floor of a doctor's office. It was moved to a new location on Main Street in 1912; the shop operated on the first floor while the family lived on the second floor.
In 1922 construction started on Main Street. Almost all the previous buildings were torn down including the one Rappold's Barber Shop was housed in. It was moved further up Main Street beside the Putnam County Bank and remains there to this day. Today the shop is run by Steve Rappold, grandson of E.F., and Steve's son, Roderick. In all, four generations of the Rappold family have worked in the shop.
In addition to providing haircuts, the Rappold family also started and marketed a line of barber products called E.F. Rappold Barber Supply Company. By the time E. F. Rappold passed away the business was selling products all over West Virginia, Ohio, and Virginia.
Rappold's continues to be a popular place for local to get their hair cut or beard trimmed. The shop has also been frequented by State Senator Bob Hatfield, Marshall University's head football coach John "Doc" Holliday, and several West Virginia circuit judges.
Sources
Author interviews, 2015.
Hurricane Centennial Committee. The Centennial History of Hurricane. Walsworth Press, Inc, 1988. Print
Hayslett, Susan. Personal Interview. 1 May 2017.
Additional Information