Bannack State Park
Introduction
Bannack, Montana, was founded in 1862 and named after the local Bannock Indians. The town was the site of a major gold discovery at that time, and in 1864, it briefly served as the capital of Montana Territory. Bannack continued as a mining town, though the population dwindled and the town became considered a "ghost town" by the 1970s. The site is located on Grasshopper Creek, which is approximately 11 miles upstream from where Grasshopper Creek joins with the Beaverhead River south of Dillon. According to the Library of Congress, Bannak has a current population of 12 people. The area is now home to a state park, which includes trails, cemeteries, and signage that share the history of this former community that was home to as many as ten thousand people at its peak.
Images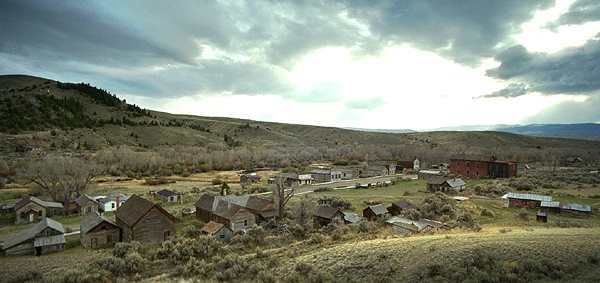 The original Beaverhead County Courthouse and later the Hotel Meade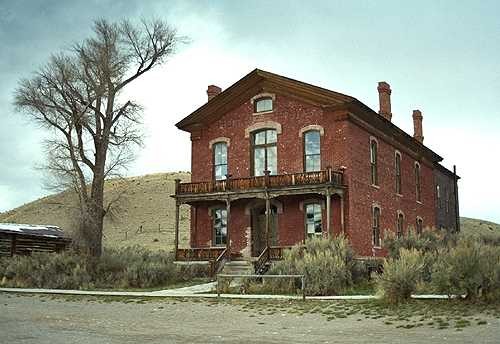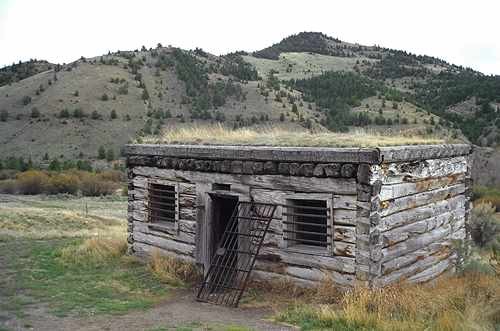 Little frame church, dating from 1870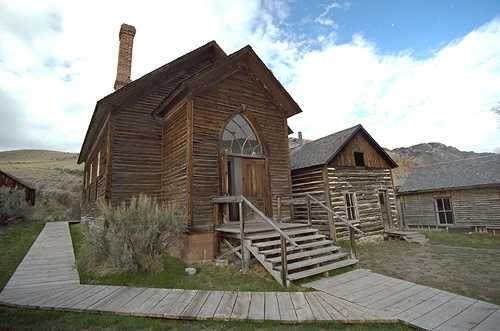 Two-story schoolhouse and Masonic Hall, erected in 1874
Old bar in Bannack Saloon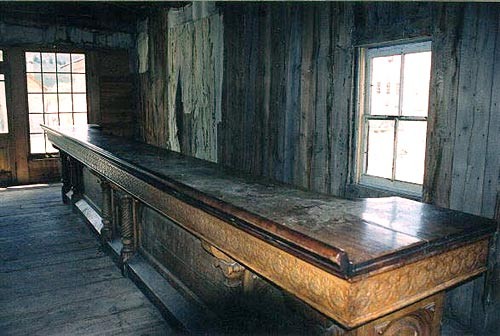 Backstory and Context
"At its peak, Bannack had a population of about ten thousand." Extremely remote, it was connected to the rest of the world only by the Montana Trail. One time in Bannack, there were three hotels, three bakeries, three Blacksmith shops, and two stables. There were also two meat markets, a grocery store, a restaurant, a brewery, a billiard hall, and four saloons. All of the businesses were built of logs, but some of the buildings had decorative false fronts.1
Bannack's sheriff, Henry Plummer, was accused by some of secretly leading a ruthless band of road agents. There were early accounts claiming that this gang was responsible for over a hundred murders in the Virginia City, Bannack gold fields, and trails to Salt Lake City. However, because only eight deaths were historically documented, some modern historians have called into question the exact nature of Plummer's gang.  Others deny the existence of the gang altogether. In any case, Plummer and two others, both deputies, were hanged, without a trial. This happened at Bannack on January 10, 1864. A number of Plummer's associates were lynched.  Others were banished on pain of death, if they ever returned. Twenty-two individuals were accused, somewhat tried, and hanged by the Vigilance Committee of Bannack and Virginia City. "Nathaniel Pitt Langford, the first superintendent of Yellowstone National Park, was a member of that vigilance committee."1
Sixty historic log and frame structures remain standing in Bannack.  Many are quite well preserved, and most can be explored. The ghost town, now the Bannack Historic District, was declared a National Historic Landmark in 1961. The town is presently the site of Bannack State Park. Every year, during the third weekend of July, the former town is home to "Bannack Days," organized by Bannack State Park employees and volunteers who recreate the history of the time when Bannack was a booming town. There are re-enactments of the day-by-day of the miners who lived there during the gold rush. 
Sources
1. Bannack, Montana, last modified on 18 February 2015, http://en.wikipedia.org/wiki/Bannack,_Montana
2 Vachon, J., photographer. (1942) Bannack, Montana. Bannack is now a ghost town of about twelve population, but it was once one of the early mining camps of Montana, and the first capitol of the state. Beaverhead County Bannack Montana United States, 1942. Apr. [Photograph] Retrieved from the Library of Congress, https://www.loc.gov/item/2017815008/.
Additional Information