White Water Shaker Village
Introduction
Located twenty-two miles west of downtown Cincinnati, the White Water Shaker Village is a preserved Shaker historical site. One of only four Ohio communal Shaker villages, it is the most well preserved of the four and still contains most of its original buildings. The last of the Shakers left the communal village of White Water in 1916 after it was sold to private owners. The Friends of White Water Village, Inc. formed in 2001 to plan the reclamation and preservation of this historic site, as well as the adjacent grounds called the North Family of White Water Shaker Village. In 2007, the group gained control of the site and have been working to restore it and make it fit for public visits since. Although the site is still not fully open to the public, small group tours can be made by appointment. The association also provides educational programs about the Shakers to local schools and libraries.
Images
One of the remaining buildings on the site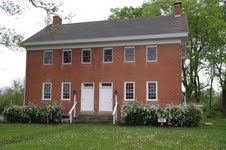 Backstory and Context
The United States Society of Believers in Christ's Second Appearing, more commonly known as the "Shakers", began settling the White Water village in 1822. The first permanent structure, made of brick, was erected on the site in 1827. Building of the village happened quickly due to the Shakers' enthusiasm to build and establish their community.
As mentioned above, White Water was a communal village, meaning that members of the community shared labor and the community was self-sufficient. The Shakers originated during the eighteenth century in England. Branching off from the Quakers, they were called "shaking Quakers" due to the fervor they expressed during worship. The Shaker religion, not just in Ohio, but also internationally, decreased in popularity due to the lack of appeal its strict religious practices held for many. Also, the practice of celibacy produced a problem as the religion relied entirely on converts. Although the sect is now very small, The Shakers are still in existence; however the community is extremely small. There are only three members and one novitiate of the only active US Shaker community, located in Maine.
Additional Information