The Betts House
Introduction
Located in the Betts-Longworth-Historic District in Cincinnati's West End, the Betts House was built in 1804, making it the state's oldest brick house. It is open to the public and features rotating exhibitions. In the past, these have included exhibits such as the recent one titled The Architectural Legacy of Cincinnati Breweries. This summer, the house will feature an architectural exhibit designed for children. Historians also use it as an architectural research center.
Images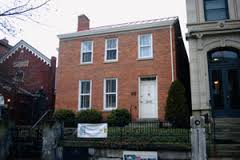 Backstory and Context
The homes' permanent exhibit, entitled "History and Home: The Story of the Betts Family, The West End, and Cincinnati," takes visitors through the house's original place as a country home and tells the story of how it eventually came to be surrounded by nineteenth and twentieth century buildings in the middle of a city. This house is the oldest residential building in downtown Cincinnati. When it was originally built, the house was on a 111-acre farm. As Cincinnati grew and the city expanded, the once country home came to be in a central location in the city, now only a few blocks from downtown Cincinnati.
Once an affluent area, the neighborhood that incorporated the Betts home began to decline in the 1870s. Industry moved elsewhere and the now over-crowded neighborhood fell into a state of ruin and poverty. In 1980, the city began a renewal project in this area. In 1988, a group of citizens led by William Betts' great-great-granddaughter Martha Tuttle, purchased and began renovating the house. The Betts House is now an institution committed to promoting historical education and preservation in Cincinnati and is able to provide historians to speak at various organizations and events.
Sources
http://www.thebettshouse.org/
Additional Information