Tomb of William Henry Harrison
Introduction
The final resting place of the ninth President of the United States William Henry Harrison, this tomb was created by family members after Harrison died in 1841 after only thirty-two days in office. The family dedicated the land in exchange for a commitment from the state of Ohio for perpetual maintenance. The site includes the remains of numerous members of this influential family in addition to artifacts, exhibits, markers, and kiosks that share the history of Harrison and the early history of this section of the Ohio Valley. The site also includes the history of Benjamin Harrison, the grandson of William Henry Harrison who became President in 1889.
Images
This obelisk marks the location of William Henry Harrison's tomb.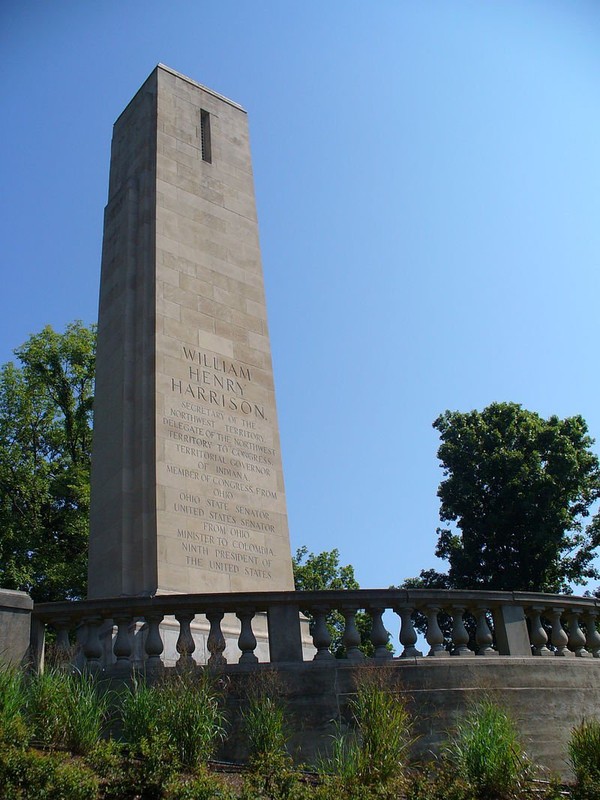 Backstory and Context
Born to a wealthy family on February 9, 1773, Harrison rose to prominence owing to his role as the commanding General of federal troops at the Battle of Tippecanoe in 1811 and a second battle in 1813 that ended with the death of prominent Native American leader Tecumseh. Prior to that time, he had served in the military on the frontier and enjoyed popularity among other white settlers owing to his reputation for ferocity against Native peoples. Harrison entered the political world when P
resident John Adams appointed Harrison as secretary of the Northwest Territory in 1798 and he was later appointed as the territorial governor of what is now Indiana and Illinois. He served as the territorial governor for a dozen years and was active in creating treaties with Native peoples that included the surrender of large sections of land.

As a member of Congress, Harrison sided with the slave-owning South and opposed all attempts to restrict the spread of slavery. Harrison retired from politics for many years until those who opposed Andrew Jackson and Martin Van Buren saw Harrison and his reputation for military success as a potential candidate to defeat Van Buren. Under the slogan "
Old Tippecanoe and Tyler, Too" (a reference to Vice Presidential candidate John Tyler) and with plenty of fabricated stories about Harrison's alleged hardscrabble origins that flew in the face of his family's wealth, Harrison was able to secure victory in the election of 1840. However, Harrison contracted pneumonia and died after only serving thirty-two days in office.
Sources
William Henry Harrison Tomb, Ohio History Connection, accessed 3/25/18 http://www.ohiohistorycentral.org/w/Harrison_Tomb
Additional Information