St. Mary's Cathedral Basilica of the Assumption (Covington, Kentucky)
Introduction
St. Mary's is located in Covington, Kentucky, a short 8-minute drive from central Cincinnati. The awe-inspiring site is 194 feet long, 144 feet wide, and 81 feet tall, and includes 82 stained glass windows. One of those stained glass windows is among the largest in the world and is the largest in a church. The window stands at an impressive 67-feet and is 24-feet wide. The decadent decoration is best manifested in the Blessed Sacrament Chapel, whose tabernacle is gold-plated and includes semi-precious stones. The arched ceilings are indicative of its Gothic design, similar to that of the famous Notre-Dame de Paris. It is one of only 35 cathedral basilicas in the U.S. It's listed on the National Register of Historic Places.
Images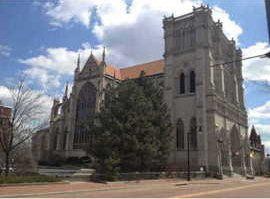 360-degree view of cathedral interior

Historic Matthias Schwab organ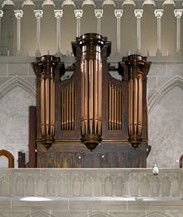 Backstory and Context
Opened in 1837, St. Mary's Church was Covington's first Roman Catholic Church. The church became a cathedral in 1895 and was designated a minor basilica in 1953. The cathedral's inner design was based on the Abbey Church of St. Denis in Paris while the outside imitates Notre-Dame in Paris. The interior resembles the Basilica of Saint-Denis, also in Paris. Although the stained glass comes from Munich, local artist Frank Duveneck was responsible for the Blessed Sacrament Chapel's triptych, which portrays salvation through the ages. The Stations of the Cross were done in mosaic by the Ellrich brothers of Venice, Italy. Each of the 3-foot-by-6-foot stations contains 70,000 pieces of tile.
The difference between a cathedral and basilica has to do with historical and cultural importance, rather than necessarily being directly tied into physical aspects of the church. St. Mary's was designated a minor basilica on Dec. 8, 1953, by Pope Pius IX. There are only four major basilicas in the world, and they are all located in Rome. The decision to expand the church into a cathedral was hatched in 1851. That's when it became clear that St. Mary's Church could no longer accommodate the growing Covington population. Construction planning began in 1885. The cathedral project officially terminated in 1915. However, it remains incomplete to this day with the planned 52-foot towers unbuilt. The cathedral is home to a historic organ, known as the Matthias Schwab Organ, which dates back to 1859.
Since 1946, extensive repairs have been made to the exterior. The interior has been cleaned and repaired as well. The heating and lighting have been modernized, installation has been installed, and sound amplifications have been improved. It isn't only a meeting place for parishioners. It serves as a study for students of architecture, art, and design. Many consider it an architectural masterpiece. The cathedral also hosts regular sacred music concerts featuring local, national, and international musicians. As long as at least two weeks' notice is given, groups of at least ten can schedule docent-guided tours. 
Sources
Cathedral Basilica of the Assumption, National Register of Historic Places. Accessed July 28th 2020. https://npgallery.nps.gov/GetAsset/94f39db7-c7c5-499c-b2b6-c322606f961c/.
Cathedral Basilica of the Assumption, Accessed July 28th 2020. https://covcathedral.com/.
Additional Information