CAF Airpower Museum
Introduction
Located at the Commemorative Air Force (CAF) headquarters, the CAF Airpower Museum seeks to display and educate the public about the airborne military history while also preserving World War II-era combat planes as well as war artifacts. Revered for its wide array of combat planes and history-based exhibits, the 100,000-square-feet at this museum gives the public a hands-on experience with exhibits featuring the military equipment and personnel who fought for both the Allies and the Axis powers in WWII. As an official Smithsonian Affiliate since 2006, this museum seeks to broaden the availability of war memorabilia by showcasing the stories of battle to the public. Known to hold one of the largest and most complete collections of WWII aviation culture, the CAF Airpower Museum introduces visitors to over 4,900 oral histories from both Allied and Axis soldiers, the largest collection of nose art panels in the world, and over 6,000 books and 900 videos pertinent to major and minor battles as well as war culture.
Images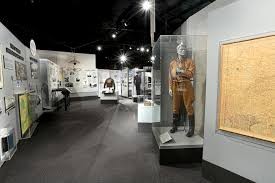 Part of the Vietnam Memorial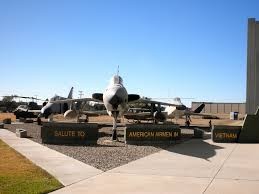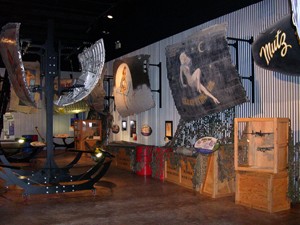 Backstory and Context
History and Exhibits

The CAF Airpower Museum, which was previously known as the American Airpower Heritage Museum (AAHM), opened its first building and began curating its collection in 1965 in Mercedes, Texas. After a few location changes and becoming a non-profit, the museum moved to Midland adjacent to the airport and the air force base. With a mission to tell the complete story of WWII and military aviation, this museum presents a wide range of permanent exhibits and collections that cater to thousands of visitors annually.
Boasting the largest collection of WWII artifacts housed in specialized environmentally controlled conditions, visitors can tour through the various exhibits and explore these original items within the 507th Fighter Group Gallery, the Polikarpov I-16 exhibit, the George Bush exhibit, the Vietnam Memorial, the Wartime Sketches of Peter Hurd exhibit, and others. The Nose Art gallery remains one of the more popular exhibits at the museum, as it features 34 very rare and original nose art panels representing the feelings and artistic expressions of men during the war.1
Education and Outreach Programs

The CAF Airpower Museum also houses the American Combat Airman Hall of Fame (ACAHOF), which pays tribute to and recognizes prominent Americans who served in any conflict and displayed outstanding bravery. Soldiers featured in the ACAHOF also continue to represent and inspire current Americans fighting in the Armed Forces.2
When coming to the museum, visitors should consider the variety of events held throughout the year. Some popular past events included a seminar with Bella the Navy Seals dog or stories from space with Astronaut Mike Mullane. Scholars and public can also utilize the L.P. Nolen Archives & Research Center at the museum, as this resource library contains more than 50,000 books, magazines, technical manuals, and much more.3
Sources
1.) http://204.232.169.226/?page=cms/index&cms_page=79 2.) http://204.232.169.226/?page=cms/index&cms_page=71 3.) http://airpowermuseum.org/?page=cms/index&cms_page=46
Additional Information