The Root Beer Stand
Introduction
Located just north of downtown Cincinnati in Sharonville, OH sits a traditional drive-in style root beer stand. This is not the average hot dog stand it has been a staple in the community since 1957 and renowned for it's special hot dog sauce and astounding atmosphere.
Images
1960s Picture of the Root Beer Stand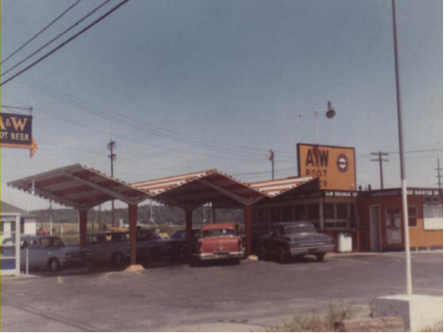 Street view of The Root Beer Stand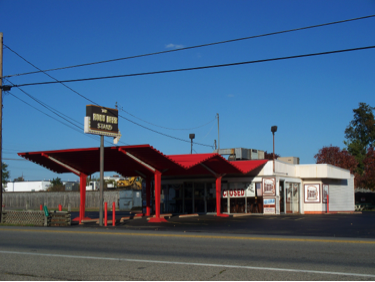 Backstory and Context
Mick and Nancy Rideour and Jim and Catherine Clark, Nancy's parents, opened the Root Beer Stand in 1957. The 1950s-1960s was a popular era for drive-up or curbside food stands. It was originally a A&W Root Beer Stand from its opening until 1982 when the contract with A&W expired and it was re-named The Root Beer Stand. The location of the stand seems arbitrary now but upon its construction it was a popular highway that connected Dayton and Cincinnati. Curbside food stands across the country like The Root Beer Stand, A&W, and Frost Top were popular during the post-war era due to the fact that super highways had not yet been constructed and families needed an escape during the hot summer months and a frosted root beer was just the thing.
The Root Beer Stand still remains a favorite of locals and a sweet find for travelers that happen upon the establishment. It is still a drive-in establishment that is open only during the summer months and serves primarily the same menu as it did when it opened. "The Stand," as the locals refer to it, boasts a 280ft deep well that gives the Root Beer made there a unique taste. They also use the same chili recipe developed by one of the original owners, Catherine Clark. The outside appearance of the restaurant also largely remains unchanged from its 1950s construction. Another thing that has remained unchanged is the family friendly atmosphere. The Stand has always been owned and operated by close-knit families and it remains an important staple in their business practices today.
Sources
http://www.therootbeerstand.com/#!history http://www.rootbeer.com/history/
Additional Information