Morrison's Drive Inn
Introduction
An individual would be hard-pressed to find someone in southern West Virginia who has never been to or heard of Morrison's. Boasting of some of the best chili dogs and chicken fingers in the coalfields, Morrison's Drive In has become a landmark in the city of Logan over the last half-century, and shows no signs of stopping.
Images
Morrison's Drive Inn (circa 2011)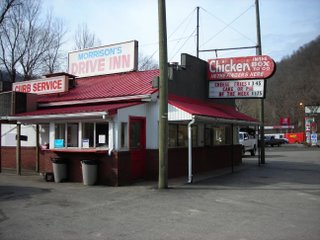 Backstory and Context
Founded shortly after the end of World War II, Morrison's Drive Inn is still one of the premier drive-in places in the coalfields. In 1948, John Morrison was managing the Guyan Bar BQ for his brother in Logan. John enjoyed the workings of the restaurant so much that he decided to open his own.

There was but one issue, however. Due to efforts of both private and public sectors to up military production during the war, there was a shortage of supplies. Yet veterans of the war were able to obtain supplies rather easily since they were placed atop the priority list (if they wished to start a business, build a house, etc.). So Mr. Morrison joined with his friend and Navy veteran, Leonard Riffeitt, and they together built the "Logan County landmark," Morrison's Drive Inn.

Morrison's Drive Inn has two sister locations: Parkway (located just outside Chief Logan State Park) and Janet's (located at the foot of Mount Gay hill).
Sources
Morrison's Drive Inn Official Site LoganWV.US
Additional Information