North Carolina Executive Mansion
Introduction
North Carolina Governor's mansion was completed in 1890. Since 1891, when Governor Daniel Fowle moved into the mansion, this residence has served as the home of each of North Carolina's governors. Between 1865 and the completion of this mansion, the state's governors lived in a variety of rented homes or hotels. Contrary to what many might assume, the abandonment of the antebellum governor's mansion (built in 1814 and located on Fayetteville Street) was the not the result of the Civil War, but rather decades of neglect that led to the previous governor's mansion being declared unfit for use.
Images
The Executive Mansion is a designated Raleigh Historic Landmark.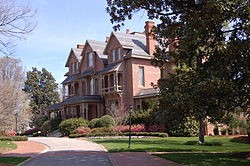 Backstory and Context
The original gubernatorial residence was a brick house on Fayetteville Street built in 1814. During the Civil War, the structure was abandoned due to previous years of neglect and damage. For the next few decades, North Carolina's governors stayed in their own homes or in hotels in Raleigh. In the 1870s, Governor Zebulon B. Vance began planning a new executive mansion. Architect Samuel Sloan and his assistant Adolphus Bauer drew up the plans for the house, which was to be built in Burke Square. Colonel W. G. Hicks, the superintendent of the state prison, oversaw the convicts who built the house. Governor Daniel G. Fowle was the first governor to enjoy the home after he moved in on January 5, 1891.
Just two years later, Governor Elias Carr began making improvements on the house such as reworking the landscaping and installing telephones and gas lamps. In 1910, Governor Kitchin purchased fine furniture, silver, and china for the mansion. Despite additional updates in 1917, the executive mansion was in a sorry state in 1925. Governor Angus McLean then ordered repairs to the floors, walls, kitchen, and bathrooms as well as a complete redecoration inside. Since then, governors have added an elevator, air conditioning, and a bomb shelter to keep the mansion up with the times.
Sources
North Carolina Executive Mansion. National Park Service: Raleigh: A Capital City. Accessed March 07, 2019. https://www.nps.gov/NR/travel/raleigh/exe.htm.

Roberts, Liza. North Carolina's Executive Mansion. Walter Magazine. Accessed March 07, 2019. http://www.waltermagazine.com/home/north-carolinas-executive-mansion/.


Additional Information