Tupac Amaru Shakur Monument
Introduction
The famed west coast rapper,Tupac Shakur was shot a killed in in September of 1996 after being involved in the infamous West Coast Rap v.s. East Coast Rap war. His monument is tucked away in garden on the property of the Tupac Amaru Shakur Center of The Arts, created by his mother Afeni Shakur in his honor. The bronze likeness of himself stands in the center of the garden almost watching over the center of performing arts. Any music buff would be delighted to visit and remember his career and legacy of great musical excellence and boundless creativity.
Images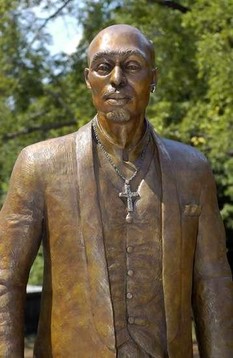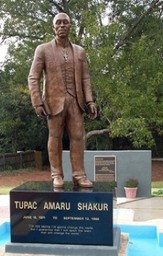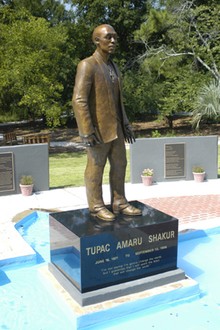 Backstory and Context
Tupac Sahkur still remains one the top selling artist in the United States even after his death. He was an African-American rapper/poet/actor/activist. he was born in 1971 while his mother Alfeni Shakur was still serving time in a state pennatentiary in New York. she was serving time forbombing charges and involvement with the Black Panther Party. Needless to say his upbringing molded how he viewed the world he lived in.
Shakur meteroic rise peaked with the release of his album 2pacalypse which had 3 singles that charted on Billboard's top 40 list. His lyrics talked about the struggle of many Black Americans living in ghettos and impoverished places. Tupac never forget where he came from. That attitude garnered him with fans from all different walks of life. Though the content of his songs were based in truth the controversy of many of the topics landed him hot water on many occasions with the media.
The east coast/west coast fued between rappers from each coast began in the early 1990s. Tupac's affiliation withe the popular west coast rappers of that time often pushed him the forefront of the fued. he was very vocal and proud of the style of rap he was originating and grew up listening to. he would often take his quarrels with other rappers from the opposing coast to his records. He was linked to a fued with the Notorious B.I.G. Smalls. This tension ultimately led to his untimely death in 1996.
His murderer has still yet to be detained, but many believe producers Shug Knight and Sean Puffy Combs were involved. Even after death Tupac's music still garnered numbers for the artist that are outstanding. It's a common cliche' that an artist becomes more famous after death than alive, and Tupac proves that to be true. His fans lingered close to his work even more so after his tragic departure from life.
Tupac's legacy is carried don by his mother. Tupac was passionate about educating young Black men and women, and striving for having true equality. He always maintained a pride towards his community and those like it. Tupac Amaru Shakur Center for the Arts, was created in his honor to get young urban youth off of the straight and focused on positive things.


Sources
"Bio.com," last modified 2015 http://www.biography.com/people/tupac-shakur-206528#related-video-gallery "forbes.com," last modified 2002 http://www.forbes.com/2002/08/12/0812deadintro.html "Tasf.org," last modified 2009 http://www.tasf.org/
Additional Information