Adler Planetarium
Introduction
America's First Planetarium was founded in 1930 by Chicago businessman Max Adler. A leader in science education, the Adler Planetarium features three full-size theaters, space exhibitions, and an impressive antique astronomical instrument collection on display for public viewing. Adler Planetarium is the home of a variety of scientific and astronomical shows in addition to featuring traveling exhibitions. The planetarium has become one of the most beloved and important historical and scientific landmarks in Chicago.
Images
Restaurant in Adler Planetarium. Adler has become a popular setting in Chicago for formal events such as weddings and banquets.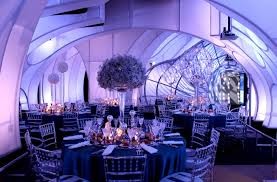 Exterior of Adler Planetarium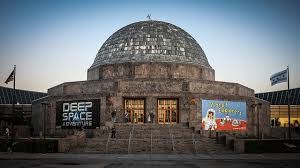 Construction of Adler Planetarium in 1929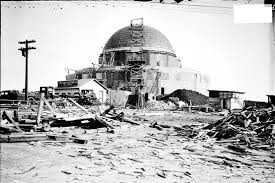 Sundial at Adler Planetarium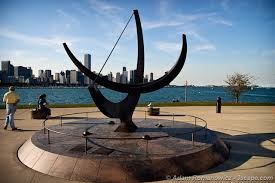 Aerial view of Adler Planetarium with the Chicago skyline as the backdrop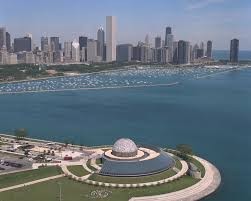 Backstory and Context
Max Adler, an early stockholder in Sears, Roebuck, and Company traveled to Germany with his wife and architect Ernest Grunsfeld to see the early planetarium there created by Walther Bauersfeld, Ph.D. Impressed by the hemispherical design that created the illusion of the night sky, Adler provided the funding from his own personal fortune to build the first planetarium in America. The Adler Planetarium opened to the public on May 12, 1930.
After Adler's death in 1952, the popularity of the planetarium continued to grow due to the major scientific advancements in astronomy, including the development of space travel and the Apollo missions. In 1968, Joseph Chamberlain, Ph.D. was appointed Director of Adler Planetarium and worked with the Board of Trustees and Chicago Park District to implement the development of a $4 million dollar underground facility which opened in 1973. Another $6.5 million dollar project including renovations to the planetarium was completed in 1991 which included the new Planetarium Café, the Stairway to the Stars sky show escalator, and the History of Astronomy Research Center. After the renovations were completed and revealed to the public, Dr. Chamberlain retired from his position as Director of the Planetarium.
The 90s saw more renovations to the existing planetarium and as well as additions as technology and astronomical learning expanded. The 60,000 square foot Sky Pavilion opened in 1999, an addition which features four additional exhibition galleries, a telescope terrace, and a lakefront restaurant. The original planetarium built in 1930 was renovated to have two new gift shops, new galleries, and a refurbished Sky Theater. The total cost of renovations and additions to Adler Planetarium in the 1990s was $40 million.
The 2000s have seen just as many changes at Adler Planetarium. The Center for Space Science Education opened in 2001 with the help of NASA. A permanent exhibition "Bringing the Heavens to Earth" opened in 2002 as well as two sky shows, "Search for Alien Worlds" and "Alien Encounters". 2005 saw the 75th anniversary of Adler Planetarium with celebrations overseen by retired NASA astronaut James A. Lovell, Jr. Finally, in 2001, the history Sky Theater was renovated to project the single largest digital image in the world on a screen with a resolution of more than 8000x8000 pixels, essentially creating a space simulation environment only surpassed by actual space travel. Adler Planetarium is now home to more than 35,000 square feet of space exhibits and is the only museum in the world to boast two full-sized planetarium theaters.
Another outstanding feature of Adler Planetarium is the time they set aside to allow patrons to meet an astronomer and hear about exciting new projects that they and other Adler scientists are working on. Every weekday from 2-3 and on the weekends from 1-3, this is an option for guests to attend. In addition, every summer from June to August, Adler Planetarium offers a summer camp program for kids who are interested in astronomy and space.
For adults with a particular interest in astronomy, there is Adler After Dark, which happens the third Thursday of every month from 6-10pm and is for patrons 21 and older. Included is full access to all galleries, theaters, and exhibitions as well as the Doane Observatory, live entertainment, and of course cocktails and other alcoholic beverages are available for purchase at the event bars throughout the planetarium.
Sources
"A Brief History". Adler Planetarium. Accessed April 28, 2015. http://www.adlerplanetarium.org/about-us/adler-mission.


Charleton, James. "Adler Planetarium." National Park Service - National Register of Historic Places Nomination Form. February 27, 1987. https://npgallery.nps.gov/GetAsset/024f5dd7-04d9-4b04-b051-7145c979f7c3.
Additional Information