Breezemont
Introduction
Breezemont, also known as the General C.C. Watts House is located at 915 Breezemont Drive in Charleston, West Virginia. The historic home was built circa 1905 by Cornelius Clarkson Watts and sits on the top of Watts Hill in Charleston. Watts was a noteworthy person in Kanawha County and West Virginia history.
Images
Photo Courtesy of e-WV, The West Virginia Encyclopedia.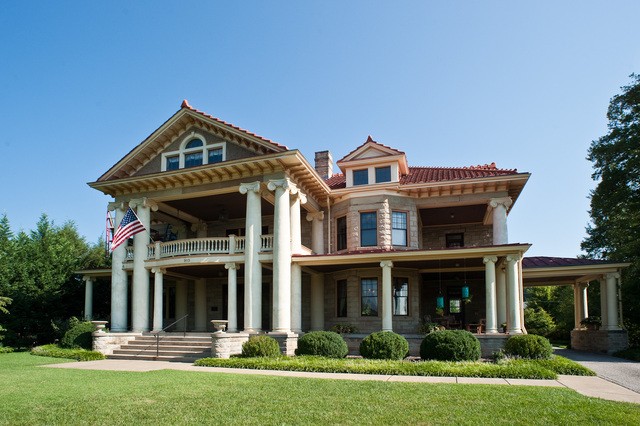 Backstory and Context
C.C. Watts was a Confederate soldier during the Civil War and was part of "Mosby's Raiders," the illustrious 43rd Battalion Virginia Cavalry. Post war time found Watts studying law and relocating to Wyoming County in West Virginia to then practice law. He held the office of Wyoming County prosecuting attorney 1873 to 1875. Afterward, he again relocated, this time to Charleston, West Virginia. After being elected to the position, Watts served as Attorney General of West Virginia, 1881-1885. The following year, he served as the United States Attorney for the District of West Virginia. 1890 found Watts being elected to the West Virginia Senate where he served for two years. Eventually Watts stopped being involved in politics and started practicing law again.
Watts obtained the title "General" from the time he served as Attorney General. General Watts died in 1930 at his home Breezemont.
Breezemont was built circa 1905 on Watts Hill. It is said that Watts build the home as a rival to the "Sunrise" mansion owned by William A. MacCorkle. The home is also a remaining piece of Neo-Classical architecture in Charleston. In 1941, the home was separated in apartments. It was listed on the National Register of Historic Places in 1982, restored in 1988, and then sold in 2000. 
Breezemont can be seen from the street. Please be careful not to trespass on the property as it is a private residence.
Sources
http://www.wvculture.org/shpo/nr/pdf/kanawha/82004324.pdf http://www.wvencyclopedia.org/exhibits/23?section=55
Additional Information