Ordnance Park
Introduction
Ordnance Park was built in 1941 to provide housing for a growing population of wartime workers in West Virginia's Kanawha Valley. As part of the Navy's new low-cost defense housing program, the Navy's Bureau of Yards and Docks was responsible for overseeing its construction. The development could house up to 450 families after completion, with priority initially being given to workers and their families employed at the Naval Ordnance Plant 7.5 miles away in South Charleston. Police and firefighting services were supplied by the Ordnance Plant's Marine garrison until after the war, when rentals were discontinued and the houses were sold to returning veterans. Many of the original duplexes remain, and many more have simply undergone structural modifications, leaving Ordnance Park as a unique window into defense housing projects of the era.
Images
Ordnance Park in 1941, as photographed by Charleston-based photographer Sprague A. Bollinger. Bollinger was hired by the Navy to take photographs of the newly completed development. Photo property of the St. Albans Historical Society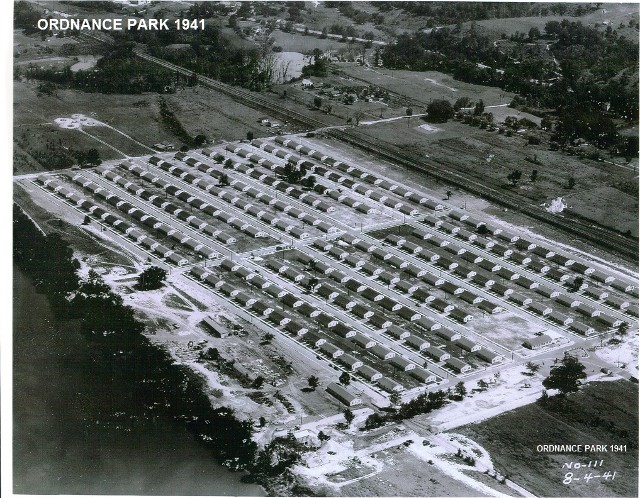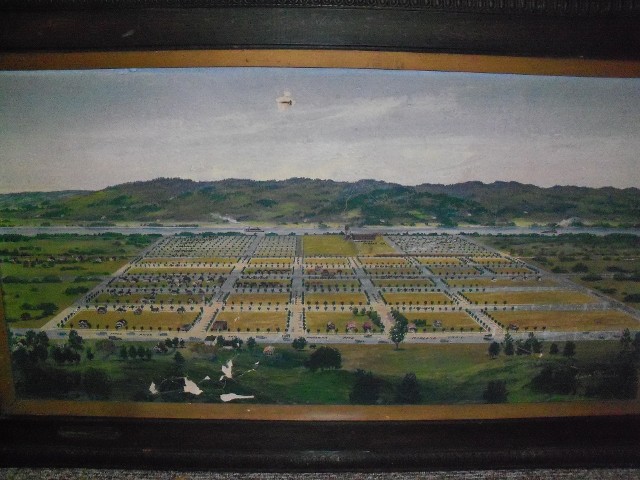 Typical unaltered house in Ordnance Park. Photo Neil Richardson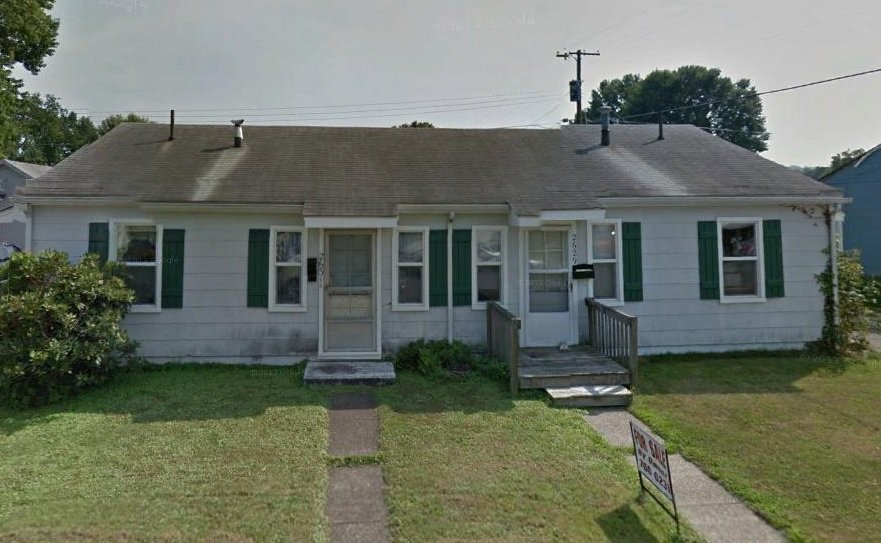 Ordnance Parks Survey map - 2014, by Neil Richardson, showing 226 homes and number original and number altered.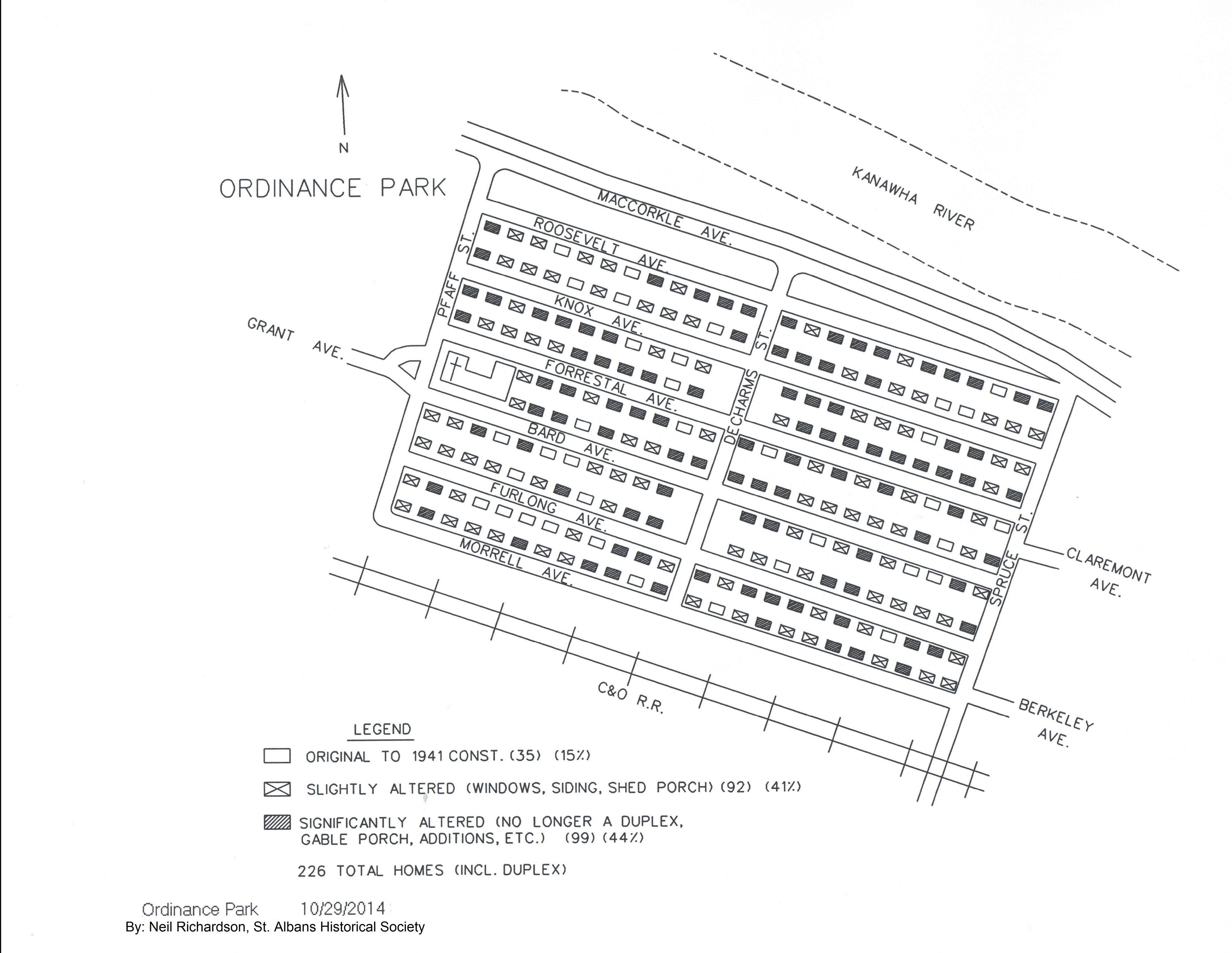 Ordnance Park Plot Plan of 1941, before any streets had yet received names. National Archives.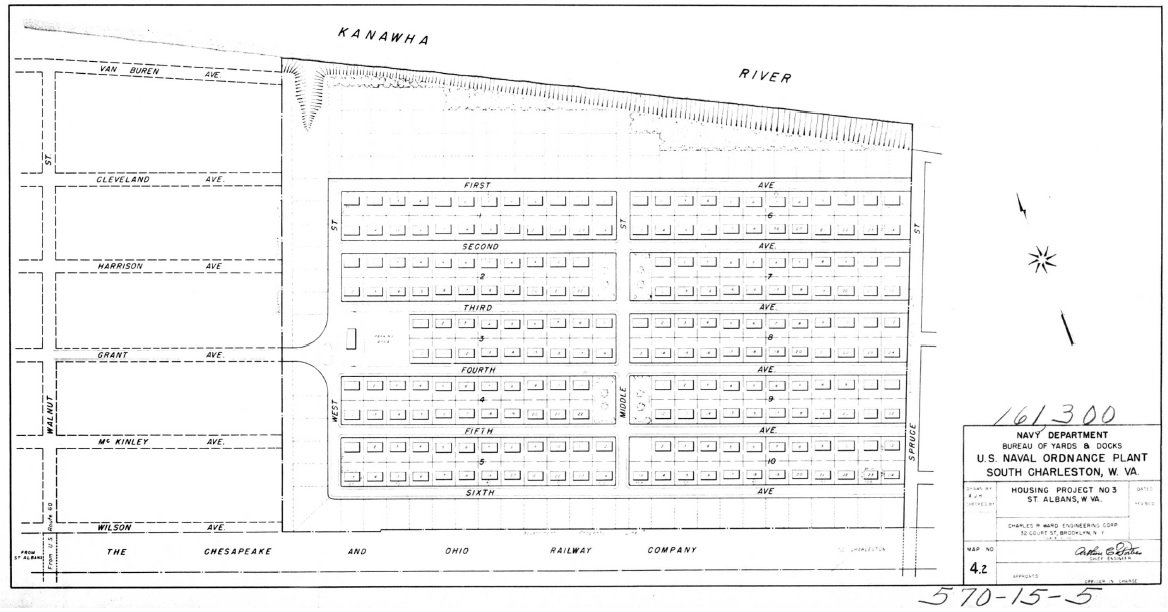 Ordnance Park Street View. Though little can be seen here, the lawns were in fact seeded as part of the NoY-4488 contract.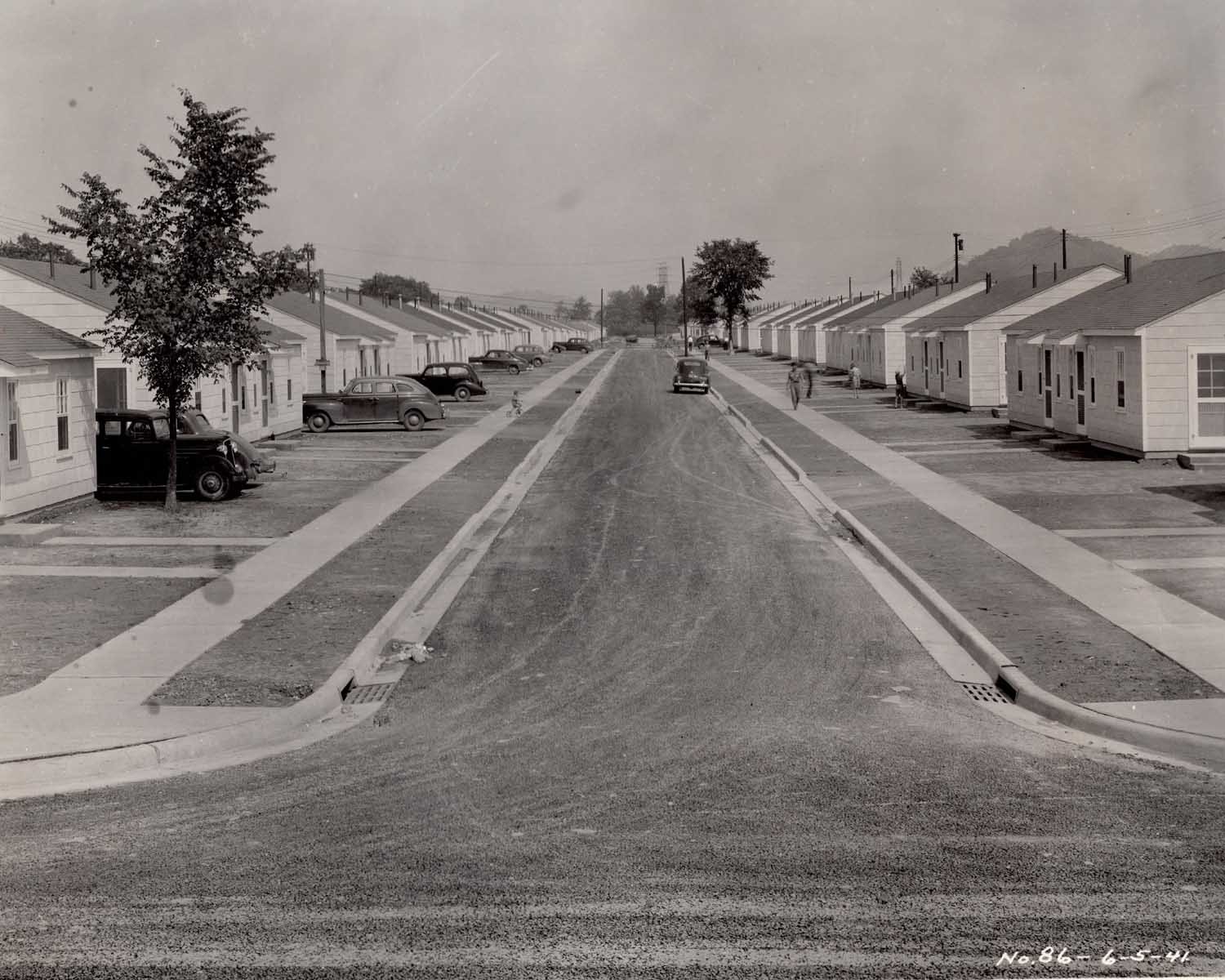 Backstory and Context
Throughout 1940 and early 1941, as World War 2 raged across Europe, American military production was ramping up even before Japanese forces attacked Pearl Harbor on December 7, 1941. Indeed, well before even Roosevelt's famous speech about the necessity of an American "arsenal of democracy" in December 1940, the massive Naval Ordnance Plant (NOP) in South Charleston, West Virginia had been reawakened from seventeen years of hibernation. Its two halves were leased out to corporations under government contract: Carnegie-Illinois Steel to manufacture naval armor plate, and General Machinery Ordnance Corporation to produce naval gun barrels.
As Carnegie-Illinois embarked on a $50,000,000 expansion to the NOP facilities, it became rapidly clear that the original 85 houses and 32 bungalows built on the Navy property were nowhere near enough to accommodate the flood of new workers. In August 1940, the famous steel firm notified the Navy that by October of the following year, they expected their workforce to more than quadruple from the current 400 employed at their South Charleston operation.
Undeveloped land was soon purchased by the government 7.5 miles west of the Plant in St. Albans, on the south bank of the Kanawha River. On November 18, 1940, the Navy signed contract NOy-4488 with a construction firm from Wheeling, West Virginia, to complete 450 housing units at an estimated cost of $1,527,000. And in January 1941, Lieutenant Commander Richard de Charms, Jr., was assigned as Officer In Charge of the contract's execution. This was the standardized practice for the Navy's Bureau of Yards and Docks (BuYards--replaced in postwar restructuring with NAVFAC, or Naval Facilities Engineering Command), which typically oversaw construction of all the Navy's short facilities, to ensure the honest execution of the project by civilian contractors to the Navy's specifications.
De Charms also served as a liaison to the Naval Ordnance Plant's commandant, Captain Roy Pfaff, as the NOP's 86-man Marine garrison was expected to provide police, firefighting, and security services to the new development. In April 1941, De Charms advised BuYards to fold the development's administration into that of the NOP.
His recommendation was accepted, but not before 153 units had already been occupied. Formal administration of Ordnance Park was transferred to the Bureau of Ordnance (BuOrd), and Captain Pfaff was officially put in charge of the new housing on Sept. 11, 1941. Even before the transfer occurred, however, the commandant was already in the thick of a fight with the Navy to keep Ordnance Park's rent from being raised, since only months before the Park's completion the Federal Housing Administration (created at the height of the New Deal in 1934) standardized rates nationwide for federally-owned housing--the result being that families freshly-moved into their new Ordnance Park duplexes only two months before suddenly had their rents raised.
Pfaff and De Charms campaigned furiously against the rate hike, firing a series of letters and telegrams off to BuYards. Pfaff pointed to a petition from families living in Ordnance Park and cited the "bad effect on morale" it would have throughout the workforce. Rates for the St. Albans families, he argued, were already higher than those in Armor and Bungalow Parks (at the NOP facility), and the combined low rates of these three developments, which still had space available, were keeping private housing throughout the Kanawha Valley affordable for war industry workers.
It was to no avail. BuYards would not budge from the FHA's new pricing. Perhaps it came as a relief to Pfaff when, on July 1, 1942, administration of Ordnance Park was transferred again--this time to the FHA. W.T. Burton, chief administrator of the nearby FHA development at Kenna Homes (also built for war workers in nearby South Charleston, only a mile from the NOP), was also given charge of Ordnance Park.
By July 1942, Ordnance Park had rented out approximately half of its duplex units, and eligibility was opened up to all war workers in the Kanawha Valley, not just those of the NOP. Nearby chemical plants belonging to Carbide and Carbon (later Union Carbide) and Westvaco, both in South Charleston, or the B.F. Goodrich rubber plant in nearby Institute, were also churning out products related to America's war effort, and their workers could now find residence in St. Albans as well.
Since the area around Ordnance Park was, at the time, relatively undeveloped, the community soon had its own school, church, and movie theater. Four playgrounds (still in use today, albeit with newer equipment) were provided for the workers' children. Sewage facilities, a trash incinerator, and a building for the Park's administration were also provided. House floorplans varied--newspapers list three, four, and five bedroom plans, while correspondence from Captain Pfaff also lists one and two room units as well, apparently for enlisted men or unmarried workers. This may simply be a difference in nomenclature.
After the war's end, the houses were sold to returning veterans, and many of the original duplex structures survive today--as does the original street layout. It is unclear at what point the development's streets took on the names of Navy officers, as original plans show only numbered streets. Modern-day street signs have corrupted some of the original spellings, but the naming conventions follow a consistent pattern:
Roosevelt Ave. - President Franklin D. Roosevelt, Commander-in-Chief.
Knox Ave. - Frank Knox, Secretary of the Navy, 1940-44
Forrestal Ave. - James Forrestal, Secretary of the Navy, 1944-1947
Bard Ave. - Ralph Bard, Asst. Secretary of the Navy, 1940-44
Furlong Ave. - Chief of the Navy Bureau of Ordnance, 1937-1941
Moreell Ave. (now misspelled "Morrell" on street signs) - Chief of the Bureau of Yards and Docks, 1937-1943
Pfaff St. - Captain Roy Pfaff, Inspector of Ordnance in Charge, Naval Ordnance Plant South Charleston.
De Charms St. (now misspelled "DeCharmes" on street signs) - Officer in Charge of Contract NoY-4488.
Ordnance Park was a neighborhood built to benefit the many families (mostly women) who worked at the Naval Ordnance Plant in South Charleston, WV, or B. F. Goodrich Rubber Plant in Institute, WV during WWII. MacCorkle Avenue was later constructed to accommodate increasing traffic.
The homes were rentals until after WWII, when they were offered to returning veterans. There were 225 duplex houses with two different floor plans of two or three bedrooms. The community had a school, a church and a movie theater. Four playgrounds are still being used today by current residents.
The street names throughout Ordnance Park are named after President Franklin D. Roosevelt and prominent naval officers and contractors that worked on the site.
Sources
1.St. Albans Historical Society. accessed May 04, 2017. http://www.stalbanshistory.com/ordnance-park-history.html.
2. Admiral C.W. Nimitz to Richard De Charms, Jr., Jan. 2, 1941. National Archives, Record Group 74, Entry 25.
3. Inspector of Ordnance in Charge and Officer-in-Charge Contract NOy-4488, Sept. 8, 1941. National Archives, Record Group 74, Entry 25.
4. Chief of the Bureau of Ordnance to the Chief of the Bureau of Yards and Docks, Aug. 12, 1940. National Archives, Record Group 74, Entry 25.
5. Captain Roy Pfaff to Admiral William H.P. Blandy, Aug. 12, 1941. National Archives, Record Group 74, Entry 25.
6. L.B. Combs, Assistant to the Chief of the Bureau of Yards and Docks to Inspector of Ordnance in Charge, Sept. 11, 1941. National Archives, Record Group 74, Entry 25.
7. "Kenna Homes Manager to Run Ordnance Park.."
Charleston Gazette
(Charleston)July 02, 1942.
8. Navy Department, Bureau of Yards and Docks.
Contract NOy-4488 for Housing Facilities at the Naval Ordnance Plant, South Charleston, West Virgina
. Washington, D.C.: US Government Printing Office, 1940.
Additional Information