Congo Square
Introduction
Congo Square is an area located in Louis Armstrong Park, which is located in the neighborhood of Tremé, in New Orleans, Louisiana. It was created during the French and Spanish colonialization of Louisiana. On Sundays when Slaves did not have to work, they would gather here and establish markets, play music, and have singing and dancing. This tradition continued after Louisiana became part of the United States, and further immigration and the addition of various cultures to the area helped create a very culturally diverse area of the city, which became a very popular tourist destination. In 1970, New Orleans began having a Jazz and Heritage Festival at Congo Square which still occurs today.
Images
Artist Depiction of Congo Square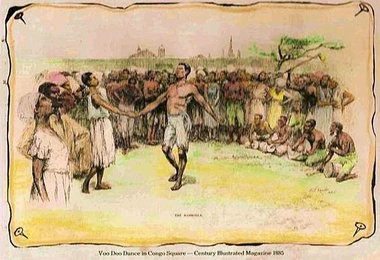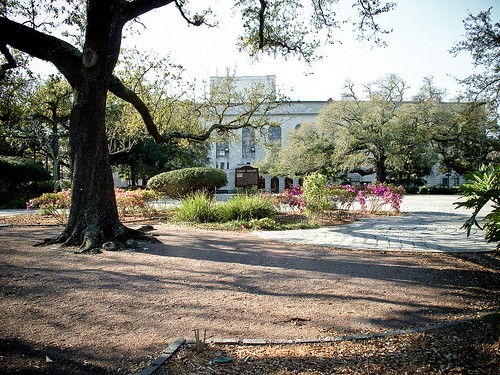 Backstory and Context
The Tremé neighborhood is located very close to the French Quarter in New Orleans Louisiana and has been very important to the history of African American music. Before the United States owned New Orleans, the Spanish and French allowed their slaves in this area to gather on Sundays when they had the day off. At the time this area was outside of the city, which was the only place they were allowed to go. They referred to this place as "Place des Nègres" or "Place Congo." Here the slaves would cling onto their African heritage for one day a week by playing music and dancing.
This tradition continued after New Orleans became part of the United States. African culture was suppressed by the Protestant government of New Orleans, which resulted in the gatherings at Congo Square becoming a tourist attraction to people from all over. Stricter slave laws by the United States resulted in the end of these slave gatherings at Congo Square before the Civil War. Congo Square became a popular music venue after this and remains as that today.
Along with the suppression of African music culture in New Orleans, the white leaders of the city renamed Congo Square Beauregard Square after Confederate General P.G.T. Beauregard. This name did not stick, and the New Orleans City Council officially changed the name back to Congo Square in the late 19th century. In the 1960s, New Orleans built Louis Armstrong Park which incorporated Congo Square within it.
With additional African and Creole immigration during the Haitian Revolution, New Orleans became an even more culturally diverse area and this had a major influence on African music coming from New Orleans. To preserve the heritage and music tradition of Congo Square, New Orleans began having the Jazz and Heritage Festival at Congo Square in 1970, which was moved to the New Orleans Fairgrounds when attendance became too large for Congo Square to handle. Congo Square itself remains a popular area for fairs and musical performances today.
Sources
"Congo Square/Louis Armstrong Park," City of New Orleans, Accessed April 20, 2015. http://www.nola.gov/parks-and-parkways/parks-squares/congo-square-louis-armstrong-park/. "Congo Square, the Soul of New Orleans," African American Registry, Accessed April 20, 2015. http://www.aaregistry.org/historic_events/view/congo-square-soul-new-orleans. "NOLA History: Congo Square and the Roots of New Orleans Music," GoNola, Accessed April 20, 2015. http://www.gonola.com/2012/07/02/nola-history-congo-square-and-the-roots-of-new-orleans-music.html.
Additional Information